The Rolex Oysterdate Precision Ref. 6694 from the 1966 collection exemplifies Rolex's dedication to sophistication. Seamlessly blending form and utility, this manually-wound model has captured the admiration of collectors and enthusiasts over an extended period.
This model serves as an accessible entry point into the world of Rolex watches. While determining the precise years of production for the Rolex 6694 poses a challenge, it is widely accepted that its manufacturing span extended throughout the 1960s, 1970s, and into the 1980s.
Possessing an Oysterdate Precision not only ensures accurate timekeeping and functionality but also grants you the enduring elegance and value that accompany every Rolex timepiece.
For a deeper understanding of its design intricacies, historical significance, and the unique experience it offers, I encourage you to read the complete review.
The Case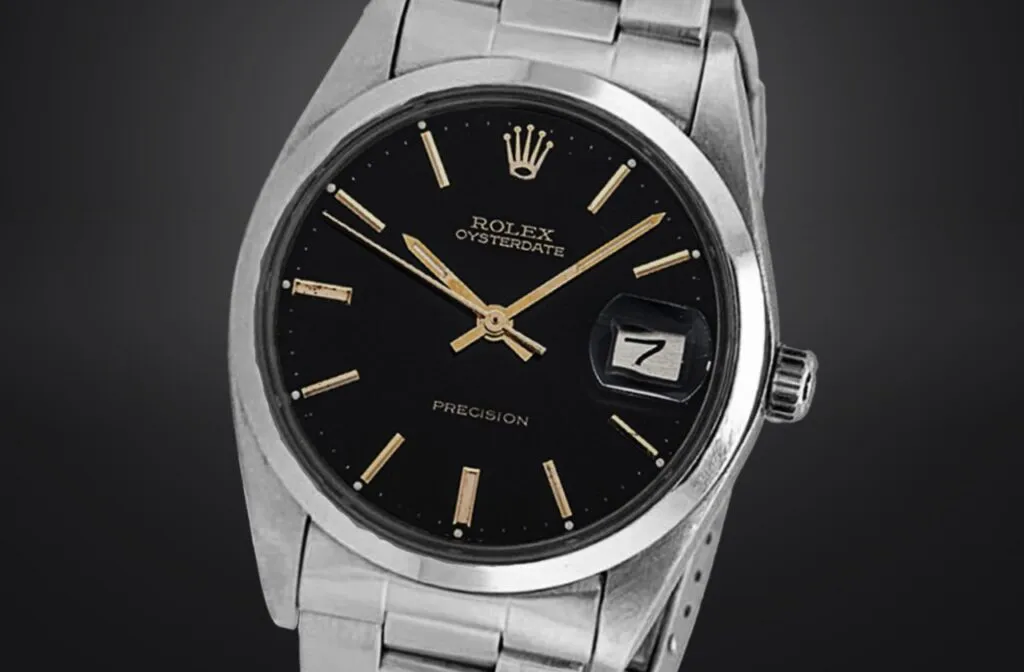 The case of the Rolex Oysterdate Precision 6694 provides a timeless and elegant feel that many watch enthusiasts adore. Its moderate size, measuring 34mm in width, allows it to look classic on almost any wrist. Moreover, with the Oyster case, you can trust in the robustness and durability of this watch.
The 6694's stainless steel construction makes it suitable for daily wear without worrying about excessive wear and tear on the watch. The material is known for its durability and resistance to corrosion, so you can trust that your watch will maintain a sophisticated appearance over time.
Another noteworthy feature is the screw-down winding crown. This practical design choice not only enhances the watch's water resistance but also offers better protection for the movement inside the case. Having a secure winding crown ensures your Rolex Oysterdate Precision 6694 stays precise and reliable for years to come.
The Dial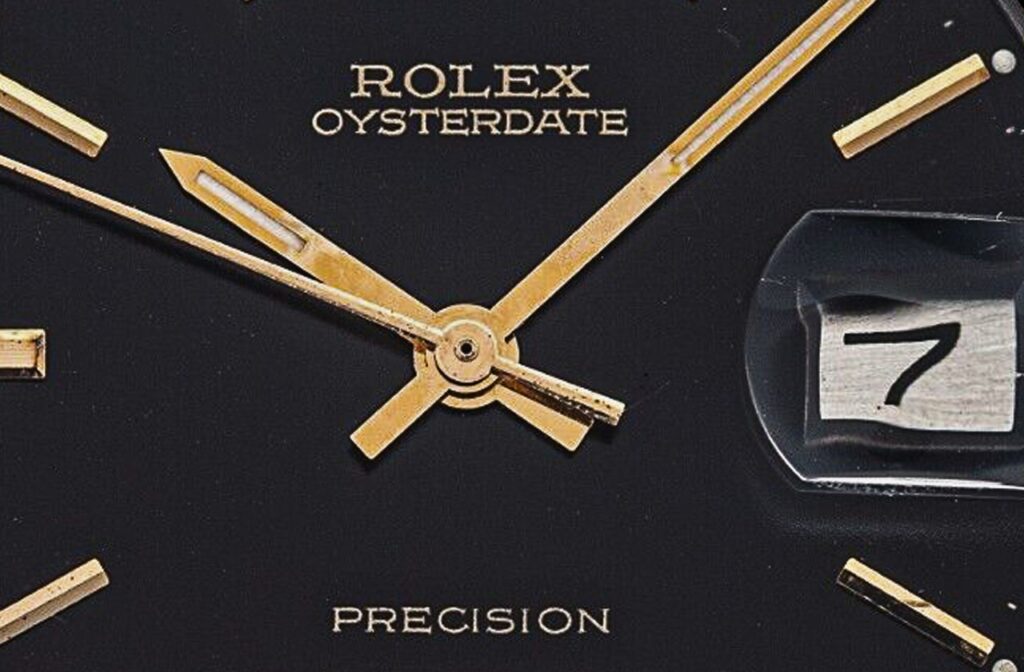 The selection of dials that come with this vintage Rolex adds a personal touch to your timepiece. You can choose from dials with different colors, designs, and hour marker styles. Some popular options are silver, blue, and black dial which offer a classic and versatile look for any occasion. One of the key elements of the Rolex Ref. 6694 dial is the inclusion of the date window, positioned at 3 o'clock with a Cyclops lens magnifying the date for easy readability.
The hour markers on the Oysterdate Precision Ref. 6694 dial are also diverse, providing various styles like baton indices, Roman numerals, or even a combination of both. The hour markers on the Oysterdate Precision are unusually short compared to your average Rolex watches or Rolex Oysterdate Precision models. Furthermore, the dials are finely crafted and protected by an acrylic crystal, offering durability and a vintage charm.
As an all-stainless steel watch, the Rolex Ref. 6694 combines timeless elegance with robustness. The fixed, stainless steel, smooth-style bezel gracefully frames the dial and enhances its overall appearance. Besides, the classic Oyster bracelet adds to the versatile aesthetic and ensures a comfortable fit on your wrist.
To sum up, the Rolex Oysterdate Precision 6694 offers a variety of dial options, making it easy for you to find the perfect style for your personal taste. The combination of high-quality materials, precise design, and iconic features makes this watch truly stand out among other vintage timepieces. Remember to choose the dial that best suits your style and preferences, as it plays a significant role in the overall look and functionality of the watch.
The Strap/Bracelet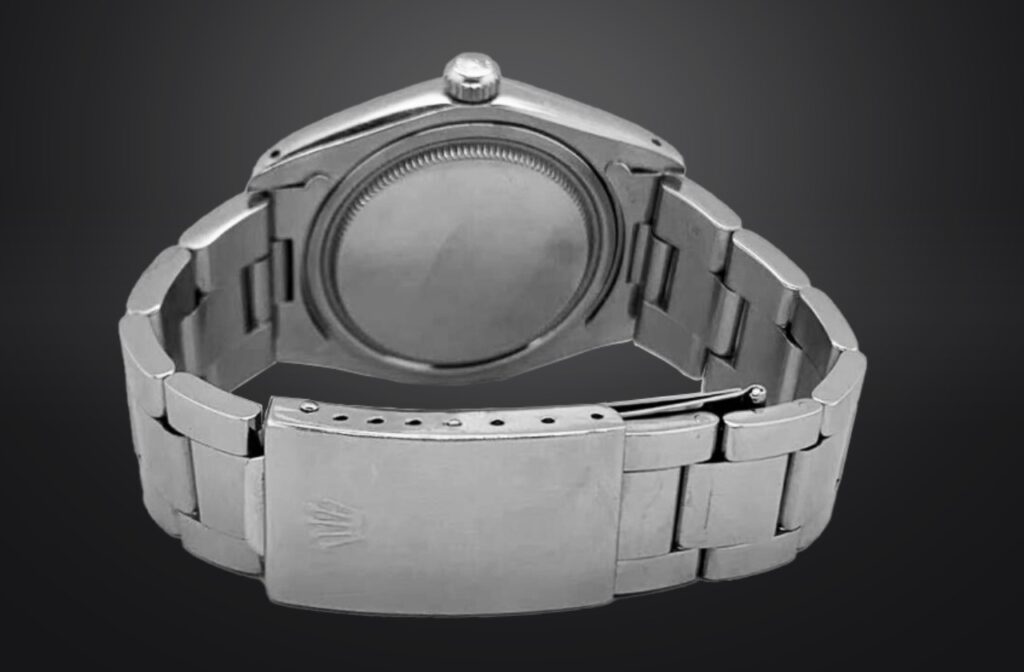 When looking at the Rolex Oysterdate Precision Ref. 6694, you'll notice its strap/bracelet is designed with both aesthetics and functionality in mind. This vintage watch features a three-link Oyster bracelet, which provides robust support and adds to its classy look.
The Oyster bracelet is specifically created for Rolex watches, and it offers a comfortable fit on your wrist. Its 19mm width complements the 34mm case size, ensuring a proportional look and feel when wearing the watch. Moreover, the stainless steel material gives it the durability to withstand daily wear while maintaining its shine.
The end-links of the 6694's Oyster bracelet are stamped with "60". This is important information for Rolex owners and vintage watch enthusiasts, as it helps identify the reference number of the bracelet. Furthermore, the buckle of the bracelet is coded "7205", which tells you the production date of the bracelet, with some bracelets dating back to 1967.
In terms of functionality, the Rolex Ref. 6694 features the classic fold-over clasp, allowing for secure and easy fastening. The clasp is designed to be strong yet unobtrusive, ensuring that the bracelet does not become loose during daily activities. The smooth edges of the clasp make it comfortable to wear, and the subtle Rolex logo adds a touch of elegance.
Overall, the strap/bracelet on the Rolex Oysterdate Precision 6694 offers a classic combination of beauty and practicality. Its high-quality stainless steel construction, timeless Oyster design, and functional features provide you a watch strap that not only looks elegant but is also designed to last.
The Movement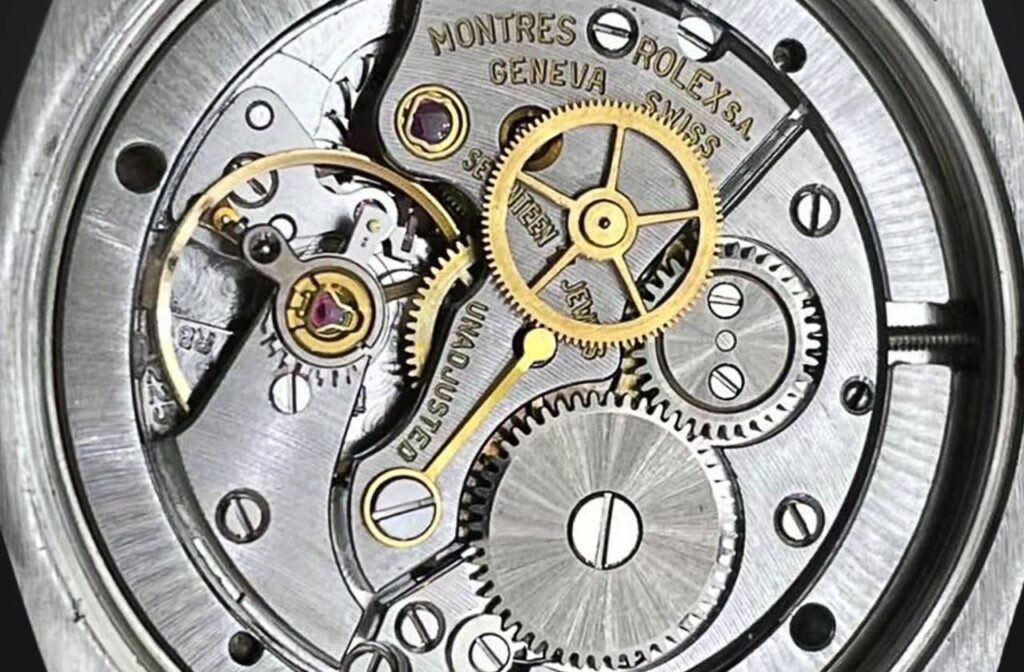 The Rolex Oysterdate Precision Ref. 6694 is a timepiece that stands out due to its movement. Unlike many modern Rolex watches, this Rolex watch model doesn't have a self winding movement. As such, it is equipped with a manual wind movement, specifically the Rolex Caliber 1225 or 1210. This means that you have to wind the watch manually to keep it running, giving it a unique vintage charm.
Water resistance is a crucial aspect to consider when discussing the Rolex Oysterdate Precision Ref. 6694. While the watch can withstand some water exposure, it is not as waterproof as recent Rolex watches. The Oyster case does provide a certain level of water resistance, but it is essential to remember that the watch was produced from the 1960s to the early 1980s, and its water resistance capabilities may not be on par with current standards. That said, this vintage Rolex watch model is water resistant up to 100 meters.
In summary, this manual wind watch is a notable timepiece for its manual-winding movement, as well as its water resistance capabilities, although they may not match newer Rolex models. Its unique features and vintage appeal make it a desirable addition to any watch collection.
The Competitive Landscape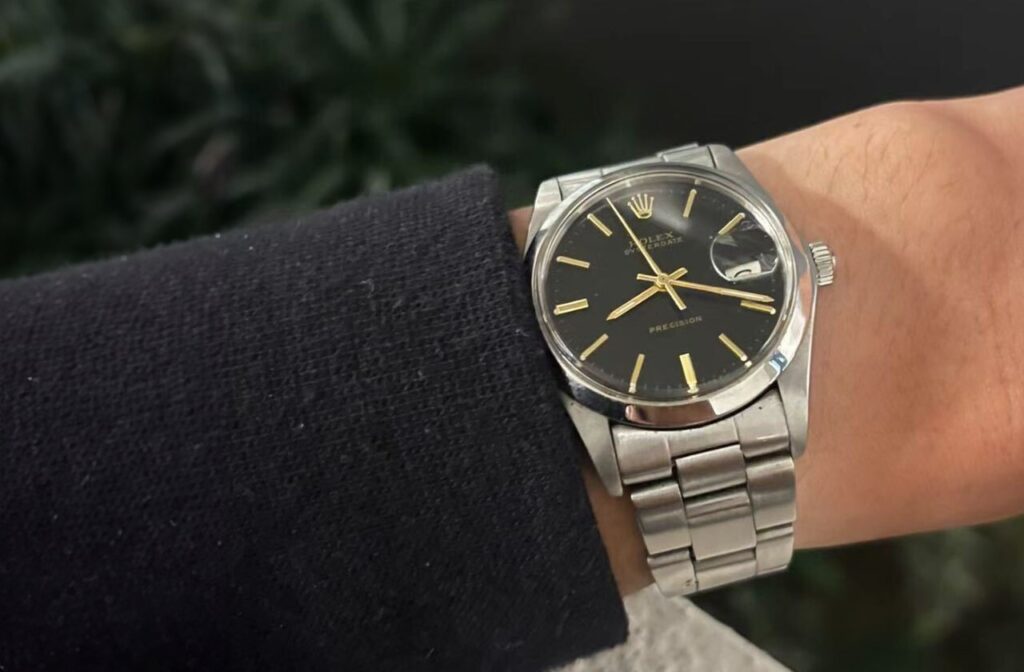 When considering the Rolex Oysterdate Precision Ref. 6694 and its competitive landscape, you have a variety of options to choose from, all of which offer unique features and design elements. It's important to weigh the aspects that matter most to you and select a timepiece that meets your individual style and requirements.
Omega Seamaster De Ville: The Omega Seamaster De Ville is a prominent competitor to the Rolex Oysterdate Precision Ref. 6694. Known for its elegance and versatility, the Seamaster De Ville features automatic movement, a durable structure, and water resistance. You can wear this timepiece to any formal or casual occasion, as it offers both style and function.
Jaeger-LeCoultre Memovox: Another worthy competitor is the Jaeger-LeCoultre Memovox. This exceptional watch is best known for its mechanical alarm feature, which makes it stand out in the competitive watch market. Its sophisticated design and precise mechanism make it an excellent alternative to the Rolex Oysterdate Precision 6694.
Patek Philippe Calatrava: The Patek Philippe Calatrava showcases exceptional craftsmanship and simplicity. As a well-established luxury watch, it boasts a timeless design, precision, and reliability. While the Calatrava typically commands higher prices than the Rolex Oysterdate Precision 6694, it remains a benchmark for elegance and sophistication that may appeal to your taste and preferences.
Why You Should Invest?
The Rolex Oysterdate Precision Ref. 6694 can be attractive to collectors and investors alike. By investing in Rolex vintage watches, such as the 6694, you're acquiring a piece that showcases a timeless and minimalist design. Its small yet formidable 34mm size adds a certain charm to its aesthetic, making it suitable for various occasions.
In recent years, the value of pre-owned real Rolex watches has experienced a notable increase. Bob's Watches reported an average market sale of a pre-owned Rolex watch rising from $5,000 in 2011 to $13,000 in 2021, making it a potentially profitable investment. This increase outperformed other assets such as gold, stocks, and real estate.
The Oysterdate Precision 6694 is unique with its manual wind movement, Rolex Caliber 1225, used from the 1960s to the late 80s. It is a 17-jewel movement with 21,600vph, offering a sense of nostalgia and exclusivity in today's market, which is dominated by automatic movements. This characteristic makes it even more appealing to watch enthusiasts and collectors searching for distinct pieces.
Additionally, owning a vintage Rolex could be a conversation starter and add flair to your personal style. By investing in a Rolex 6694, you will own a rare piece with history and character, setting you apart from those wearing more common and contemporary watches. Furthermore, as the demand for luxury watches continues to grow, it can provide you with potential appreciation in the future.
Pricing & Availability
As of August 2023, the private sales market values this vintage Rolex watch at S$3,677, marking a noticeable appreciation from its retail price of S$3,200 earlier in the month. For investors and collectors, this upward price trajectory in such a short timeframe underscores its potential as an appreciating asset.
The Oysterdate Precision 6694's rapid gain in value not only signifies its desirability and demand but also suggests that it could offer promising returns for those considering it as an investment. Furthermore, collectors might view this uptick as an indication of the timepiece's burgeoning status in the watch community, potentially marking it as a sought-after piece in the future.
Final Word
The 1966 Vintage Rolex Oysterdate Precision Ref. 6694 stands as a beacon of horological magnificence, blending the traditional artistry of watchmaking with timeless elegance.
For collectors and enthusiasts alike, the Oysterdate Precision offers an unparalleled journey into Rolex's rich heritage, promising not just a watch, but a narrative that resonates with timeless allure.
Key Takeaways
The Rolex Oysterdate Precision 6694 features a minimalist design that is often overlooked by vintage collectors.
The Rolex 6694 uses a manually wound movement, Caliber 1225, which was fitted during the 1960s and continued to be used through the late 80s.
As a watch produced in the 1980s, the Rolex Oyster date Precision 6694 can be considered a vintage timepiece. For collectors and enthusiasts who appreciate the charm and character of vintage watches, this particular model offers a valuable addition to any collection.
Looking to buy or sell your luxury watches? Watch Exchange is your one-stop destination for trading Rolex, Patek Philippe, Tissot, Sinn, Zenith, and other luxury timepieces. Find your next watch today or list your item for free!
---