A Seiko quartz metronome is a striking quartz watch that combines rhythm, sounds, and timekeeping as a unique complication. It can produce a beat or pulse like a traditional metronome and even play pitched notes for instrument tuning. It offers a marked fun and quirky display in addition to its handsome case, making it an ideal choice for those who are musically inclined.
With its user-friendly interface and enjoyable features, the Seiko metronome watch offers a seamless wrist experience for musicians and enthusiasts alike.
The Case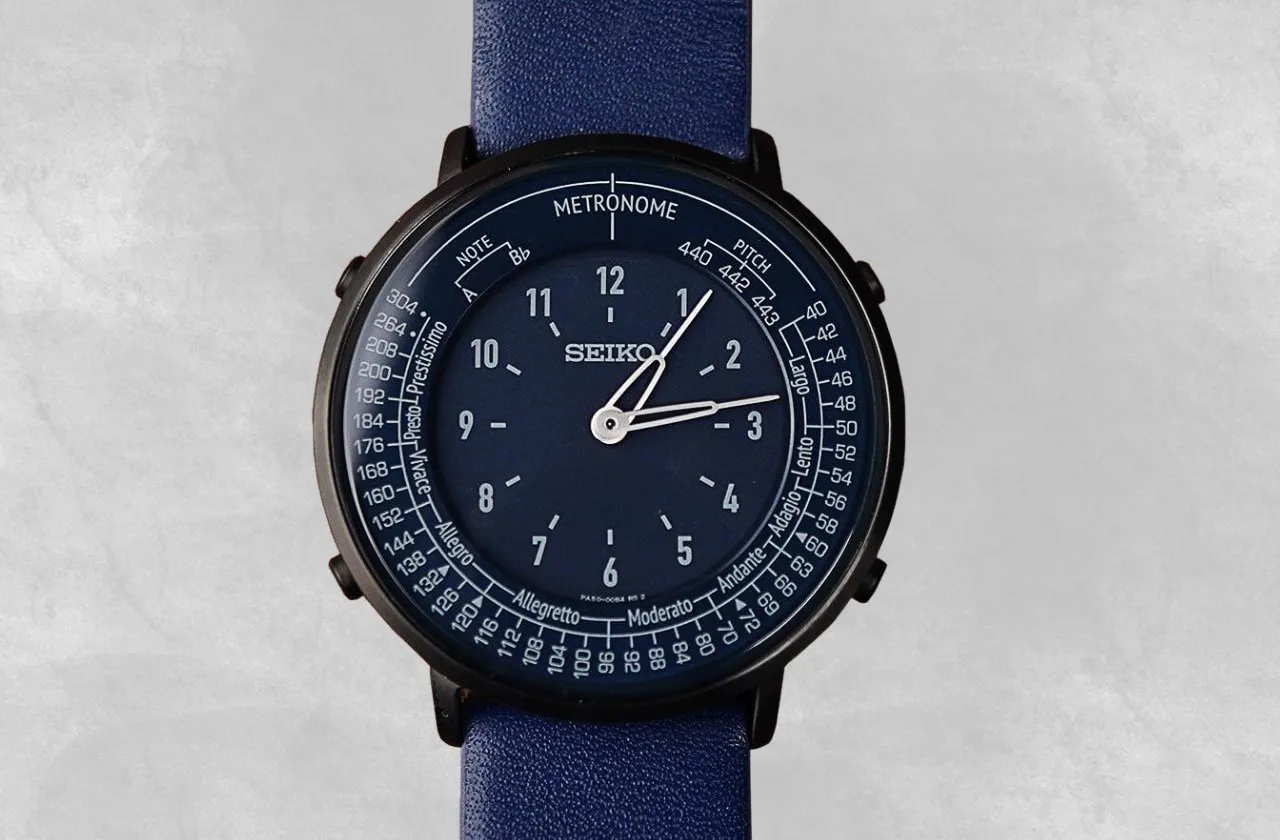 The Seiko SMW004A Metronome features a sleek and angular stainless steel case that exudes a sporty aesthetic dress watch. With its unisex size, measuring 36.5mm in diameter, 39mm lug to lug, and 10mm thick, it offers a versatile fit that appeals to both men and women.
The case is meticulously crafted with drilled lugs, adding a touch of practicality and allowing for easy strap changes.
One standout option is the PVD-coated black case, which creates a striking contrast against the dark blue dial. The combination of colors enhances the watch's sporty appeal and adds a contemporary edge. The choice of materials and finish reflects Seiko's attention to detail and commitment to quality.
The use of a mineral crystal further enhances the durability of the case, providing protection against scratches and everyday wear. While a sapphire crystal would have been a preferred choice, the mineral crystal remains adequate for the watch's intended purpose.
The Dial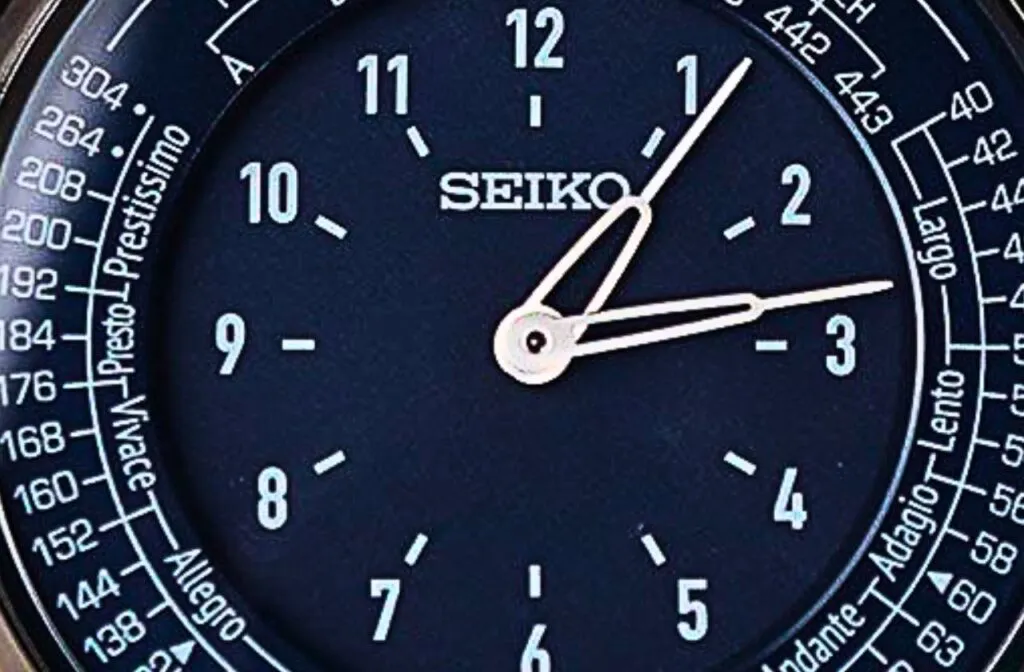 The dial of the Seiko SMW004A Metronome is a masterclass in displaying information effectively and creatively.
It features a stepped design with light grey printed numerals in the sunken section dedicated to timekeeping, while the outer raised tempo dial section accommodates the metronome scale. This thoughtful arrangement allows for intuitive reading of both time and rhythm, demonstrating Seiko's attention to detail and commitment to user experience.
The design of the hands on the Seiko SMW004A Metronome is truly captivating, reminiscent of a conductor's baton. The skeletonized hands not only add a touch of elegance but also serve a functional purpose in aiding the reading of the metronome scale.
However, when it comes to reading the time, things become a bit perplexing. The lack of a minute scale and the identical appearance of the hour and minute hands make accuracy a challenge. While the colored tip on the hour hand attempts to differentiate it, it doesn't provide a clear solution to easily discerning the time.
Despite the confusion surrounding time reading, the Seiko SMW004A Metronome dial still manages to captivate with its unique design and attention to displaying information effectively. It showcases Seiko's commitment to creating a dial that is not only aesthetically pleasing but also enhances the overall usability of the watch.
While there are other models available, for example, such as those with a white dial, this particular Seiko metronome review focuses on the Seiko SMW004A model. The dial's thoughtful design allows for effortless and intuitive reading of both time and rhythm, exemplifying Seiko's meticulous attention to detail and dedication to providing an exceptional fun-piece user experience.
The Strap/Bracelet
The Seiko SMW004A Metronome comes with a navy blue leather strap, adding a touch of sophistication and elegance to the timepiece. The choice of a leather strap enhances the overall aesthetic appeal of the watch, making it suitable for both formal and casual occasions.
The navy blue color of the strap complements the dark blue dial, creating a harmonious and cohesive look. The leather material offers comfort and durability, ensuring a pleasant wearing experience throughout the day.
With its versatility and timeless appeal, the navy blue leather strap of the Seiko SMW004A Metronome adds a refined finishing touch to the watch, allowing it to seamlessly blend with various outfits and personal styles. Whether dress watch is worn with a suit or a more casual attire, the strap enhances the overall visual appeal of the timepiece while ensuring comfort and longevity.
The Movement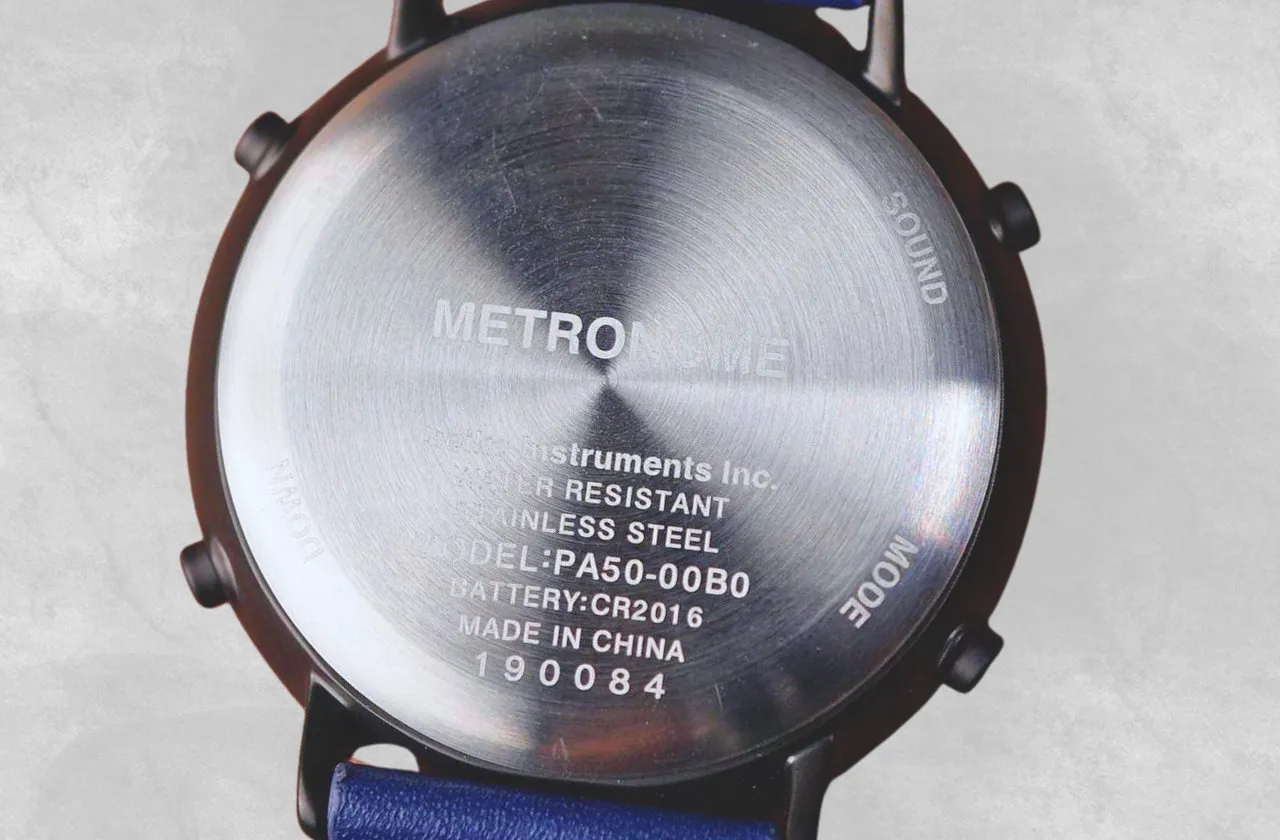 When it comes to the Seiko SMW004A Metronome, the movement is an essential component that brings its unique capabilities to life. This timepiece features a quartz movement, known for its accuracy and reliability.
The quartz movement in the Seiko SMW004A powers not only the traditional timekeeping function but also the metronome and pitch features. This combination of functionalities makes it a versatile tool for musicians and individuals seeking precise rhythm, tempo, and timing.
The quartz movement operates on a battery, specifically a large CR2016, which provides a long-lasting power source. With an average battery life of approximately two years, users can rely on the Seiko SMW004A Metronome to deliver consistent performance over an extended period.
The movement in the Seiko SMW004A ensures smooth and precise hand movement, allowing the minute hand to swing back and forth as a metronome and the hour hand to align with the metronome scale for controlling speed and pitch. Activating the metronome and pitch functions is done easily through dedicated pushers on the case, providing a user-friendly, playing experience.
While the movement of the Seiko SMW004A Metronome is impressive in its functionality, it's important to note that this watch focuses primarily on the metronome feature rather than intricate timekeeping. The hands of the watch, although visually appealing with their conductor's baton-like design, may pose challenges when it comes to accurately read the time due to their similarity and lack of minute scale.
However, this slight drawback in keeping time is outweighed by the watch's overall charm and the uniqueness it brings to the wearer.
The Competitive Landscape
When it comes to metronome watches, the competitive landscape for the Seiko Metronome SMW004A includes several notable brands that offer compelling alternatives in the market. While Seiko has established itself as a renowned and respected watchmaker, there are other watch brands that compete in terms of quality, design, and innovation specifically in the realm of metronome functionality.
Here are several alternative choices to consider:
Soundbrenner Core Watch: A strong competitor to the Seiko Metronome, the Soundbrenner Core offers comprehensive features including a powerful vibration function for pulse perception in loud environments. With multi-wear options and basic smartwatch functionalities, it provides convenience as an all-in-one solution for musicians.
Kliq MicroNome: Designed specifically for guitarists and bassists, Known for its pinpoint accuracy and wide volume range up to 72db. It offers flexibility and precision with nine rhythm settings and a tempo range of up to 260bpm.
JSH Clip-On Metronome: The JSH Clip-On Metronome caters to musicians' practice needs, providing a wide range of settings with a tempo range of 30 to 280bpm. Its tap function and headphone jack contribute to a distraction-free practice environment.
Peterson BodyBeat Sync: Offering flexibility, the Peterson BodyBeat Sync can be worn or placed anywhere on the body. It features a strong vibration function for beat perception in noisy environments and accommodates various musical styles and genres with its wide tempo range and adjustable time signatures.
Wittner Taktell Piccolo Metronome: With its compact and portable design, the Wittner Taktell Piccolo Metronome delivers reliable functionality. It eliminates the need for batteries with its mechanical movement, and its tempo range of 40 to 208 bpm caters to a wide range of musical styles.
| | | |
| --- | --- | --- |
| Brand | Known for | Avg SGD Price |
| Soundbrenner Core Watch | Powerful vibration feature, multi-wear options, basic smartwatch functionalities | S$229-309 |
| Kliq MicroNome | Pinpoint accuracy, wide volume range, flexibility in rhythm and tempo | S$23-54 |
| JSH Clip-On Metronome | Wide range of settings, tap function, headphone jack | S$16-20 |
| Peterson BodyBeat Sync | Flexibility in wearing options, strong vibration function | S$205 |
| Wittner Taktell Piccolo | Compact and portable design, reliable functionality | S$69-99 |
Why You Should Invest?
Investing in the Seiko SMW004A Metronome is a wise choice due to its unique position in the market. This timepiece stands out as a combination of a wristwatch and a metronome, offering a distinctive and practical feature set. Its seamless integration of precision timekeeping and rhythmic functionality caters specifically to musicians, music teachers, and individuals who value precise timing and rhythm in their activities.
In a market where traditional watches and metronomes are available separately, the Seiko SMW004A Metronome provides a convenient and compact solution by combining both functions in a single device. This innovative approach sets it apart from conventional offerings and makes it an essential tool for those seeking seamless integration of timing and rhythm control.
Pricing & Availability
The Seiko SMW004A Metronome is available at a price of S$373. Please note that pricing can vary based on factors such as location, retailer, and any promotional offers. It is advisable to check with authorized Seiko retailers or online platforms to obtain the most accurate and up-to-date pricing information.
In Japan, the watch is notably affordable, with prices averaging around S$190. On international platforms like eBay and other sites, the price tends to increase to around S$400.
While this price difference may still be considered reasonable, it does position the Seiko Metronome in competition with more practical daily-wear Seiko watches, shifting its perception from an affordable novelty to a potential alternative for everyday use.
It is always recommended to purchase from authorized retailers to ensure the authenticity and warranty coverage of the Seiko SMW004A Metronome.
Final Word
The Seiko SMW004A Metronome offers a unique and cheap solution for musicians seeking precise timing and rhythmic control. Compared to a digital metronome, the Seiko SMW004A Metronome offers a distinct advantage with its seamless integration of a metronome and a wristwatch. While digital metronomes provide precise timing and a wide range of features, the Seiko SMW004A Metronome combines these functionalities with the convenience of a wearable timepiece.
Key Takeaways
Whether you love playing piano, guitar, and the like, the Seiko SMW004A Metronome combines the functionalities of a wristwatch and a metronome, providing musicians with a convenient all-in-one solution.
Its precise timing and rhythmic control features make it a valuable tool for enhancing musical performance and practice sessions.
Seiko's reputation for craftsmanship and excellence ensures the quality and reliability of the SMW004A Metronome.
Looking to buy or sell your luxury watches? Watch Exchange is your one-stop destination for trading Rolex, Patek Philippe, Tissot, Sinn, Zenith, and other luxury timepieces. Find your next watch today or list your item for free!
---