The Rolex Submariner 5513 is a vintage tool watch that enjoys a rich history and remains highly sought by watch enthusiasts and collectors alike. Produced between the early 1960s and late 1980s, it served as a more affordable version of the 5512 and has earned a reputation for its durability, timeless design, and exceptional performance. 
Over the years, it underwent various updates, with the most significant changes seen in its dial and bezel designs. These variations have led to a fascinating world of collection where even the smallest differences can determine the rarity and value of a particular watch.
Exploring the 5513 is an exciting journey for collectors and enthusiasts, as it not only offers a glimpse into the evolution of Rolex's iconic dive watch but also stands as a testament to the brand's dedication to precision, functionality, and timeless style. All set to learn more about it? The Rolex Submariner 5513 review below offers all the info you need. Let's get into it.
The Case
It's 40mm in diameter and is crafted from stainless steel, providing durability and a classic aesthetic. You can rest assured the watch sits comfortably on the wrist thanks to its bearable 15mm thickness and Rolex coronet on its crown. Some variations had rounded crown guards while others had pointed crown guards.
One unique trait it boasts is the presence of fixed bars between its lugs, a design element specifically incorporated in the Military Submariner 5513/0 version. These fixed bars secure the watch to the wearer's wrist during military operations, highlighting the practicality of the Submariner. It has an acrylic crystal, which gives it a nice vintage charm.
It also has a bi-directional diver's bezel with a luminous pip at 12 o'clock (the last No Date Sub to have one), which allowed divers to track elapsed time during their underwater excursions. This functional aspect is accompanied by a screw-down crown, ensuring water resistance up to 200 meters (660 feet) – a testament to the watch's reliability even in demanding environments.
As for the caseback, well, it's solid- typical of Rolex watch casebacks. It has no printing or markings but continues the elegance with the rimmed edges around it. The plain design makes it easy on the wrist and contributes to its impressive 200m water resistance depth rating, which is a plus in our books. After all, the watch wouldn't look as sophisticated with a transparent caseback. Our thoughts. Moving on…
The Dial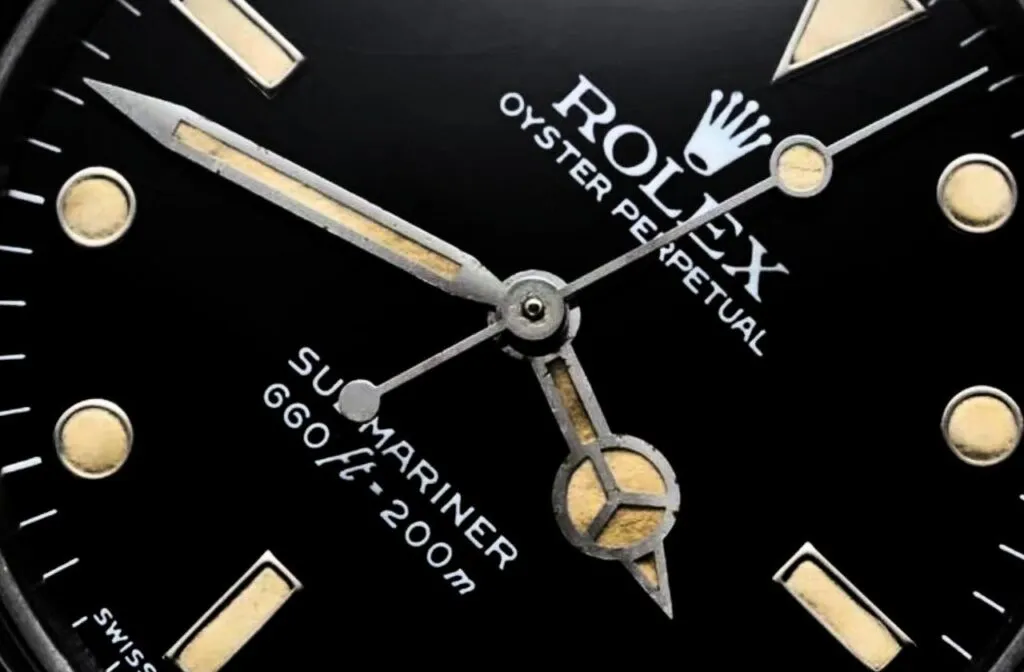 The Rolex Submariner 5513 has a distinct and attractive dial design. It's similar in appearance to the Rolex 5512 from a distance. However, upon closer look, it's clear the dial comes in various dial variations, depending on the model- an Explorer dial, gilt dial, glossy dial, and matte dial Submariners. Learn more about Rolex Submariner dial types here.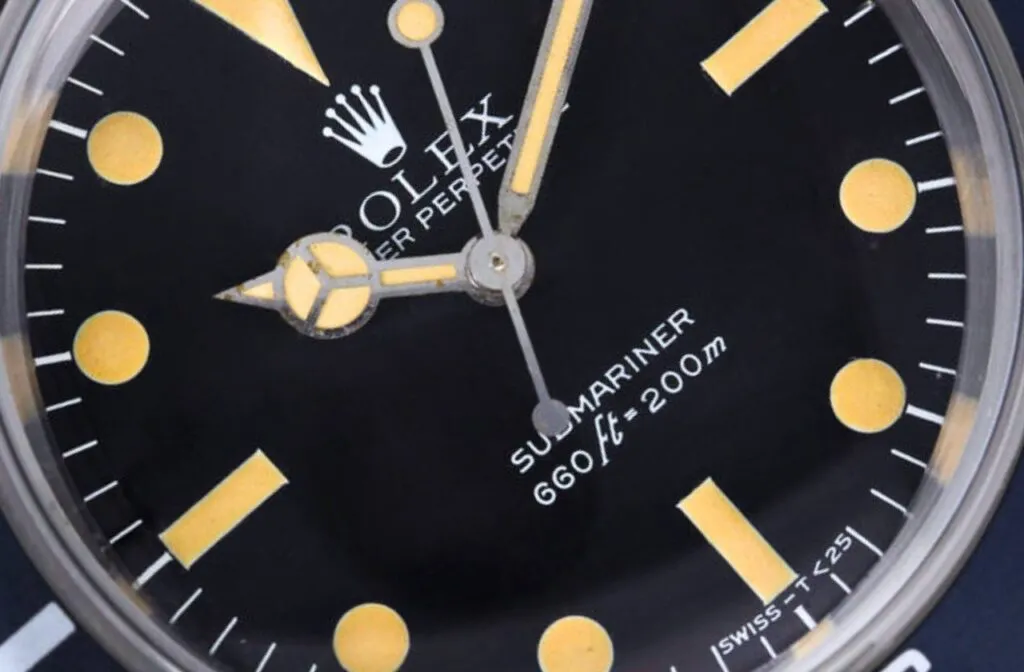 Some standout features of the Rolex Submariner ref. 5513 dial is the dial signature under the 6 o'clock hour marker and the hour markers which are available in different shapes and sizes depending on the production year. For instance, some dials feature smaller, circular hour markers, while others have larger "Maxi" markers, such as the 1979 Rolex 5513 No-Date Submariner Maxi Dial "Lollipop". This Maxi Dial variant is sought-after by enthusiasts for its distinct appearance and rarity.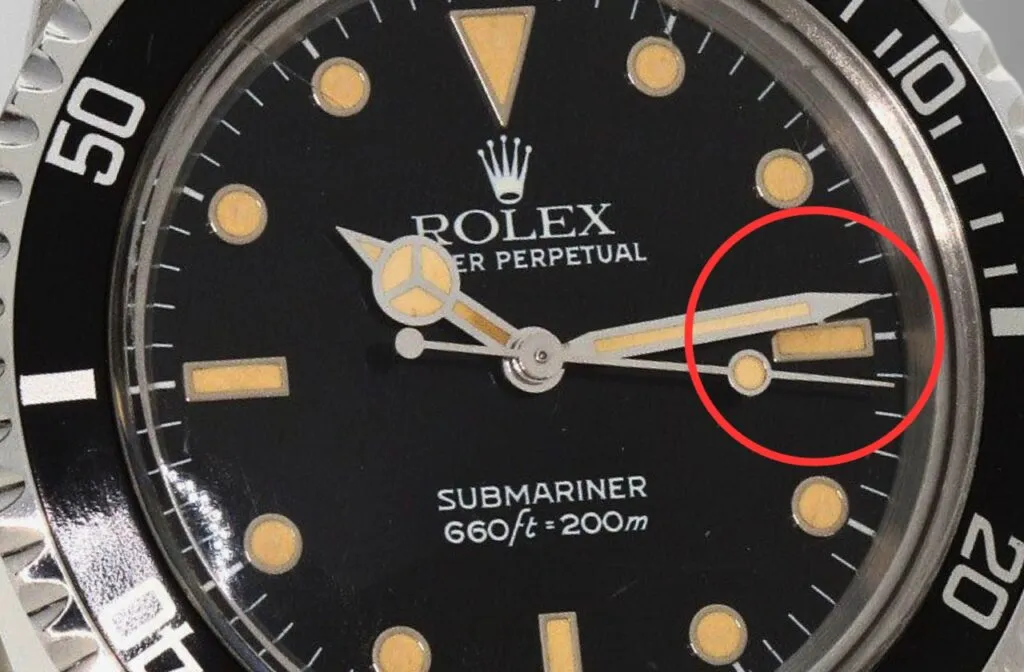 Another notable characteristic of this quintessential vintage Submariner is its lack of a date window, a feature that sets it apart from other Submariner models. This absence of a date function contributes to the clean and symmetrical look of the dial, which many wearers find appealing. Additionally, the matte finish of the dial enhances its readability underwater, a crucial aspect of a dive watch.
The luminous material used on the Submariner 5513 dial also underwent changes over the years. Initially, Rolex used radium-based lume on the hour markers and hands. However, they switched to less radioactive tritium lume in the late 1960s due to safety concerns. As tritium ages, it acquires a creamy patina, a feature cherished by vintage watch aficionados for its warm, aged appearance.
The Movement
The Rolex Submariner 5513 is powered by a reliable and robust movement that played a significant role in its enduring popularity. In its early production years, the 5513 utilized the caliber 1530 movement.
The Rolex Caliber 1530 is a movement produced by Swiss luxury watchmaker Rolex. It belongs to Rolex's lineage of automatic movements and doesn't have a chronometer certification.
As time passed and Rolex continued to innovate, the movement inside the reference 5513 was upgraded to the caliber 1520.
Here's a side-by-side comparison of the main features of both movements:
| | | |
| --- | --- | --- |
| Aspect | Caliber 1530 | Caliber 1520 |
| Movement Type | Self-winding | Self-winding |
| Production Era | 1957-1965 | 1963 to the early 1980s |
| Jewels | 17 synthetic ruby jewels. It later had 25 and 26 jewels | Several synthetic ruby jewels |
| Frequency | 18,000 beats per hour (BPH), equivalent to 5 beats per second | It typically operates at a higher frequency of 19,800 beats per hour (BPH), equivalent to 5.5 beats per second |
| Power Reserve | Approximately 44 hours. This means that once fully wound, the watch can run for about 44 hours without needing to be rewound or worn. | Approximately 42 hours |
| Accuracy | It was designed to meet Rolex's high-quality standards. However, as with all mechanical movements, its accuracy can be influenced by factors such as wear and tear and environmental conditions. | It was designed to meet the high-quality standards associated with the brand. It's more precise than its predecessor. |
Despite these differences, both movements share essential features, such as a bi-directional winding rotor for efficient automatic winding, a hacking function to stop the seconds hand when setting time, and a free-sprung balance design for improved shock resistance.
The Strap
The Rolex Submariner 5513 is a timeless and classic vintage dive watch with various strap options to suit your style and preferences. One key element contributing to its classic appeal is the 20mm strap size, which fits well with many available choices. Here are the main ones:
Leather Straps
They provide a sophisticated look for your Submariner 5513. Opting for a vintage-style leather strap can enhance the overall appearance of your watch, especially when paired with a faded bezel insert.
They can be made from different types of leather, including full-grain, top-grain, and suede, each offering its own texture and appearance. 
NATO Straps
They're another popular choice for the 5513. They offer a more casual and sporty appearance, ideal for outdoor activities and daily wear. These straps are made from durable materials like nylon or fabric and come in various colors, patterns, and styles. They are easily adjustable, providing a comfortable fit for your Rolex Submariner 5513.
Stainless Steel Bracelets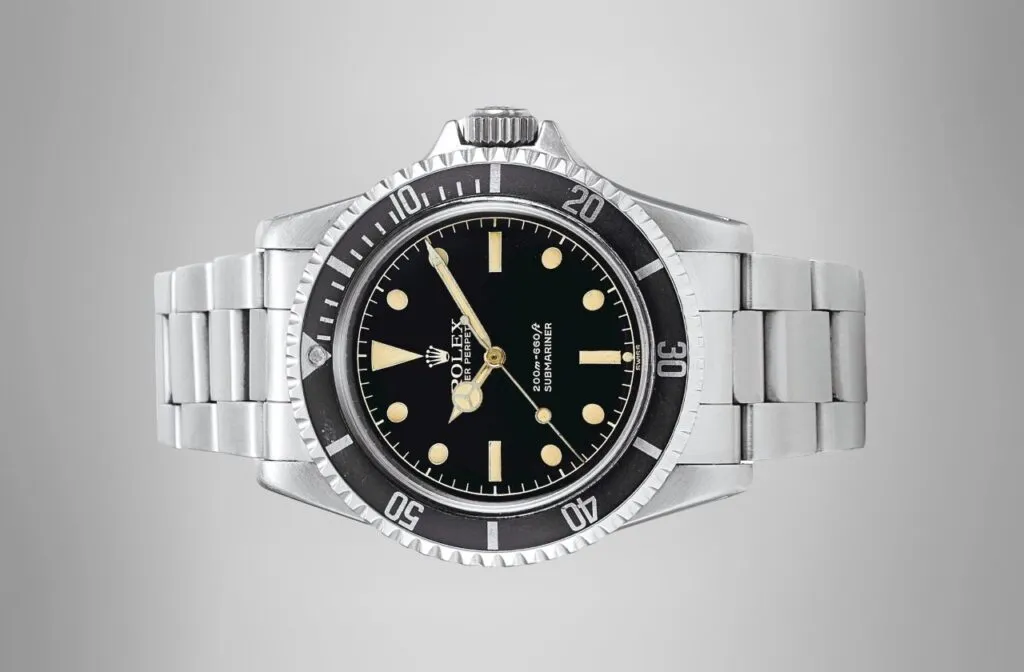 A typical example is the Oyster bracelet. These bands are the traditional option for the Submariner 5513. They add a sense of refinement and elegance to your timepiece and are well-suited for more formal occasions.
The Competitive Landscape
The Rolex Submariner 5513 is a versatile, timeless, iconic timepiece with an instantly recognizable appearance. Its unmatched handsomeness and functionality have made it a must-have among most watch fans. As per WatchCharts, it retails for S$3,410 and has an impressive private market price of S$18,234.
Its classic status has earned it competitors within the Rolex Submariner family and beyond. Let's check out the main opponents:
The Rolex 5513 maintains its standing in the competitive landscape with its iconic design, the enduring appeal of the Rolex brand, and the rich history accompanying its distinct versions.
However, its competitors also have eye-catching offers, from lower price points to mouthwatering features, making it a no-winner battle since each piece appeals to watch enthusiasts depending on their preferences and budget.
Why You Should Invest?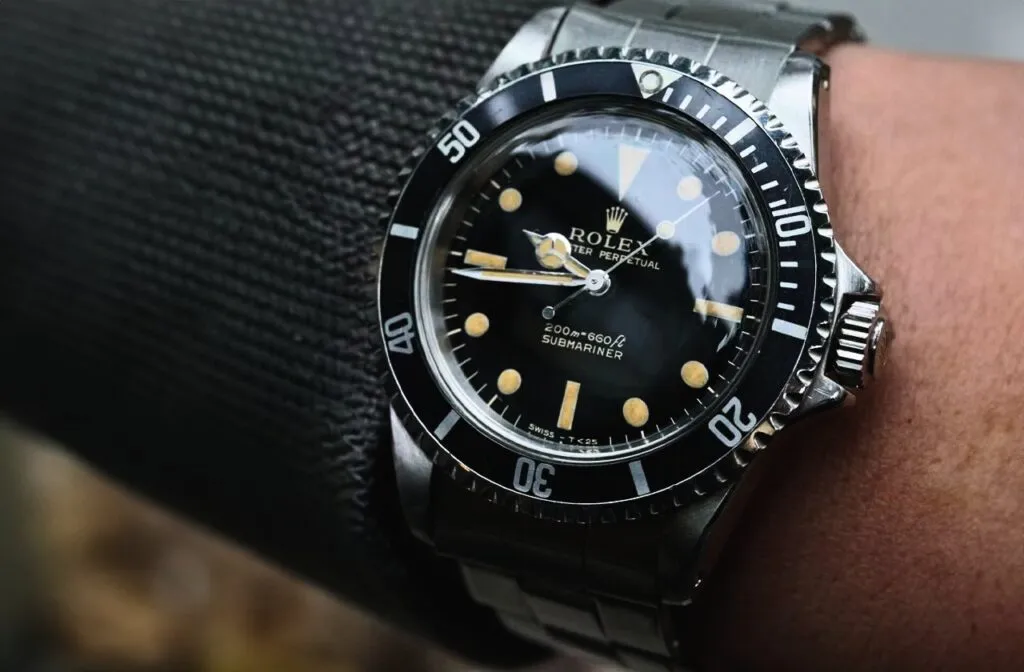 The Rolex Submariner 5513 has a rich history and is part of the iconic Submariner line, known for its association with diving and exploration. It was produced from the 1960s through the 1980s, making it a vintage classic with historical significance.
Also, vintage Rolex watches, especially those with historical importance like the 5513, tend to appreciate in value over time. Their prices can increase significantly as they become rarer and more sought after. For instance, according to WatchCharts, its average market price increased from S$17,524 on March 22, 2023, to S$18,234 on September 4, 2023.
Final Word
The 5513 is a stellar vintage watch that continues to captivate collectors and enthusiasts with its timeless design and rich history. Its enduring appeal and potential for appreciation make it a worthy addition to any timepiece collection. For those passionate about vintage Rolex watches, it's undeniably a treasure worth pursuing.
Key Takeaways
The Rolex Submariner 5513's most notable features are a bi-directional rotatable bezel, non-COSC-certified movements, a 40mm stainless steel body, and a domed acrylic crystal over its two-liner dial.
The 5513 Submariner is an essential member of the Sub family since it's the last No Date Sub with a bi-directional bezel and an acrylic crystal.
The Rolex Submariner reference number 5513 is a worthwhile investment for its rich history, vintage status, and high demand in the pre-owned market. Its pre-owned price is higher than its retail value.
Looking to buy or sell your luxury watches? Watch Exchange is your one-stop destination for trading Rolex, Patek Philippe, Tissot, Sinn, Zenith, and other luxury timepieces. Find your next watch today or list your item for free!
---