Sinn watches have gained a reputable status among watch enthusiasts for their quality, precision, and innovative technology. Established in 1961 by a former World War II pilot and flight instructor, Helmut Sinn, the brand and Sinn logo initially specialized in producing pilot's watches, chronographs, and navigation cockpit clocks.
Over the decades, the company has evolved, incorporating comfortable watch and modern technological advancements and expanding its range of timepieces under the supervision of Lothar Schmidt since 1994.
Today, Sinn offers a diverse collection of watches, combining their trademark diver aesthetic with varying styles and functionalities. Known for its robust dive watch, function-driven design, the German watch manufacturer has managed to cultivate a loyal following in the horology community.
The Case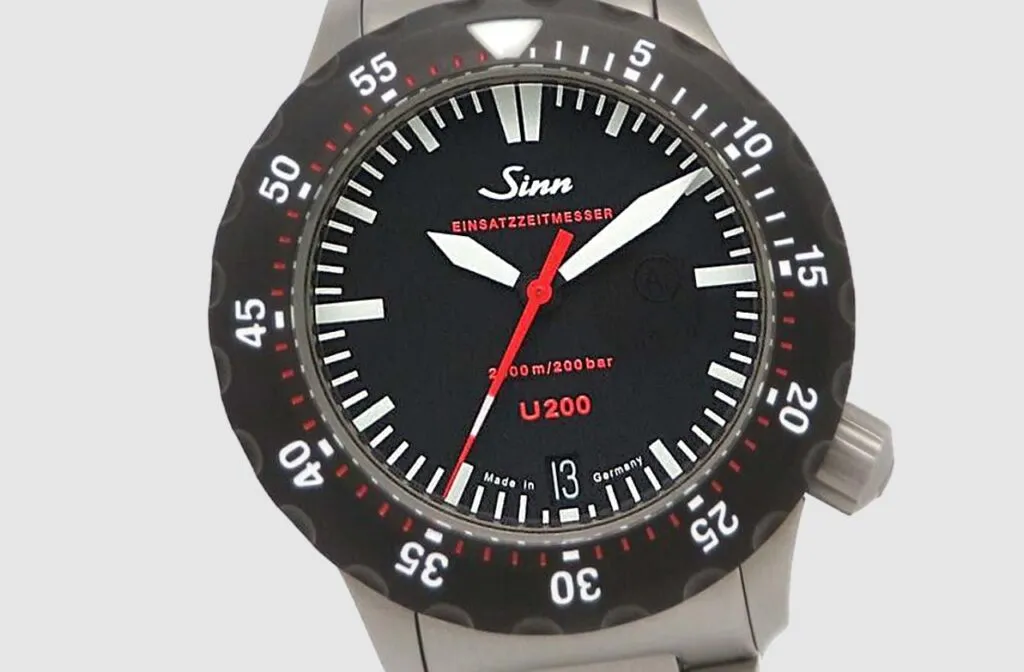 Sinn watches are well-regarded for their robust and durable cases, designed to withstand the demands of various activities and environments. One notable example is the Sinn U1 diving watch, which showcases the brand's commitment to exceptional case construction.
The Sinn U1 features a 44mm case made from German submarine steel, renowned for its exceptional resistance to corrosion and pressure. This unique material provides the watch with remarkable durability and longevity, making it a popular choice among diving professionals and enthusiasts. The submarine steel case of the Sinn U1 exemplifies the brand's dedication to using high-quality materials that can withstand the rigors of underwater exploration.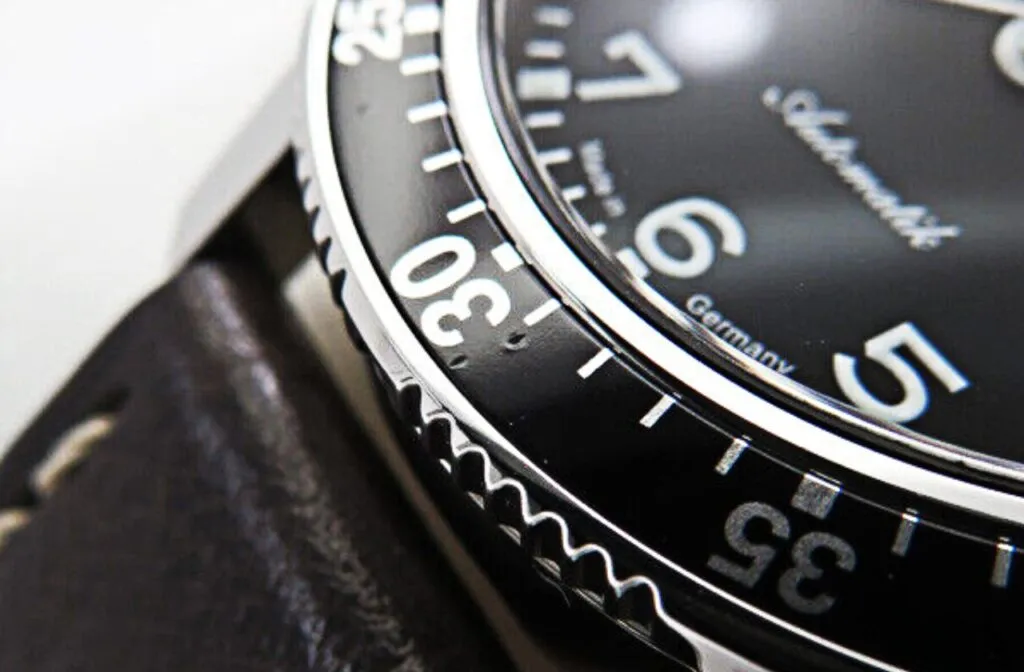 The brand further diversifies its designs with new models like the Sinn EZM 3, known for its left-side crown placement, which prioritizes wearer comfort. The 104 St Sa A model boasts a 41mm stainless steel case with a polished finish. The robust case construction offers excellent protection for the watch's movement and enhances its overall durability. It combines both a sporty and elegant design, making it a versatile choice for everyday wear.
Whether it's the use of submarine steel in the Sinn U1 or the incorporation of innovative features in other models, Sinn's commitment to producing high-quality cases sets them apart in the watch industry. The brand's focus on durability, functionality, and distinctive design elements makes Sinn watches highly sought after by those seeking timepieces that can withstand the challenges of various activities and environments.
The Dial
Sinn watches, celebrated for their legible and practical dials, often incorporate the brand's minimalist aesthetic with a keen focus on clarity and functionality. Notable models like the Sinn 105 St Sa and Sinn 556 epitomize this design philosophy. The 105 St Sa features a balanced black dial with a date window and luminescent hour markers, while the 556 reduces glare with a matte finish and luminous coating on the indices crown and hands. Both designs cater to a range of lighting conditions, ensuring readability at all times, much like the Rolex's Oyster Perpetual range.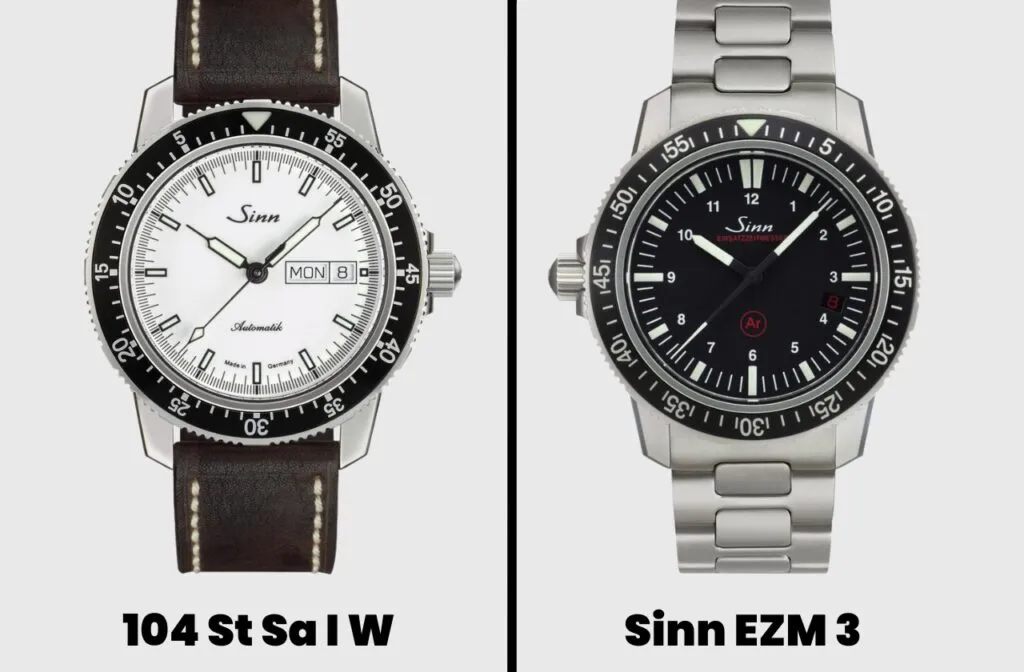 The Sinn 104 St Sa | W offers a distinct alternative with a polished white dial, blending vintage aesthetics and modern practicality. Lastly, the Sinn EZM 3 underlines Sinn's focus on function-driven aesthetics with its robust deep black dial. The bold, luminescent numerals and indices guarantee excellent visibility under all lighting conditions. 
The Strap/Bracelet
Sinn offers a vast array of strap and bracelet options to cater to different tastes and preferences. With an approach echoing Breitling's diverse bracelet offerings, Sinn provides the following popular options:
Leather Straps: Sinn watches like the 104 Sta SA | W and Sinn 356 offer high-quality leather straps in various colors such as black, brown, and blue, among others. These straps are known for their comfort and versatility, perfectly blending with both casual and formal outfits.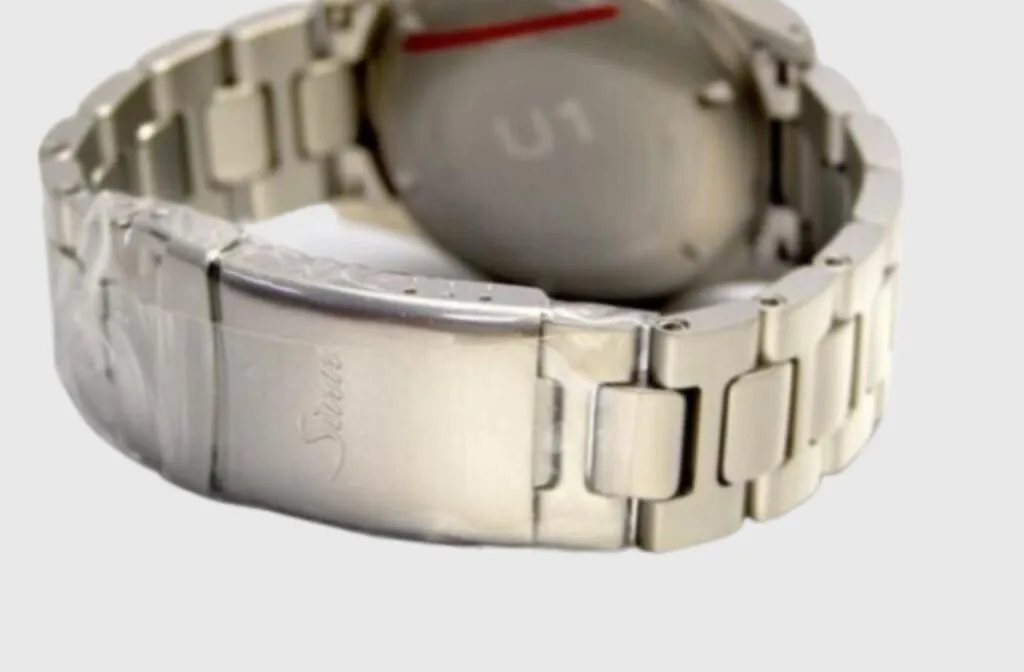 Stainless Steel Bracelets: Sinn has models like the Sinn U1 and Sinn EZM 3 that are available with stainless steel bracelets. These bracelets, known for their strength and longevity, give the watches a classic, timeless appeal.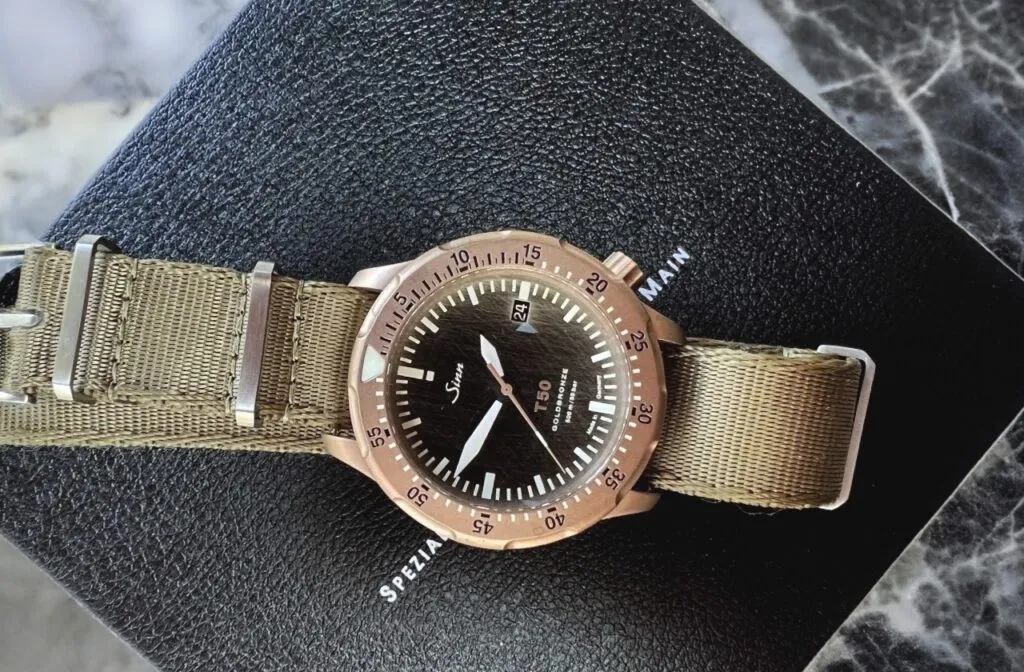 NATO Straps: Sinn also provides NATO straps for some models, such as the T50 GOLDBRONZE. These straps, known for their ruggedness and easy-to-wear replacement capability, are popular among outdoor enthusiasts and military personnel.
The Movement
One key element in the quality of Sinn watches is the movement used. The brand employs several different types of movements, each selected to perfectly match the design and function of the specific watch model. The precision and reliability of these movements contribute significantly to the reputation of Sinn watches.
Automatic Movements
Many Sinn watches utilize automatic movements, renowned for their accuracy and ease of use. For instance, the Sinn 556, one of the brand's most popular models, utilizes the Swiss-made Sellita SW200-1.
Quartz Movements
Sinn also utilizes quartz movements for some models, known for their precision and lower maintenance requirements. For example, the Sinn UX Hydro utilizes a quartz movement, the ETA 955.652, capable of functioning reliably even under extreme conditions.
Chronograph Movements
Some Sinn models, like the Sinn 903 St, feature a chronograph movement – specifically, the Valjoux 7750. This Swiss-made movement is one of the most reliable and well-regarded chronograph movements available, known for its robustness and precision.
Manual Winding Movements
Manual winding movements, which require the wearer to wind the watch regularly, are used in some Sinn watches such as the Sinn 6060 Frankfurt Financial District Watch. This watch uses the Sellita SW500-1 movement, appreciated for its precision and the intimate connection it fosters between the wearer and the timepiece.
Top 3 Popular Models
About
The Sinn U1 is a highly regarded timepiece that combines durability, water resistance, and unique design elements. With its robust construction and water resistance of 1000m, it is an excellent choice for divers seeking a reliable and functional watch. At the same time, its distinctive design and attention to detail make it highly coveted among watch collectors.
Features
One notable aspect of the Sinn 1010.010 is the material used in its construction. Sinn sourced a special steel from ThyssenKrupp Marine Systems, the manufacturer of German submarines. This steel, which is used in the hulls of the advanced German Navy submarines, provides exceptional resistance to seawater and is non-magnetic.
Specifications
Production Year: 2005
Case Size: 44mm
Materials:

Dial – Black
Bracelet – Stainless steel
Bezel – Rotating, 0-60 (Dive) stainless steel

Function: Hours, Minutes, Seconds, Date Window
Mechanism: Automatic movement, Sinn Calibre SW 200-1, 38-hour power reserve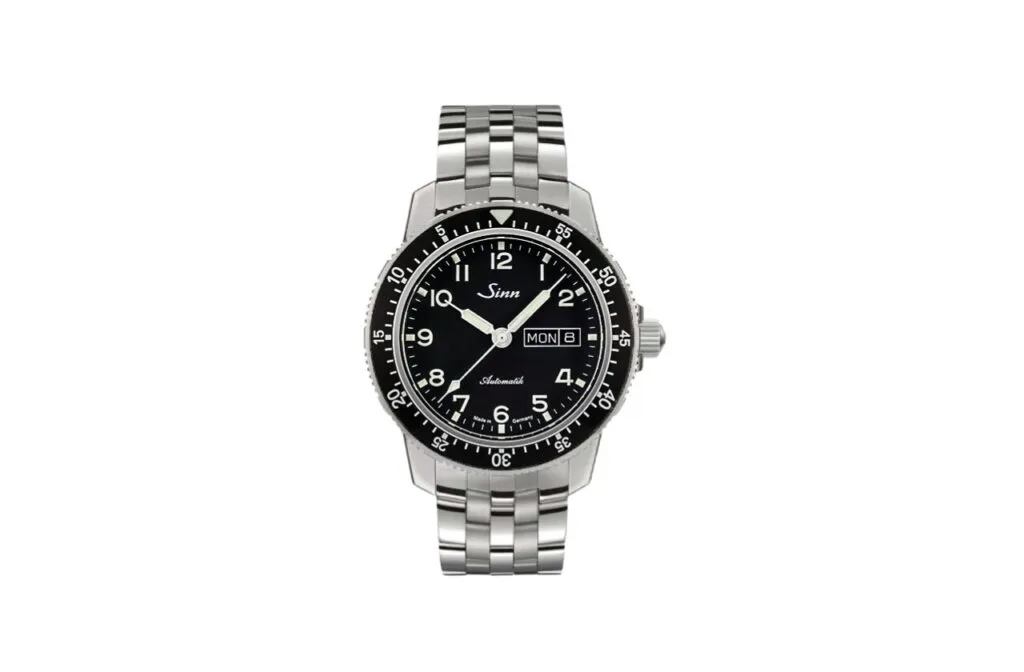 About
This Pilot Watch is a versatile and stylish timepiece known for its classic design. With a polished stainless steel case measuring 41mm in diameter and featuring short lugs, this watch offers a comfortable fit. It is water-resistant and scratch-resistant, making it durable for various activities.
Features
Featuring an ivory to black gradient dial, this watch includes a captive pilot's bezel with minute ratcheting for precise timing. Its double-sided sapphire crystal glass enhances durability. It's water and pressure-resistant up to 20 bar, and also maintains performance under low pressure conditions.
Specifications
Production Year: 2015
Case Size: 41mm
Materials:

Dial – Black
Bracelet – Leather strap or stainless steel H-link bracelet
Bezel – Rotating, 60-0 (Pilot) Stainless Steel

Function: Hours, Minutes, Seconds, Date Window, Day
Mechanism: Automatic movement, Selita Calibre SW 220-1, 38-hour power reserve
About
The Sinn EZM 3 is a sophisticated diving watch built for discerning divers. Crafted from robust stainless steel, it features a black dial with luminous hands and hour markers for enhanced readability underwater. With an automatic movement, high water resistance, and a date function, it exemplifies Sinn's commitment to precision and durability. 
Features
This model boasts a left-sided crown that avoids back-hand pressure, while sapphire crystal glass ensures durability. Certified by DNV, it can withstand water pressure up to 500m depth. The watch also features Ar-Dehumidifying Technology to prevent fogging and increase functional reliability.
Specifications
Production Year: Unknown
Case Size: 41mm
Materials:

Dial – Black
Bracelet – Stainless steel
Bezel – Steel

Function: Hours, Minutes, Seconds, Date Window
Mechanism: Automatic ETA caliber 2824-2, 42-hour power reserve
The competitive landscape
When considering an investment in Sinn watches, it's essential to understand the competitive landscape in which the brand operates. Here, we have listed the top five competitors to Sinn, each with their unique strengths and offerings.
In this table, we provide a brief overview of some renowned watch brands and their defining attributes. It also outlines the average price range in Singapore dollars (SGD) for each brand tool watch here, giving you a sense of the financial investment required.
| | | |
| --- | --- | --- |
| Brand | Known For | Average SGD Price |
| Rolex | Precision, Durability, Prestige | S$1,493 – S$134,434 |
| Oris | Diving Watches, Automatic Movements, Swiss Made | S$560 – $4,686 |
| TAG Heuer | Sport Watches, Chronographs, Innovation | S$227 – S$12,422 |
| Omega | History, Variety of Models, Precision | S$279 – S$44,771 |
| Seiko | Quality, Innovation, Wide Range | S$194 – S$5,147 |
Why you should invest?
Since its inception in 2021, the value of Sinn timepieces has shown noteworthy stability and growth, indicating their strong investment potential. The brand has a diverse portfolio with 27 different tool watch models, each having unique characteristics that make them appealing to various segments of watch enthusiasts.
Over the past year, despite minor fluctuations, many Sinn models have held their value admirably, or even appreciated, indicative of their solid desirability in the market. For instance, the Sinn 104.010 has seen a significant increase of 9.6%, and the Sinn 556.014 showed an impressive growth of 17.3%. Other models, such as the Sinn 103.061, have also seen an increase in their market price by 4.0%.
While some other Sinn watches models, like the Sinn U1-D and Sinn 1010.010 (U1), have seen a slight decline of around 6.6% and 4.3% respectively over the past year, it's important to remember that watch values often fluctuate based on demand, scarcity, and the condition of specific pieces. It's also worth noting that a drop in value does not necessarily indicate a poor investment, as many watch values fluctuate over time.
Pricing & Availability
Sinn watches are crafted to deliver quality, precision, and durability, features that are reflected in their pricing. The brand offers a range of models, each with its unique attributes and specifications. Typically, Sinn timepieces retail between S$1,083 and S$3,093. This broad range of tool watches caters to different budgets and needs, allowing enthusiasts and collectors alike to find a Sinn watch that suits their financial considerations and style preferences.
Availability may vary based on location and supply. For the most accurate and current availability, it's recommended to check Sinn's official website or authorized retailers. Remember, buying from reputable sources ensures the authenticity of the watch and the validity of the warranty, providing you with added peace of mind for your investment.
FAQs
1. Is Sinn a good brand?
Yes, Sinn is generally considered a good brand in the watchmaking industry. Since its establishment in 1961, the brand has been dedicated to producing high-quality, reliable, and functional timepieces.
2. Are Sinn watches good quality?
Yes, they are highly regarded for their exceptional quality, characterized by robustness, precision, and the use of superior materials and innovative watchmaking technologies.
3. Is Sinn a luxury brand?
Yes, Sinn is a luxury brand known for its focus on technical innovation and functionality. While their pricing is more accessible than some traditional luxury watch brands, they deliver premium, high-quality timepieces.
4. What are Sinn watches known for?
They are renowned for their robustness, reliability, and functional design. The brand excels in technological innovations, producing professional-grade watches with features like exceptional water and pressure resistance, magnetic field protection, and extreme temperature endurance. The defining characteristics of their watches are legibility, precision, and practicality.
Final Word
Sinn watches have consistently proven themselves as durable, precise, and technologically advanced timepieces. With a broad range of offerings, the brand caters to both professional needs and aesthetic preferences, standing firm in the face of stiff competition.
Key Takeaways
Sinn watches excel in durability, precision, and functional design.
The brand offers a diverse collection, ensuring there is a Sinn watch for every taste and requirement.
With competitive pricing, Sinn presents a compelling value proposition in the luxury watch market.
Looking to buy or sell your luxury watches? Watch Exchange is your one-stop destination for trading Rolex, Patek Philippe, Tissot, Sinn, Zenith, and other luxury timepieces. Find your next watch today or list your item for free!
---