Originating from the core of Swiss watchmaking in 1926, Tudor, a brainchild of Hans Wilsdorf, the esteemed founder of Rolex, embarked on a remarkable voyage.
Initially conceived as an affordable counterpart to the prestigious Rolex, Tudor utilized Rolex cases in conjunction with their own expertly crafted movements, skillfully establishing a lineage of reasonably priced Swiss timepieces.
Numerous Tudor watch reviews have concluded that for discerning enthusiasts who desire a harmonious fusion of sophistication, dependability, and value, Tudor stands as a prime example.
Deeply rooted in a rich tradition of innovation and characterized by timeless beauty, wearing a Tudor watch signifies more than owning a mere timekeeping device. It entails embracing an enduring legacy that will accompany one throughout life's journey.
The Case
The craftsmanship of Tudor watch cases is emblematic of their time-tested appeal and attention to detail. Exemplifying Tudor's commitment to durability and quality, these cases are crafted with precision and a keen sense of design aesthetics.
Tudor's watches cases come in an array of high-grade materials tailored to various style preferences and functional requirements. For instance, the Tudor Black Bay 36 S&G features a 36mm steel case with a polished and satin finish, a testament to the brand's use of robust materials for long-lasting wear.
Diversifying its material palette, Tudor also presents an exquisite silver case with the Tudor Black Bay 58 925. The 39mm silver case infuses a unique charm into the design, rendering it a distinct piece in the brand's collection.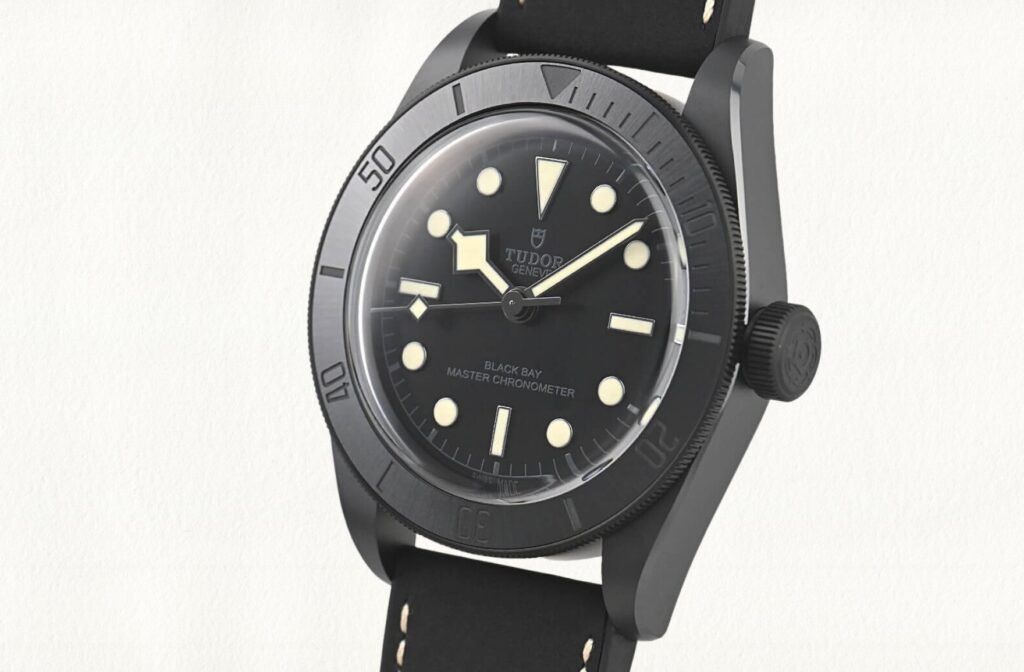 The use of ceramic material also plays a crucial role in differentiating their watches. The Tudor Black Bay Ceramic stands as a testament to Tudor's expertise in working with ceramic, proudly showcasing a 41mm matt black ceramic case that provides exceptional scratch resistance and a contemporary allure.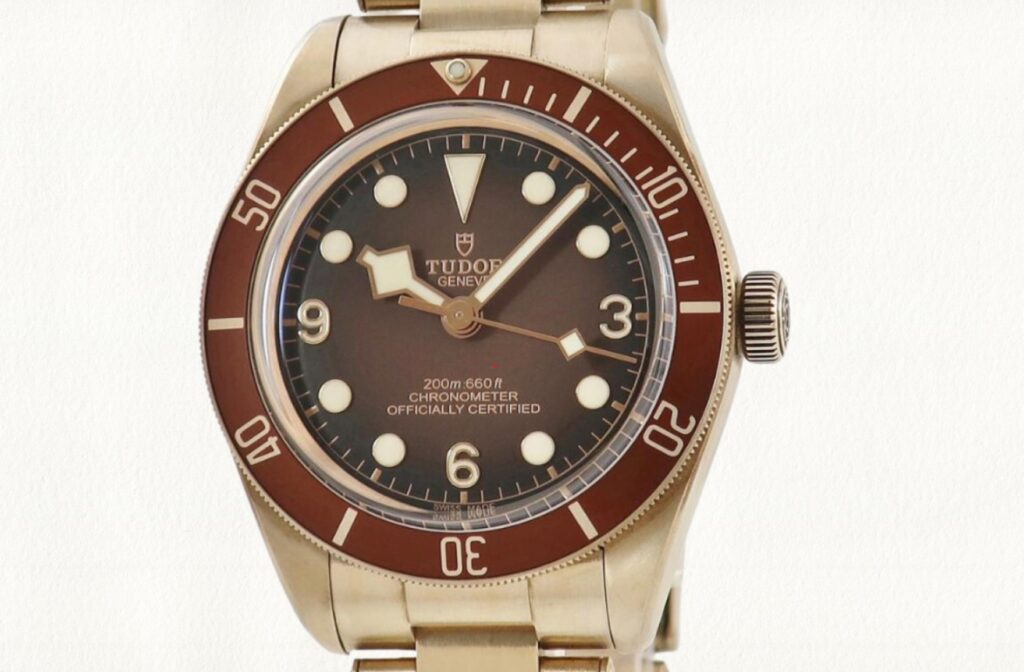 Continuing the exploration of unconventional materials, the smaller version of the Tudor Black Bay 58 Bronze features a 39mm satin-brushed bronze. The captivating characteristic of this timepiece lies in its evolving color, adapting to the habits of its wearer and acquiring a distinctive patina over time. This fusion of traditional aesthetics with a personalized, unique patina creates individuality for each timepiece, making it truly one-of-a-kind.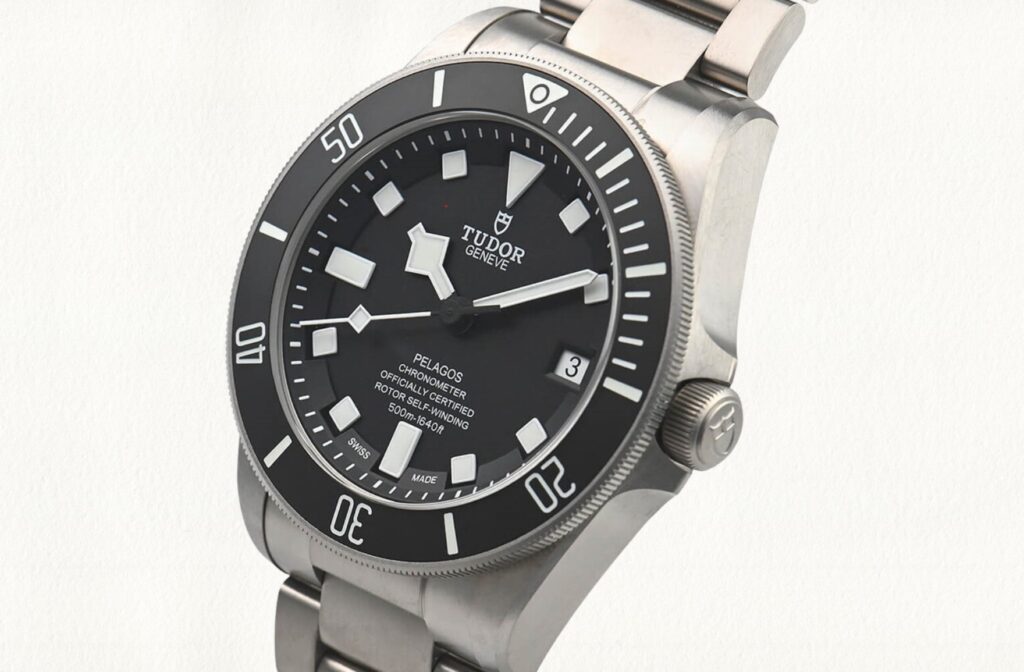 Tudor also excels in working with titanium, as showcased in the Pelagos LHD and Pelagos models. This timepieces features a 42mm titanium and steel case with a satin finish and boasts a numbered steel case back. Enhancing the allure, the Pelagos LHD's graduated bezel is adorned by a ceramic matt black disc with beige luminescent-coated graduations. Notably, Tudor's watch cases also prioritize water resistance. Models like the Pelagos boast an impressive water resistance of up to 500 meters, making them perfect companions for aquatic adventurers and divers alike.
The Dial
The dial is a pivotal aspect of a watch, contributing significantly to its overall aesthetic and functionality. Tudor's beautiful watch dials are a blend of legibility, unique features, and stylistic variety.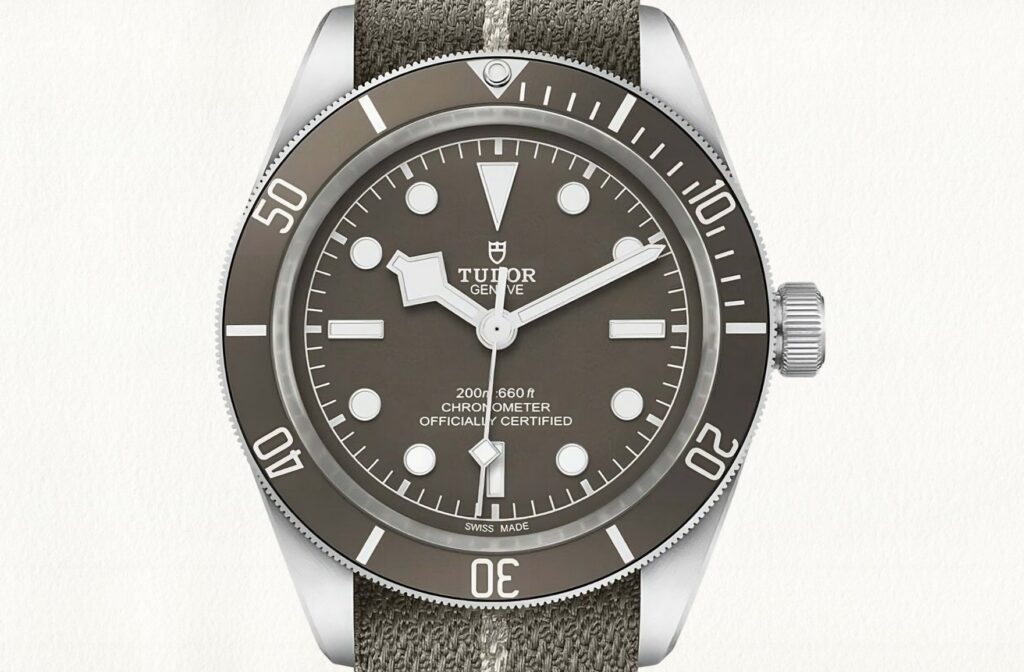 Renowned for their distinct snowflake hands in house movement, a characteristic trait of Tudor watches, these timepieces offer easy readability. The snowflake hands significantly contribute to the dial's clarity, particularly in models like the Tudor Black Bay 58 925 with its contrasting taupe dial.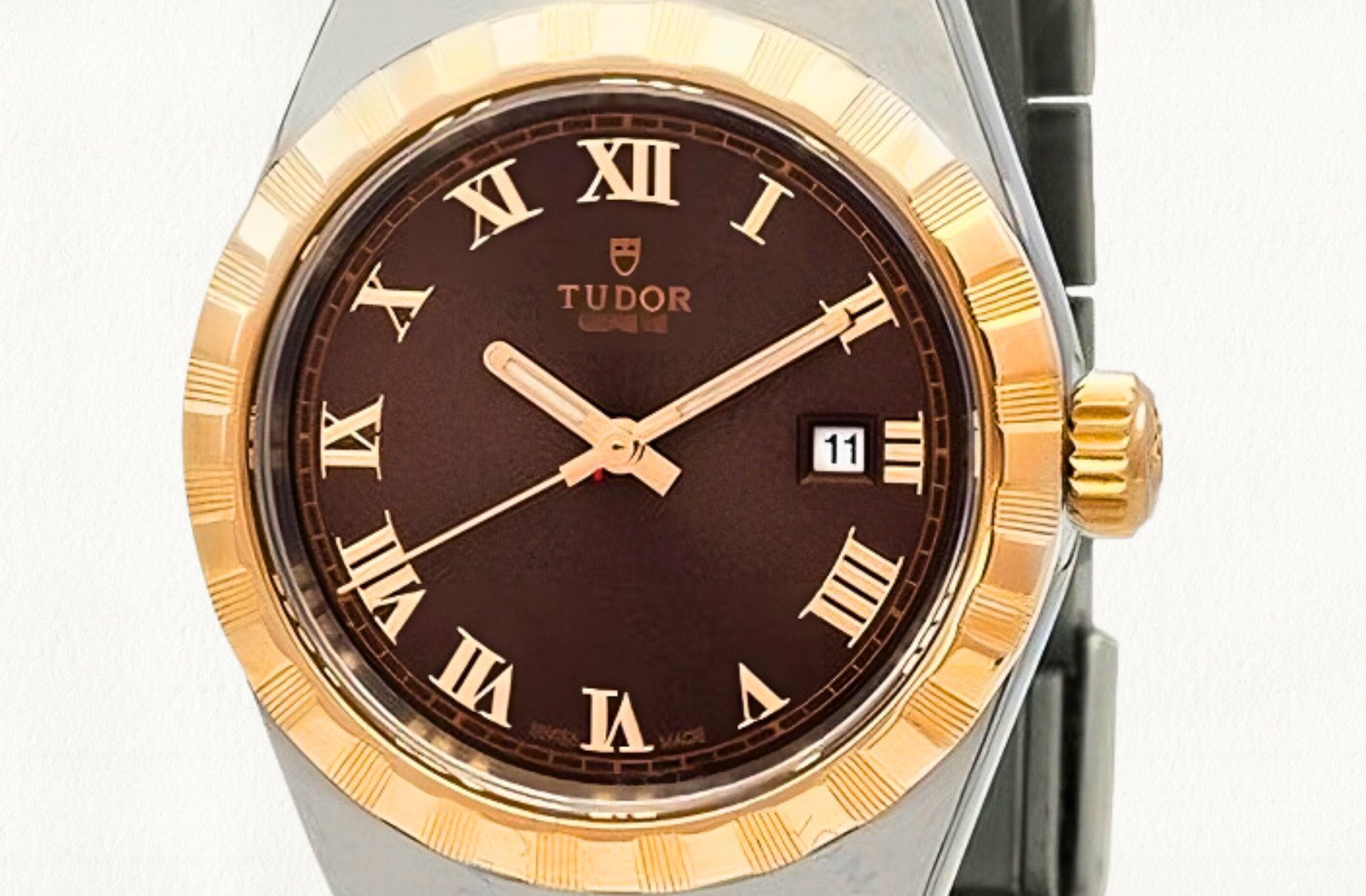 Tudor's date window is typically placed at the 3 o'clock position, enhancing its accessibility and readability. The Tudor Royal M28303-0008, with its captivating chocolate brown dial, hosts a well-placed date window that complements the applied Roman numerals. The watch graces the wearer's wrist with its uniquely appealing salmon dial, paired perfectly with applied Roman numerals and a conveniently positioned date window at 3 o'clock.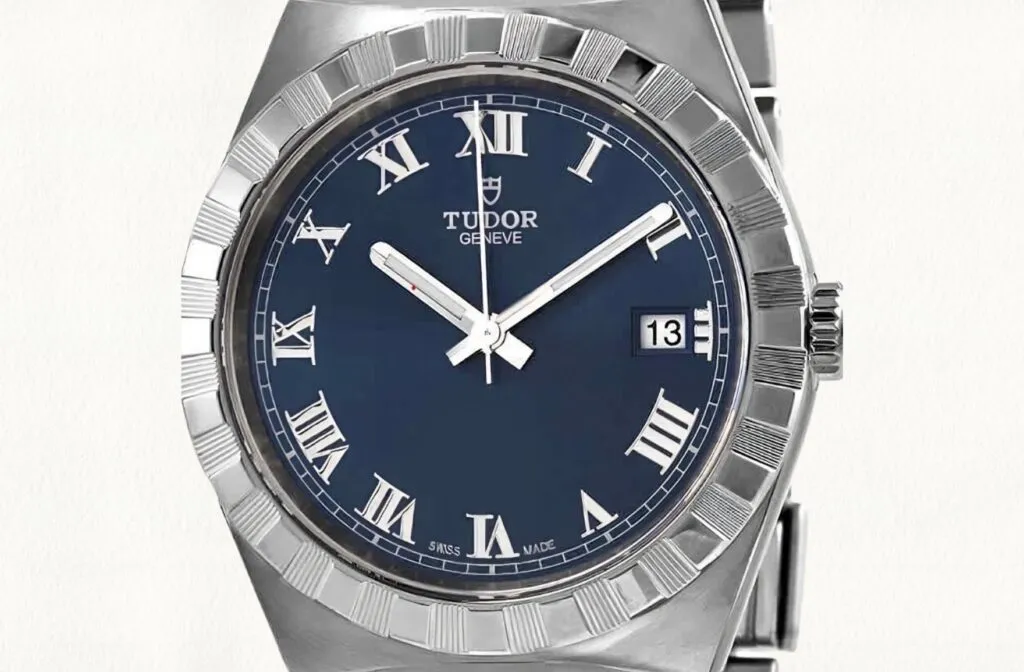 The tudor brand offers a spectrum of dial colors, catering to diverse aesthetic preferences. From the blue dial of the Tudor Black Bay 31 adorned with 8 diamonds to the timeless light champagne color of the Tudor Black Bay 39, Tudor ensures versatility in design.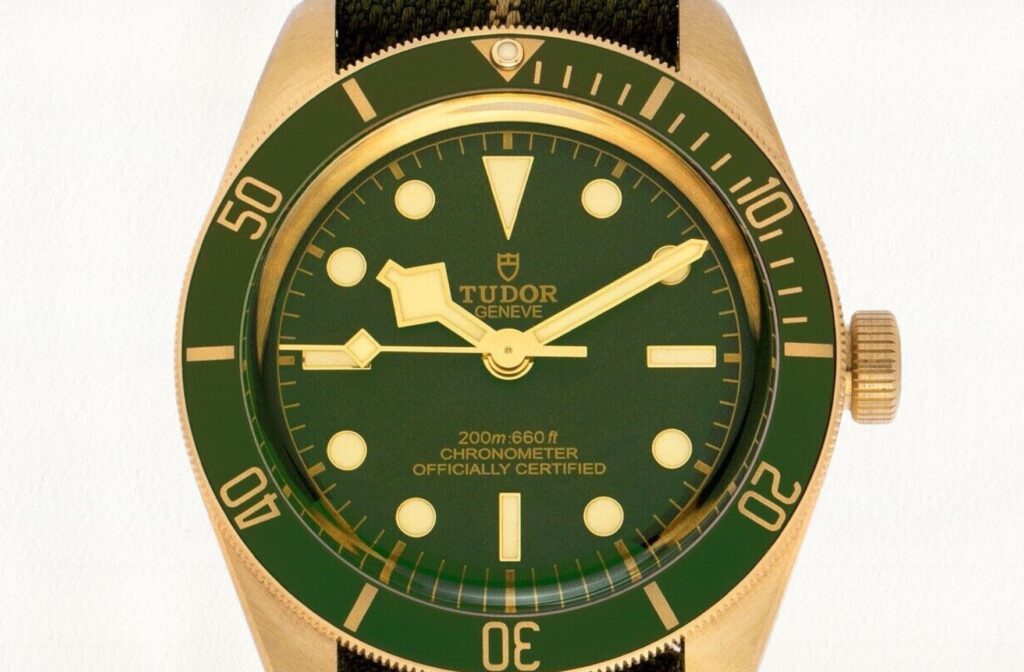 Tudor continues to intrigue with variations on great watches like the Tudor Black Bay 31 S&G, boasting a champagne-colour dial accentuated with diamond hour markers, and the Tudor Black Bay 58 18K, featuring a domed green dial that adds depth and richness to the watch face.
The Strap/Bracelet
Tudor's strap and bracelet offerings showcase the brand's dedication to both aesthetics and comfort. Whether you prefer the traditional elegance of a metal bracelet, the robust nature of a leather strap, or the casual flair of a fabric band, Tudor caters to a variety of tastes.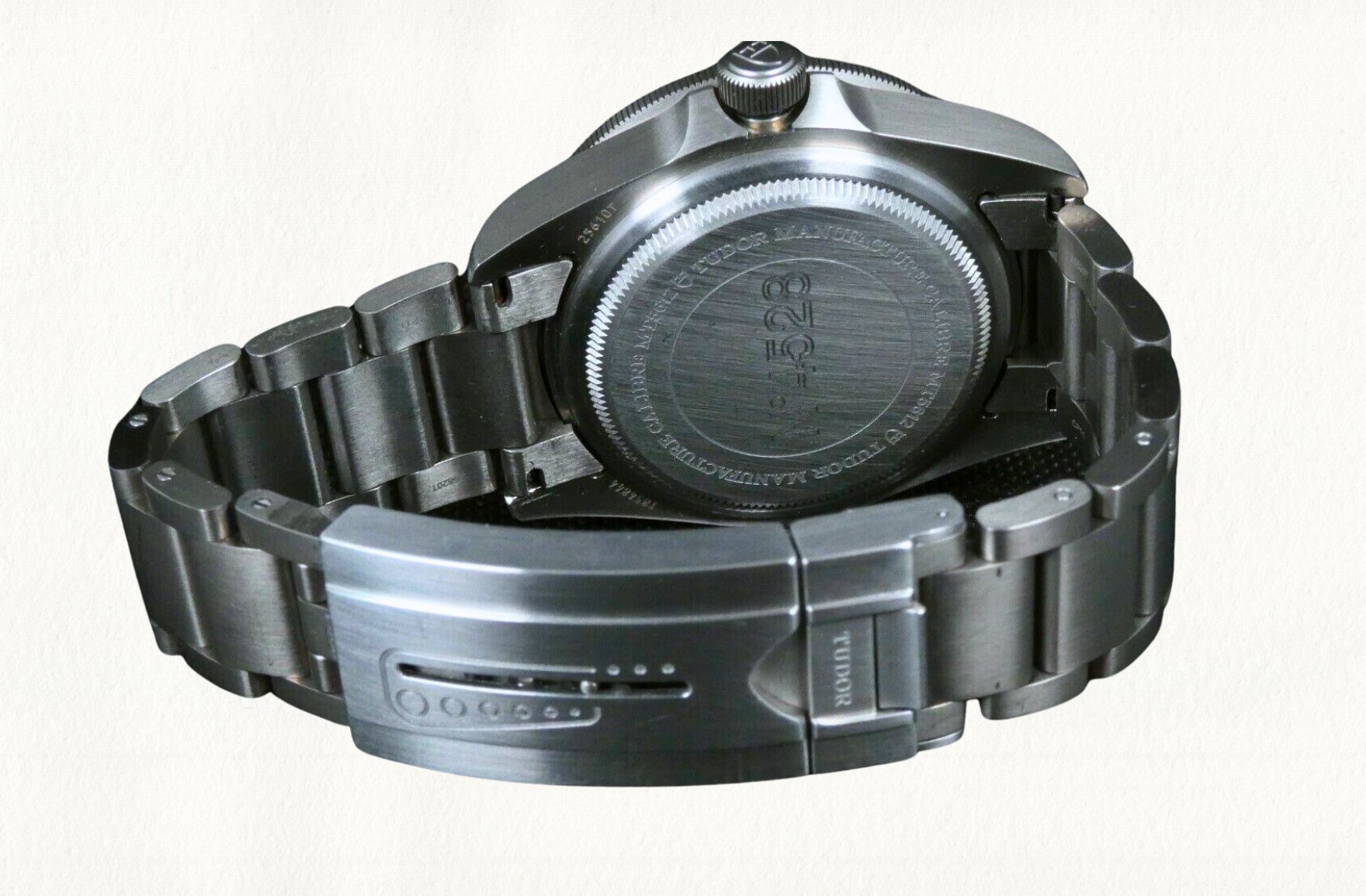 For those who admire the classic appeal and enduring robustness, Tudor's stainless steel bracelets are a fitting choice. They are designed to last, offering a resilient and timeless look that complements the Tudor case flawlessly. For example, the Tudor Pelagos LHD features a titanium bracelet, ensuring both durability and comfort due to its lightweight nature.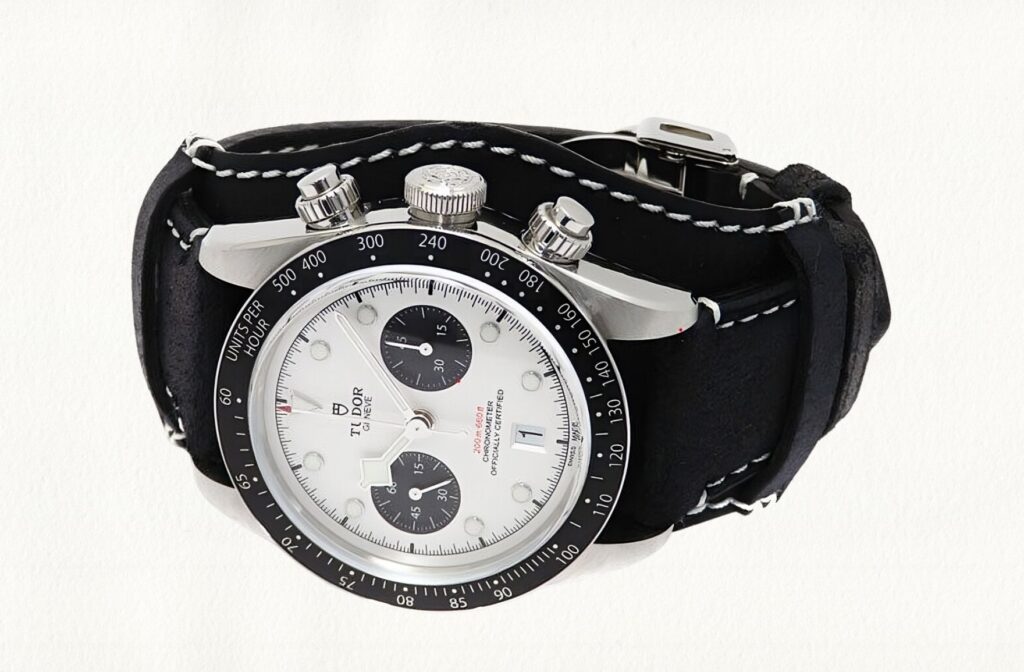 Tudor's leather straps, as seen on Tudor Black Bay Chrono, exude a sense of traditional sophistication. These straps are crafted from high-quality leather, promising longevity and a patina that grows more attractive with time. They're ideal for wearers seeking a more classic, vintage-inspired look.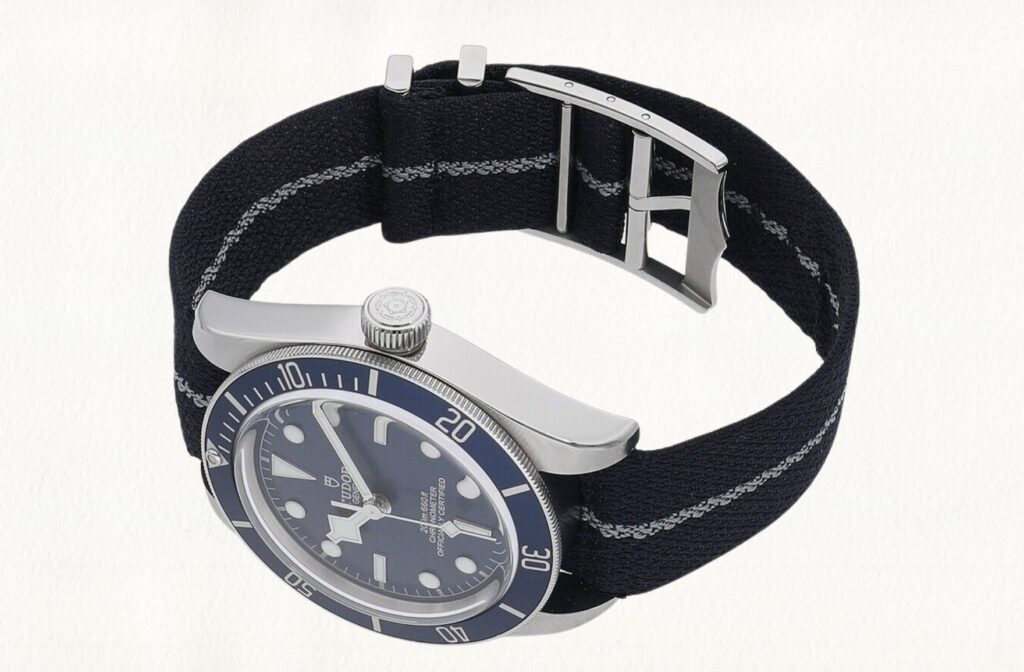 For a more casual, unique appearance, Tudor also offers fabric straps. Woven using traditional methods by a century-old family business from the St-Etienne region of France, these straps are a testament to Tudor's dedication to craftsmanship. The Tudor Black Bay Fifty-Eight, for instance, has a blue fabric strap, adding a contemporary touch to the vintage-inspired model.
The Movement
Tudor's watch movements demonstrate the brand's commitment to precision and reliability. With its own series of in-house movements, the brand has earned a reputation for quality and innovation in the watchmaking industry.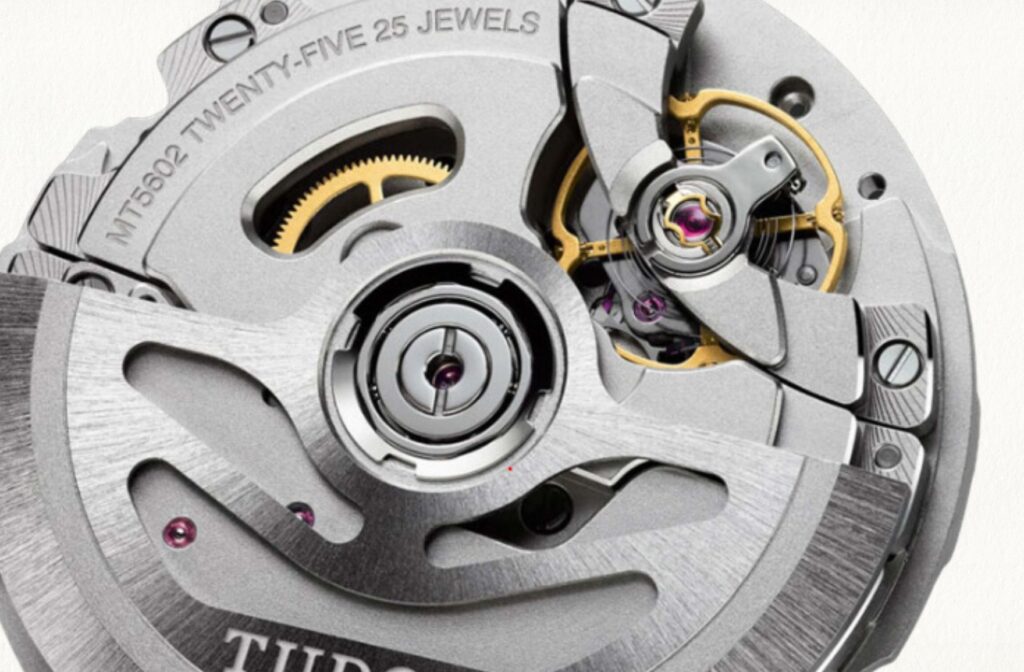 For instance, Tudor's in-house Caliber MT5602 used in the Tudor Black Bay is a testament to the brand's technical prowess. The automatic movement is COSC-certified (Swiss Official Chronometer Testing Institute), ensuring its precision and performance. It also boasts a 70-hour power reserve, which means the watch can be left unworn over the weekend without losing time.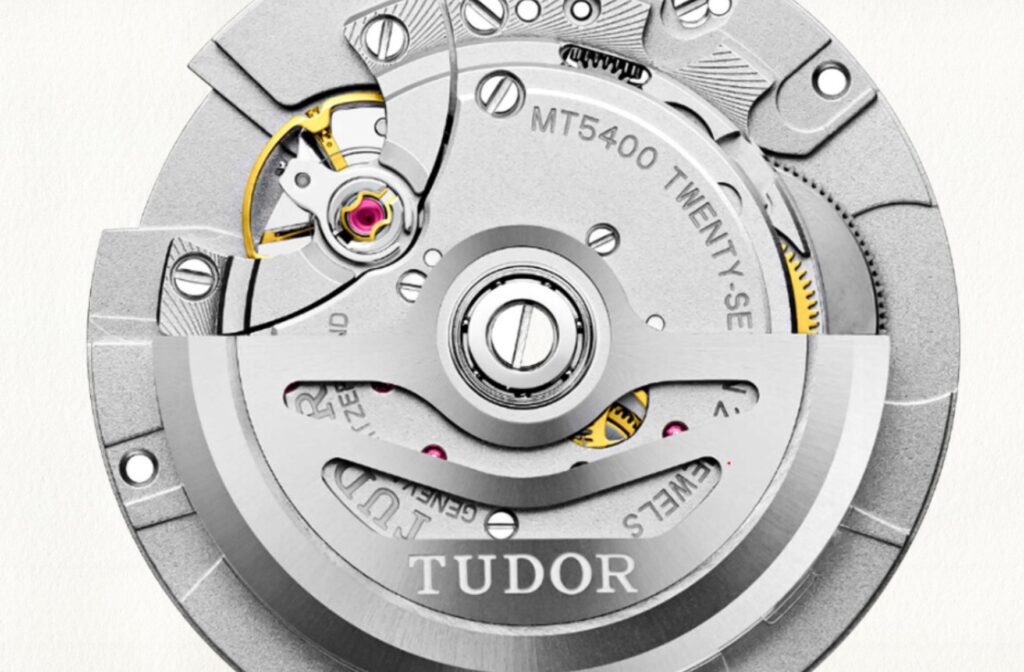 Performance excellence, the Tudor Black Bay 54 and Tudor Black Bay Fifty Eight Bronze is powered by Tudor's in-house Manufacture Calibre MT5400. This self-winding mechanical movement boasts a bidirectional rotor system, ensuring precise timekeeping and reliable performance. The inclusion of the COSC (Contrôle Officiel Suisse des Chronomètres) certification further attests to the exceptional accuracy and craftsmanship of these timepieces.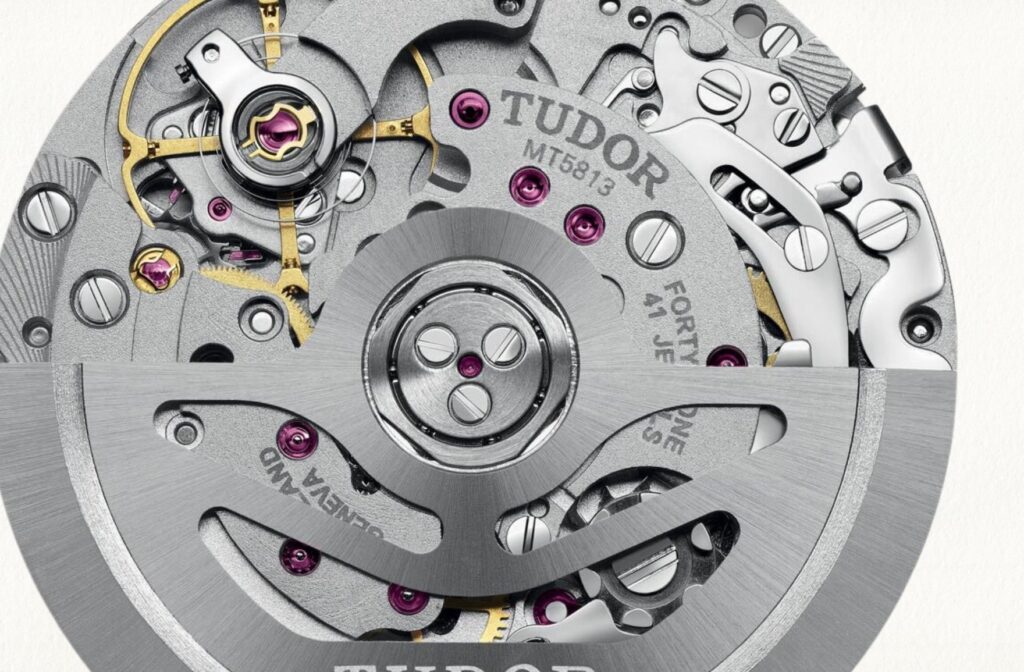 With the combination of the Manufacture Calibre MT5400 (COSC) and its bidirectional rotor system, these Tudor models offer not only reliability but also a remarkable level of horological mastery.An impressive addition to Tudor's collection is the Manufacture Calibre MT5813 (COSC), a remarkable self-winding mechanical movement with a bidirectional rotor system. Alongside these features, it also includes a yellow gold screw-down winding crown with the TUDOR rose in relief, a design touch that is both aesthetically pleasing and functional. This caliber is utilized in the Tudor Black Bay Chrono S&G and represents a collaborative effort between Tudor and Breitling, emphasizing Tudor's innovative and forward-thinking approach in the watch industry.
Top 3 popular models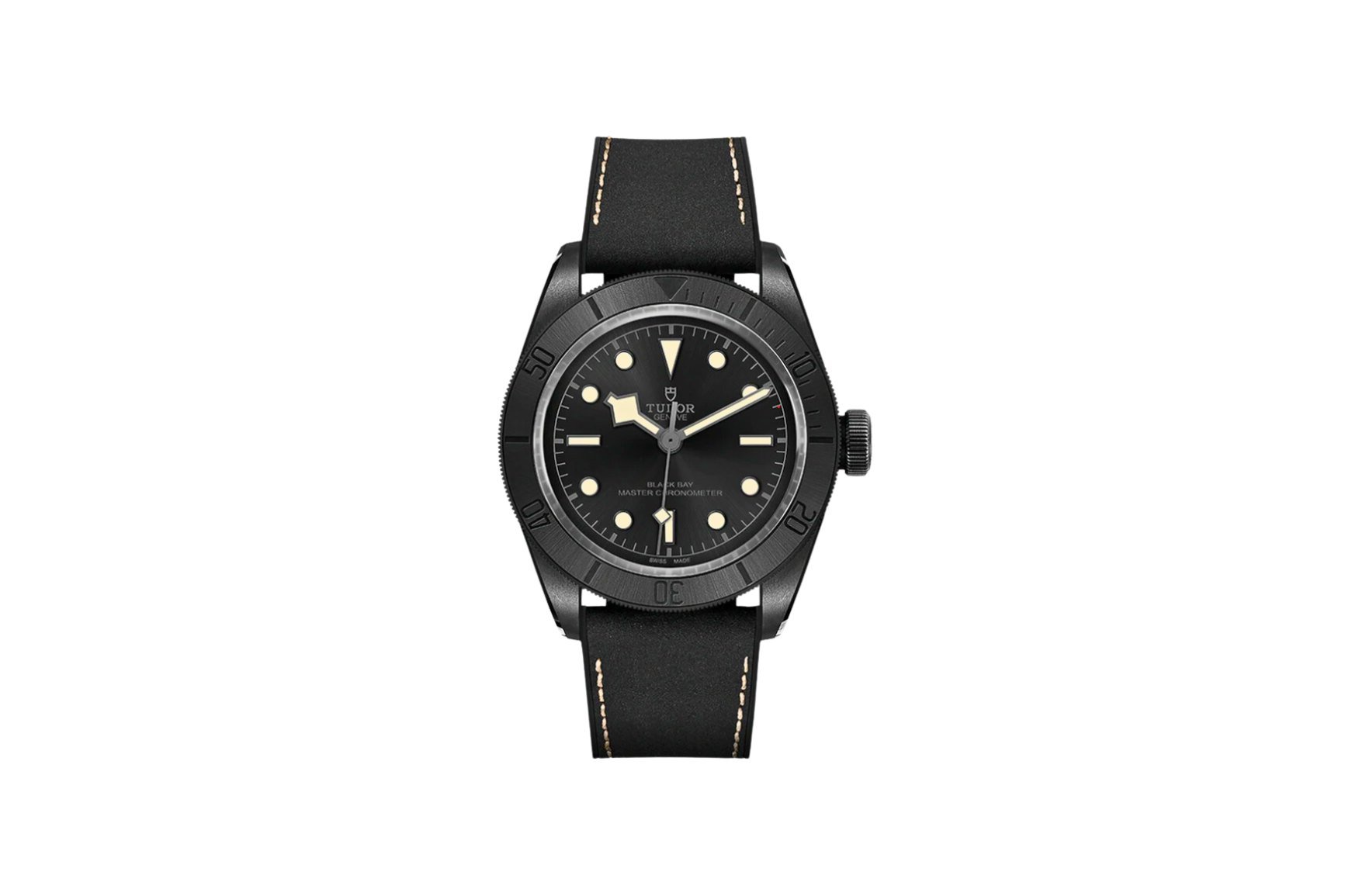 About
The Tudor Black Bay ref. M79210CNU-000 is a dynamic timepiece that redefines elegance and durability. This model combines a 41mm black matte ceramic case with a matching black dial, featuring snowflake hands and hour markers for a sleek, modern look. With a robust in-house automatic movement and a water resistance of up to 200m, it's the ideal companion for adventurous spirits.
Features
This watch features an anti-magnetism, ensuring smooth functioning under magnetic fields up to 15,000 gauss and maintaining precision post-exposure. Highlighting a 60-minute graduated disc in black ceramic with a sunray satin finish and engraved markings and numerals, it also features an impressive 70-hour power reserve for reliable timekeeping during extended wear or periods of inactivity.
Specifications
Production Year: 2021
Case Size: 41mm
Materials:

Dial – Black domed
Bracelet – Hybrid leather and rubber strap
Bezel – Unidirectional rotatable bezel in black-PVD-treated 316L steel

Function: Hours, Minutes, Seconds, Chronometer
Mechanism: Manufacture Calibre MT5602-1U, Self-winding mechanical movement with bidirectional rotor system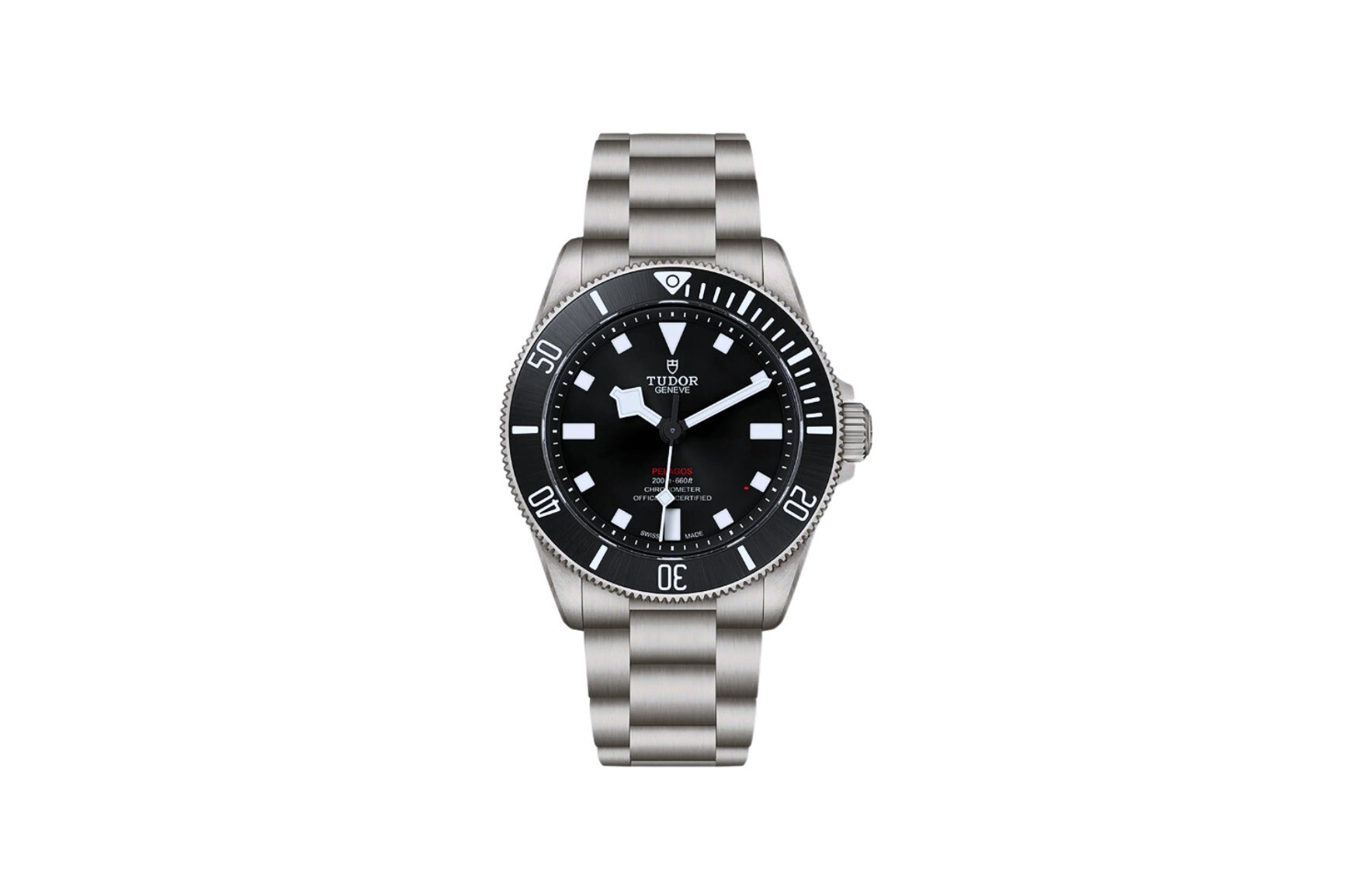 About
The Tudor Pelagos 39 Ref No. M25407N-0001 is an epitome of contemporary watchmaking excellence. Housed in a lightweight, robust titanium case, this model flaunts a striking black dial that enhances its readability under various light conditions. Perfect for professional divers, it features an impressive water resistance of up to 200m and incorporates Tudor's top-tier automatic movement making it an ideal dive watch.
Features
This model boasts a sandblasted flange with monobloc luminescent ceramic composite hour markers for superior readability. It features a resilient sapphire crystal and a comfortable titanium bracelet equipped with TUDOR's "T-fit" folding clasp, safety catch, and a diver's extension
Specifications
Production Year: 2022
Case Size: 39mm
Materials:

Dial – Black sunray satin finish
Bracelet – Titanium
Bezel – Grade 2 titanium unidirectional rotating bezel

Function: Hours, Minutes, Seconds, Chronometer
Mechanism: Manufacture Calibre MT5400 (COSC), Self-winding mechanical movement with a bidirectional rotor system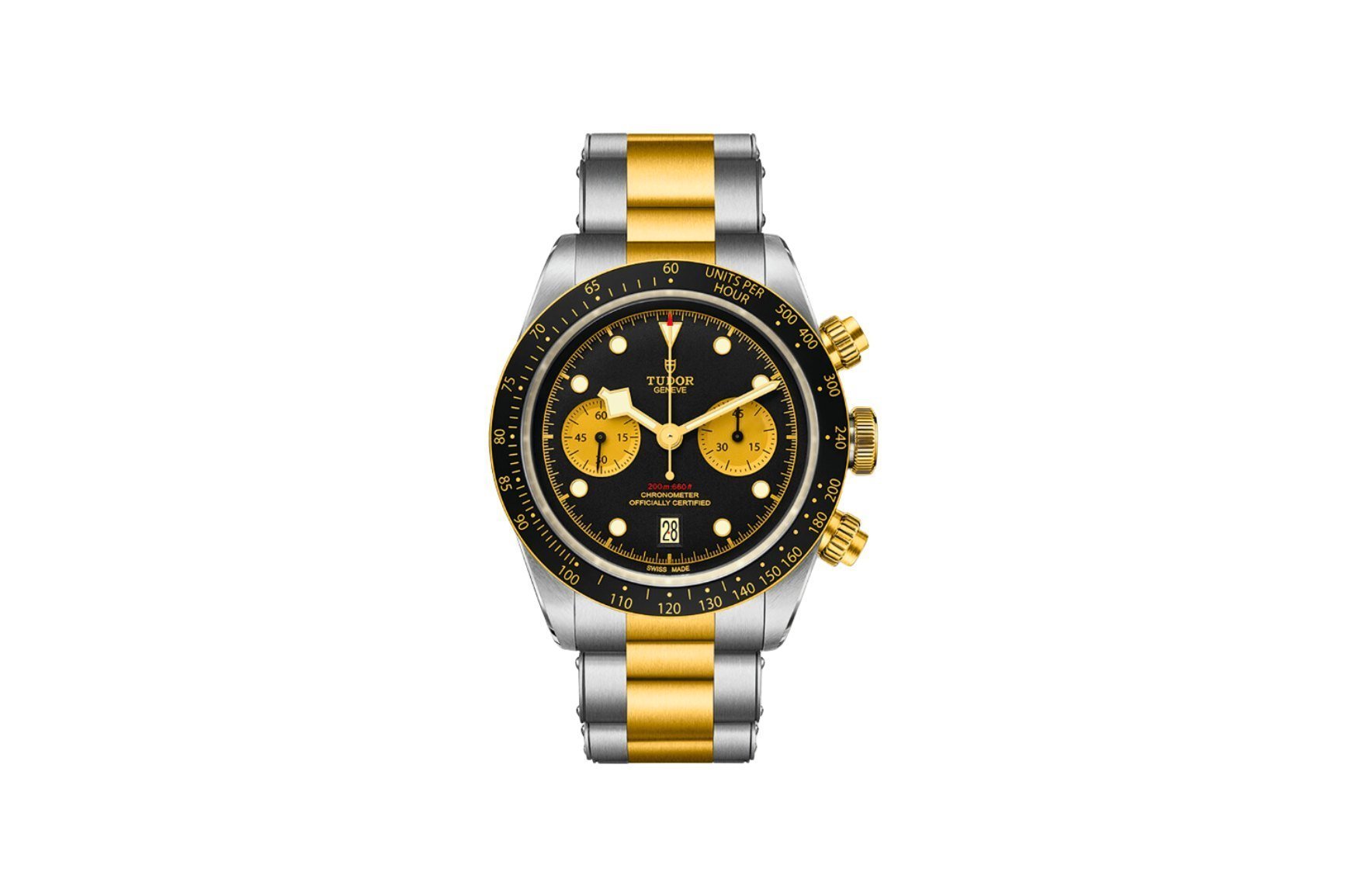 About
The Tudor Black Bay Chrono M79363N-0001 stands as an epitome of classic-meets-modern design. Housed in a sturdy stainless-steel case, it features a striking black dial equipped with a chronograph function and date display. Its COSC-certified movement and 200m water resistance make it a trusted companion for all adventures.
Features
This model boasts a matte black anodized aluminum dial with a tachymetric scale highlighted by yellow-gold markings. It features a generous 70-hour power reserve and distinctive yellow-gold screw-down crown and pushers, both bearing the emblematic TUDOR rose.
Specifications
Production Year: 2019
Case Size: 41mm
Materials:

Dial – Black domed
Bracelet – Stainless steel and yellow gold
Bezel – Fixed yellow-gold bezel

Function: Hours, Minutes, Small Seconds, Date. Chronograph, Column wheel, Chronometer
Mechanism: Manufacture Calibre MT5813 (COSC), Self-winding mechanical movement with a bidirectional rotor system
The Competitive Landscape
The luxury watch market is a dynamic and competitive arena, filled with companies renowned for their precise craftsmanship, rich histories, and distinctive styles.
Rolex: Although Rolex is Tudor's sibling company, they still compete in the luxury watch market. Rolex tends to be positioned at a higher price point with arguably more prestige.
Omega: Omega is another significant competitor with a rich history, renowned for its part in space exploration and the Olympic Games.
TAG Heuer: Known for their sports watches and chronographs, TAG Heuer is a Swiss luxury watchmaker that competes in a similar price range.
Breitling: Breitling's reputation for precision-made chronometers primarily designed for aviators makes them a competitor, offering stylish, functional pieces.
Longines: Offering watches in a similar price bracket, Longines is another Swiss luxury watchmaker that provides competition with its blend of elegance and performance.
| | | |
| --- | --- | --- |
| Brand | Known For | Average SGD Price |
| Rolex | High-end luxury, prestige | S$2,207 – S$242,797 |
| Omega | Space exploration history, Olympics participation | S$323 – S$54,835 |
| TAG Heuer | Sports watches and chronographs | S$320 – S$22,697 |
| Breitling | Precision-made chronometers for aviators | S$927 – S$24,794 |
| Longines | A blend of elegance and performance | S$521 – S$5,323 |
Why You Should Invest?
Investing in Tudor watches offers an enticing opportunity to possess a piece of horological excellence with the potential for steady value appreciation. While there have been short-term fluctuations, with a -0.5% change over a month and a -0.8% change over six months, the overall picture over the long term is more promising.
A longer perspective reveals a more encouraging trend. Over a 5-year period, Tudor watches have seen a 5.5% increase in value, translating to a positive average annual growth rate (AAGR) of 1.6%. This steady growth amidst a fluctuating market underscores the strength of Tudor watches as a potential investment.
Pricing & Availability
Tudor Brand offers a wide price range to cater to a variety of budgets, typically retailing from S$860 to S$26,488. This accessible price range of money, particularly for luxury timepieces, makes Tudor an appealing choice for both new collectors and seasoned watch enthusiasts.
The Tudor Black Bay collection stands out as the most popular dive watches from the past year, reflecting its high demand and wide acceptance among watch lovers. Other popular collections include black bay GMT, the classic Prince, the diver's favorite Pelagos, the robust Submariner, and the Tudor Black Bay Pro, further testifying to Tudor's diverse offerings.
Availability of these models varies, with their popularity often resulting in high demand. It's recommended to check with authorized Tudor retailers or trusted online marketplaces for current stock status and pricing.
FAQS
1. Is Tudor watch a good brand?
Absolutely. Tudor is widely respected for its high-quality timepieces. As the sibling company to Rolex, Tudor benefits from its association with the iconic luxury brand, but has also developed its own identity, producing watches that watch enthusiasts greatly admire.
2. Are Tudor watches worth it?
Tudor watches are worth the investment for many reasons. These beautifully crafted watches, such as those in the Black Bay family, boast in-house movements, high water resistance, and timeless designs. For the quality and performance they offer, they're competitively priced against similarly priced watches from other renowned brands.
3. Are Tudor watches as good as Rolex?
While both brands originate from the house of Hans Wilsdorf, they cater to different segments in the watch market. Rolex watches are considered more prestigious and typically come with a higher price tag. Tudor, on the other hand, offers exceptional quality and design at a more accessible price point like the Tudor Black Bay Pro.
4. Is Tudor as good as Omega?
Comparing Tudor to Omega isn't a simple task as both are excellent watch brands, each with its unique strengths. Tudor, with its Black Bay Pro and other models, is appreciated for its vintage-inspired aesthetics and use of in-house movements. Omega, on the other hand, is recognized for its technological innovations and association with historical events like space exploration. An Omega is not something just to tell time, but a symbol of mankind's relentless quest for progress and exploration.
Final Word
It's evident that Tudor timepieces encapsulate more than just excellent Swiss watchmaking. They echo a history of innovation, versatility, and a keen eye for detail, making them a valuable asset for any watch enthusiast or watch nerds.
Key Takeaways
Tudor watches, with their high-quality Swiss craftsmanship and timeless aesthetics, provide a unique blend of elegance, reliability, and value, making them a wise choice for discerning horophiles.
Tudor, being a subsidiary of Rolex, not only offers an accessible luxury option but also demonstrates exceptional prowess with its series of in-house movements, securing its reputable position in the high-end timepiece market.
Despite market fluctuations, Tudor watches have shown a steady increase in value over the long term, making them not just a personal luxury but also a potential investment opportunity with promising returns.
Looking to buy or sell your luxury watches? Watch Exchange is your one-stop destination for trading Rolex, Patek Philippe, Tissot, Sinn, Zenith, and other luxury timepieces. Find your next watch today or list your item for free!
---