Epitomizing precision, quality, and a storied lineage, Zenith watches have carved an indelible mark in the realm of horological artistry. Since its foundation in 1865, Zenith has meticulously crafted timepieces for over a century and a half, placing it in the pantheon of luxury watch Swiss watchmakers and manufacturers.
The brand boasts an eclectic range of collections, from the refined elegance of the Elite series to the dynamic allure of the Defy line, each embodying a distinctive aura and design language.
In this comprehensive Zenith watches review, we will delve into their most coveted timepieces, tracing their unique features, ingenious design, and rich heritage. From the evergreen charm of the El Primero, equipped with its iconic high-frequency movement, to the contemporary spirit embodied in the Zenith Defy Classic series, we will illuminate the quintessential characteristics that distinguish Zenith timepieces.
The Case
Zenith takes pride in offering a diverse selection of materials for their watch cases, allowing enthusiasts to find the perfect match for their style and preferences. The options include stainless steel, bronze, ceramic, and black ceramic, each offering distinct characteristics.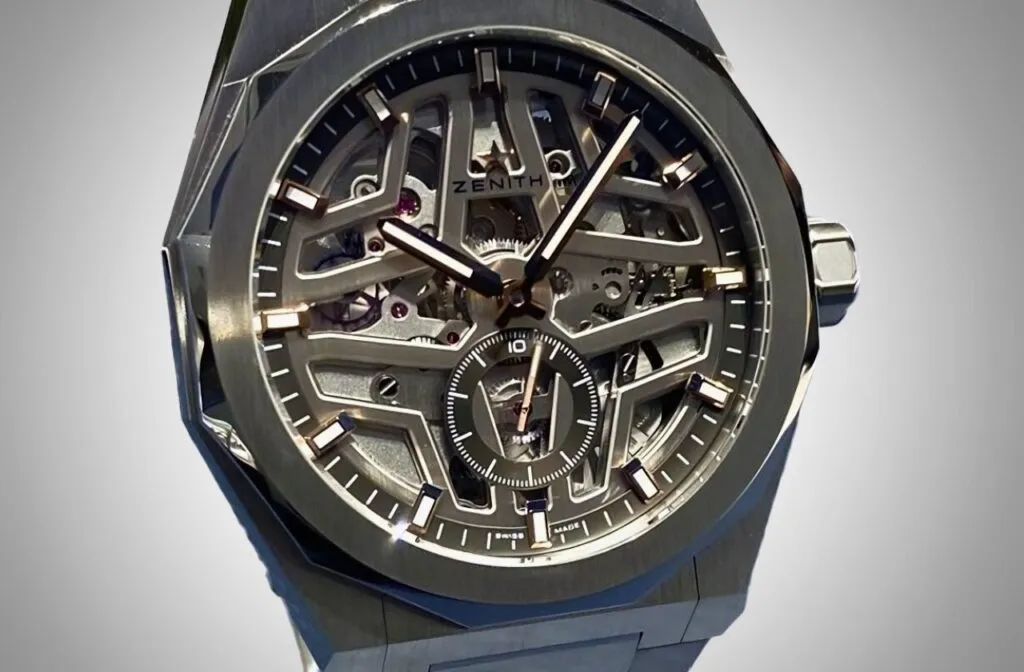 The Zenith Defy Skyline, a notable example, showcases a robust stainless steel case renowned for its exceptional durability and resistance to corrosion. This choice ensures that the timepiece remains resilient even in demanding conditions, while retaining a sophisticated allure.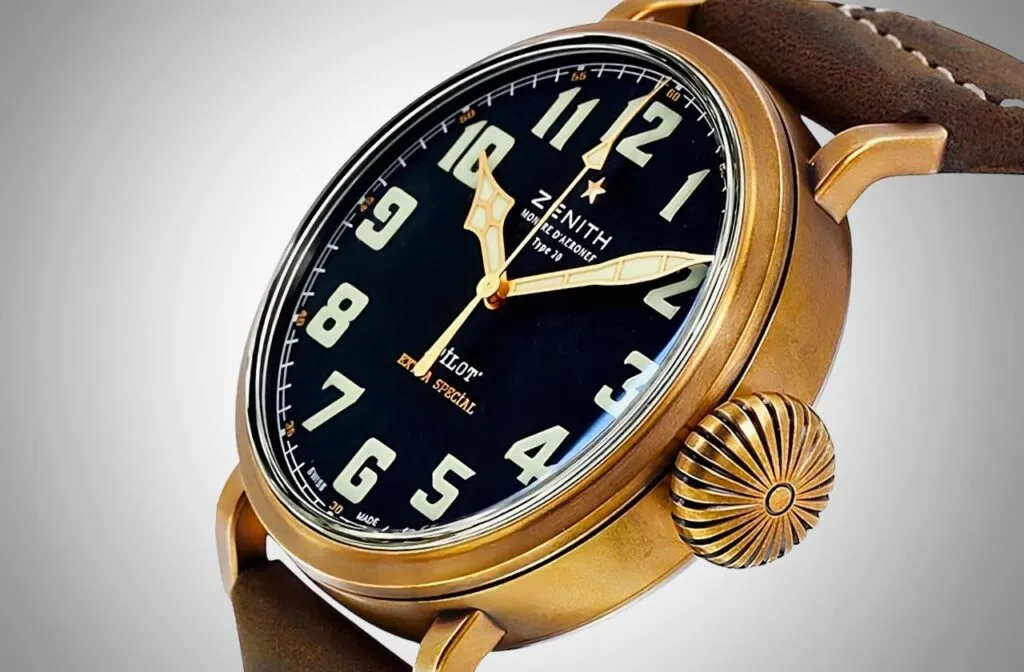 In contrast to mechanical watches, the Pilot Type 20 Extra Special embraces a unique bronze case. Over time, this material develops a distinctive patina, making each watch truly one-of-a-kind. This natural aging process adds a touch of character and enhances the vintage appeal of the timepiece.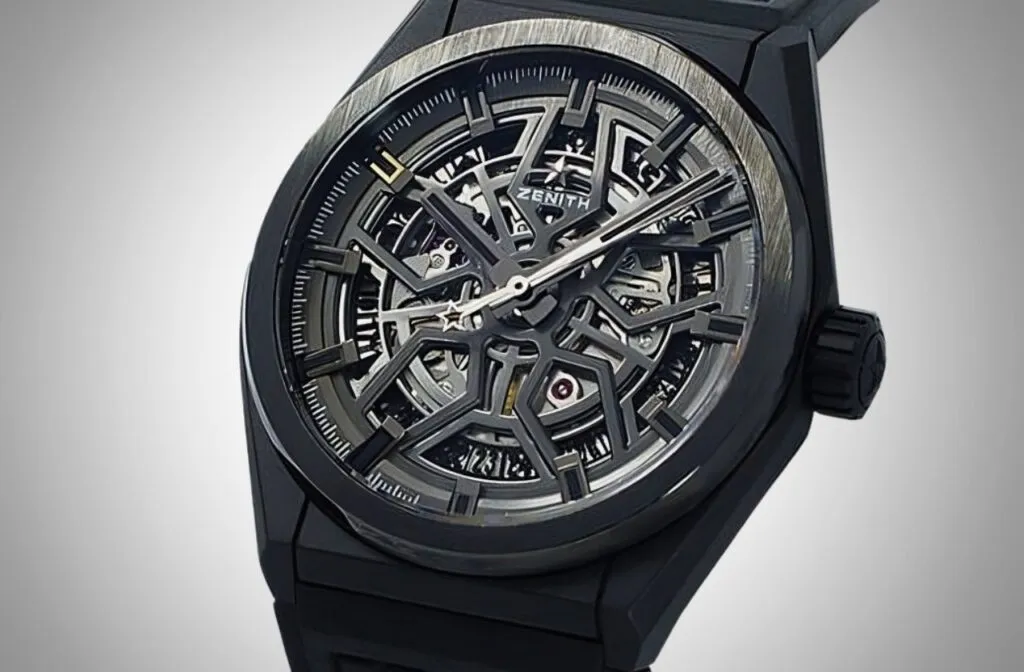 Ceramic, a lightweight and scratch-resistant material, has been gaining popularity in luxury watches. The Defy Classic Black Ceramic perfectly exemplifies this trend, combining the contemporary aesthetics of a black ceramic case with exceptional durability and scratch resistance. This material choice ensures that the watch maintains its pristine appearance for years to come, making it an attractive option for those seeking a modern and sleek design.
The Dial
Zenith offers a captivating array of dial designs, ranging from timeless classics to contemporary expressions. One standout feature that distinguishes Zenith watches is the iconic tri-color dial, boasting three different colors in the sub-dials, adding visual allure and depth to the watch face. An excellent example of this design can be found in the Zenith El Primero Chronomaster, where the tri-color sub-dials elevate its allure.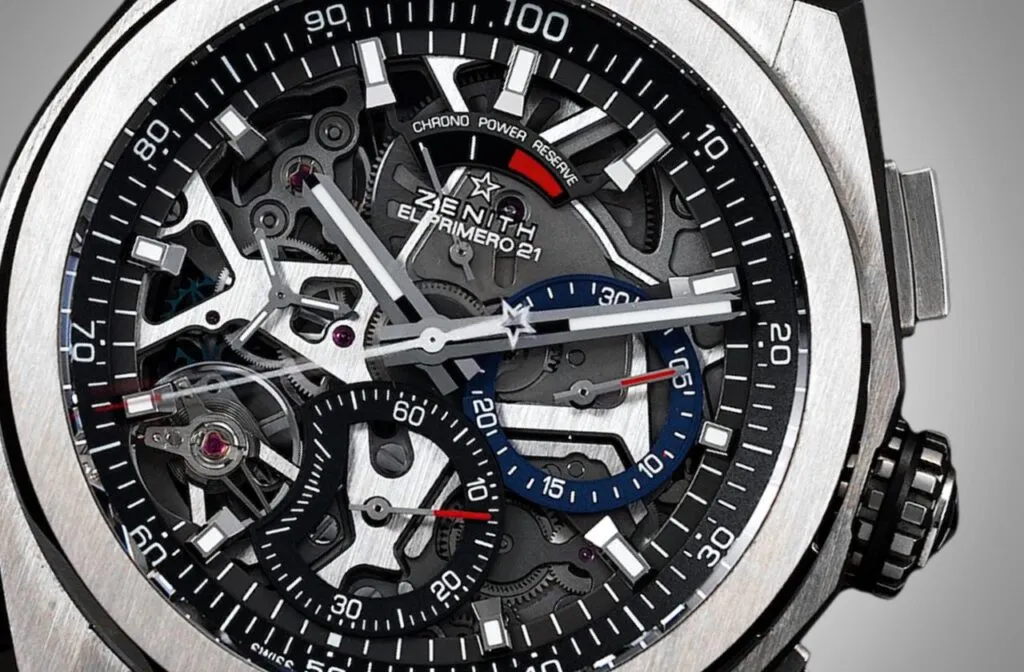 Beyond aesthetics, Zenith dials offer functional enhancements. Many Zenith watches incorporate a chronograph function, enabling precise event timing. This feature is often displayed on sub-dials integrated into the main dial, such as the Zenith Defy El Primero 21 with its openworked design and two different-colored counters, adding a distinctive touch to the timepiece.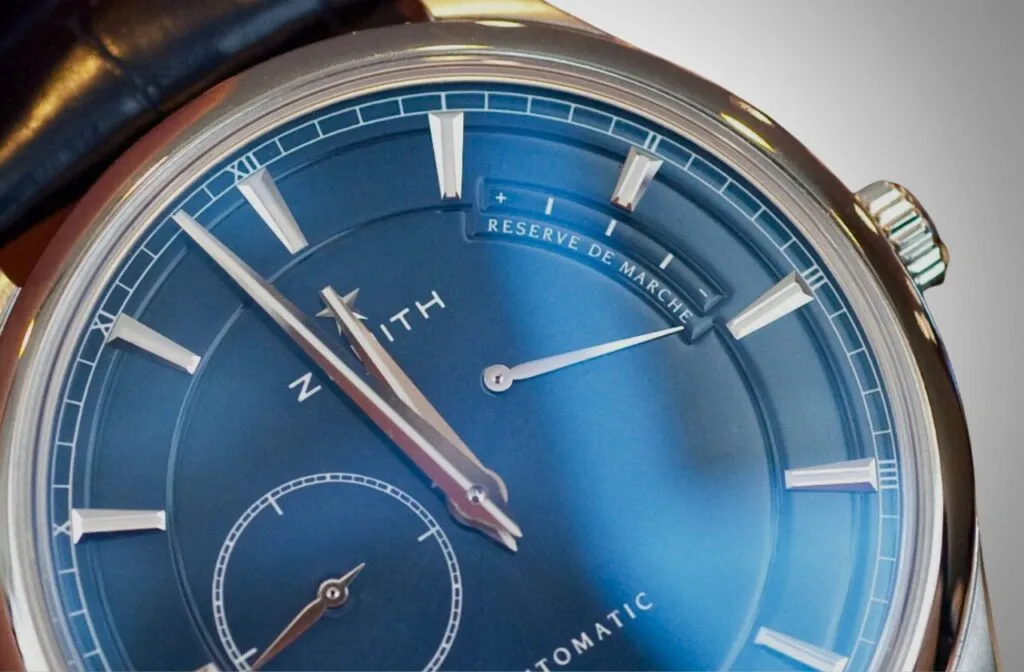 Zenith also caters to practicality with watches featuring a power reserve indicator, offering a glimpse into the remaining energy of the watch's movement. This useful feature ensures accurate timekeeping for daily wearers. An example of zenith watch that embodies this functionality is the Zenith Elite Power Reserve.
The Strap/Bracelet
Choices include leather, rubber, stainless steel, and titanium, each with its distinctive features and advantages.
For a sophisticated and timeless appeal, the classic leather strap remains an excellent choice. An example model showcasing this elegance is the Zenith Chronomaster Revival "Shadow," where the leather strap complements its vintage-inspired aesthetic.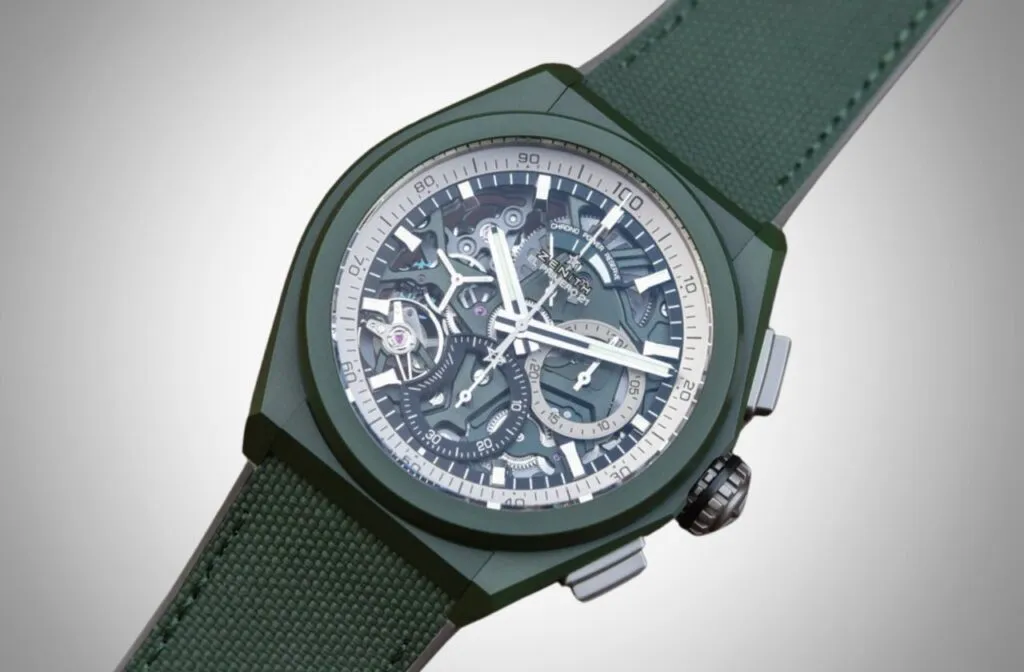 If modern durability and comfort are your preferences, the rubber strap is an ideal option. The Zenith Defy 21 Urban Jungle exemplifies this with its contemporary design and comfortable Cordura effect rubber strap, perfect for an active lifestyle.
For a sleek and polished look, the stainless steel bracelet is a popular choice. The Zenith Defy Skyline Skeleton, with its stainless steel bracelet, exudes refined elegance while ensuring enduring style.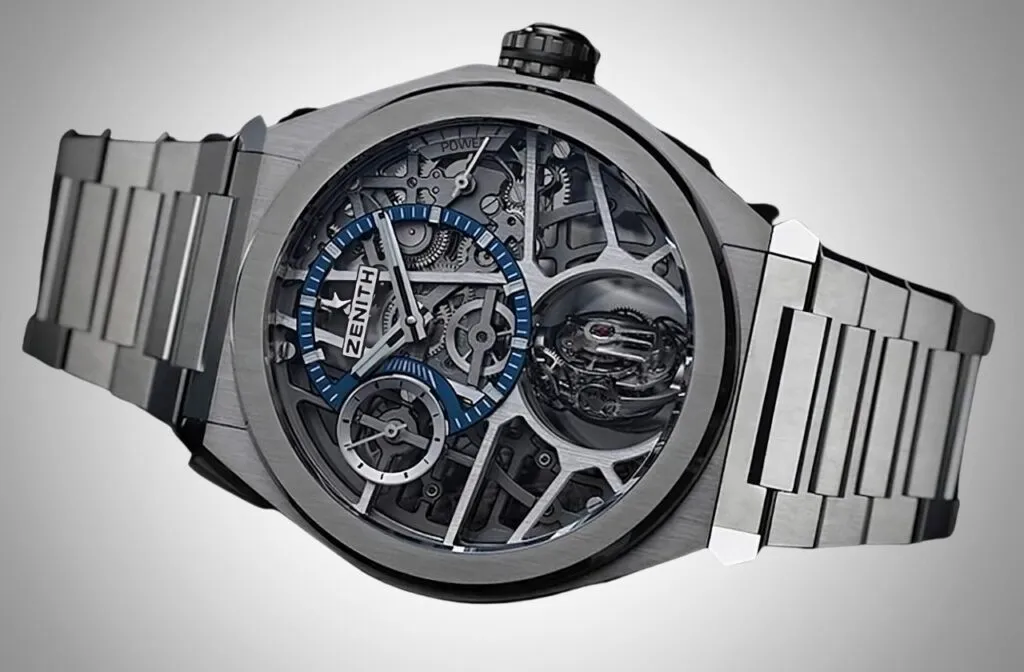 If you seek a lightweight and sporty appearance, the titanium bracelet is an excellent match. The Zenith Defy Zero G seamlessly blends its adventurous spirit with a comfortable titanium bracelet, offering both durability and style.
Zenith watches prioritize exceptional comfort. The soft and supple leather strap ensures prolonged comfort, exemplified by models such as the Zenith Chronomaster Original. The rubber strap, like the one found on the Zenith Defy 21 Titanium, offers flexibility and comfort for those leading an active lifestyle. 
The stainless steel and titanium bracelets, seen in models like the Zenith Defy Skyline and Zenith Dey 21, combine durability with a secure fit, ensuring the watch stays comfortably in place.
The Movement
El Primero: The Zenith El Primero movement stands as one of the brand's most significant horological achievements. Zenith launched El Primero in 1969, it holds the distinction of being the world's first automatic chronograph movement. With its remarkable high frequency of 36,000 vibrations per hour, the El Primero movement enables precise timekeeping, capturing events with accuracy down to 1/10th of a second.
This iconic movement has remained a cornerstone of Zenith's watchmaking prowess and has been utilized in various renowned models such as the Zenith Chronomaster Sport and the Zenith Defy Skyline, showcasing the enduring legacy and exceptional performance of el primero movement.
Elite: The Elite movement is an exemplification of Zenith's dedication to elegance and refined watchmaking. It represents the brand's commitment to producing exceptional in-house movements. The Elite movement is a self-winding, ultra-thin caliber known for its slim profile, offering a graceful and understated design. With a frequency of 28,800 vibrations per hour, it ensures accurate and reliable timekeeping. With its notable power reserve and enhanced efficiency, this movement offers exceptional performance for daily wear. Watches like the Zenith Elite Moonphase and the Zenith Elite Classic perfectly embody the sophistication and timeless appeal of the Zenith watch Elite movement, making them popular choices among those seeking understated luxury and uncompromising precision.
Top 3 Popular Models
About
The Zenith Chronomaster Revival El Primero A3817, with its gleaming stainless steel case and vibrant white dial, is a striking homage to the classic 1970s Zenith chronomaster sport original timepiece. Powered by the renowned El Primero chronograph movement, this watch is a testament to Zenith's enduring legacy of precision and exceptional craftsmanship. The reference 03.A384.400/3817.C855 model captivates onlookers, effortlessly marrying vintage appeal with contemporary luxury.
Features
This watch boasts a host of remarkable features including a central chronograph hand, 12-hour counter at 6 o'clock, 30-minute counter at 3 o'clock, and a date indication at 4:30. With a minimum power reserve of 50 hours, it also offers a tachymetric scale automatic chronograph, and pulsometer scale, making it a versatile and high-performing timepiece for discerning watch enthusiasts.
Specifications
Production Year: 2022
Case Size: 37mm
Materials:

Dial – White mate
Bracelet – Light brown calfskin leather strap with protective rubber lining
Bezel – Steel

Function: Hours, Minutes, Small Seconds, Chronograph, Tachymetric
Mechanism: El Primero automatic high-frequency chronograph calibre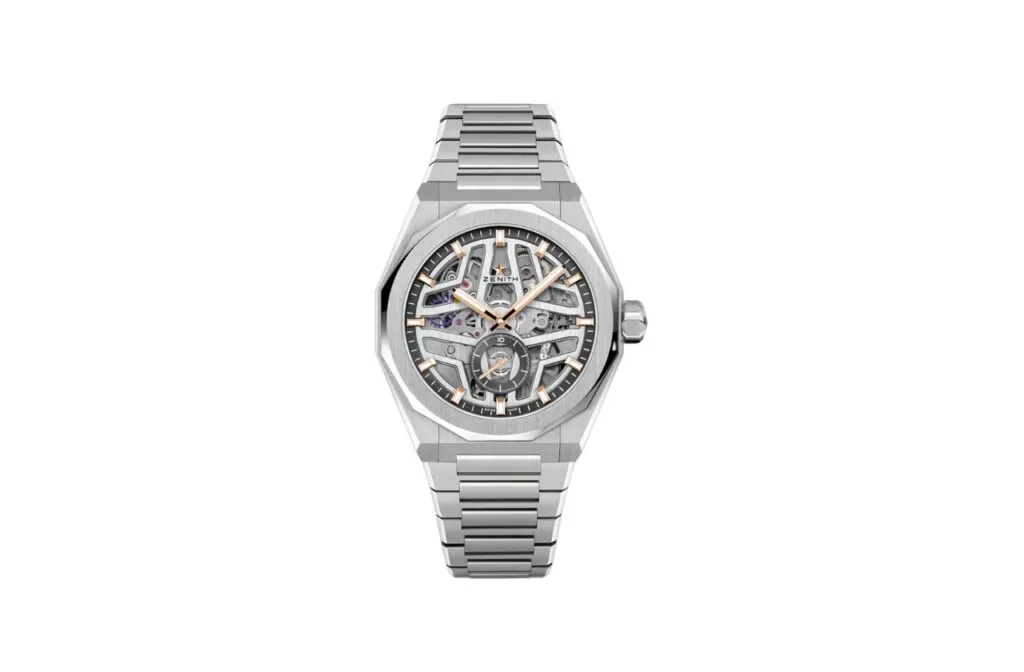 About
The Zenith Defy Skyline, Reference No. 03.9300.3620/80.I001, breathes new life into luxury horology with its stainless steel case and mesmerizing open concept openworked dial. Crafted with Zenith's innovative precision, this timepiece perfectly encapsulates the brand's forward-thinking ethos. It's a daring leap into modern watch design, offering a glimpse into the intricate workings of time itself.
Features
It features a 1/10th of a second counter positioned at 6 o'clock. With an impressive power reserve of approximately 55 hours, this timepiece ensures reliable and accurate timekeeping while showcasing its intricate mechanical marvels.
Specifications
Production Year: 2023
Case Size: 41mm
Materials:

Dial – Openworked Silver-Grey
Bracelet – Stainless steel
Bezel – Faceted

Function: Hours, Minutes
Mechanism: El Primero movement 3620 SK high-frequency automatic manufacture skeleton movement with the very first 1/10th of a second indicator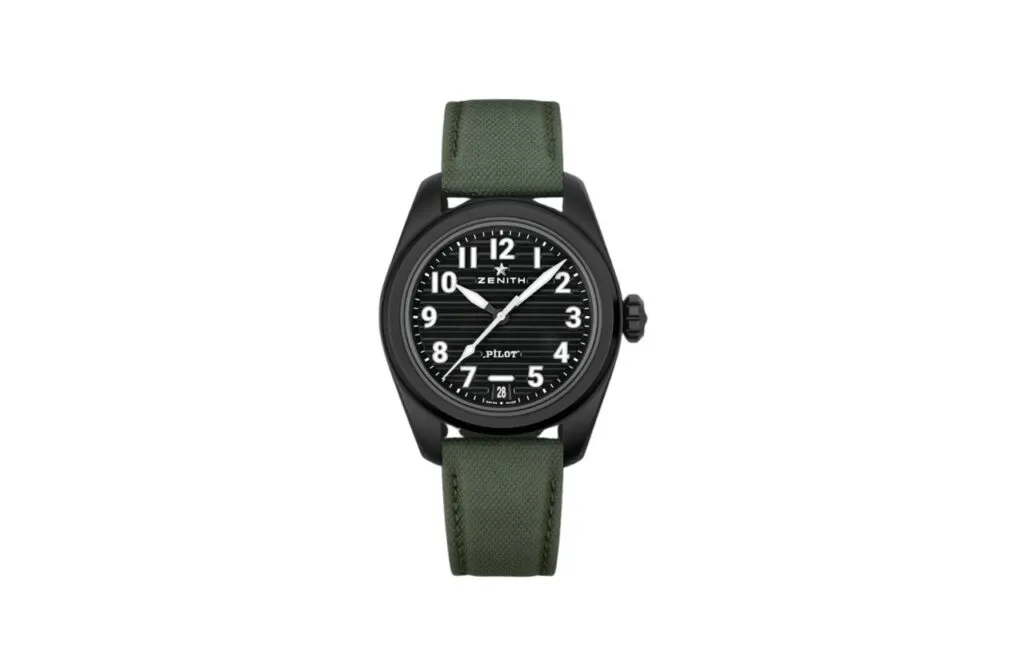 About
The Zenith Pilot Automatic movement with a matte ceramic case and black dial, bearing the reference number 49.4000.3620/21.I001, exudes a captivating allure that merges contemporary aesthetics with a rich aviation heritage. With its robust ceramic construction, this timepiece not only offers durability but also presents a sleek and modern look. Embrace the spirit of adventure and precision with the Zenith Pilot Automatic, a timepiece that stands as a testament to Zenith's commitment to excellence in both design and performance.
Features
It showcases a central hour and minute display, a date indication positioned at 6 o'clock, and a central seconds hand. With a power reserve of approximately 60 hours, this timepiece ensures reliable and precise timekeeping for extended periods.
Specifications
Production Year: 2023
Case Size: 40mm
Materials:

Dial – Black with horizontal grooves
Bracelet – Black and khaki cordura-effect rubber straps
Bezel – Ceramic

Function: Date, Hours, Minutes, Central Seconds
Mechanism: El Primero 3620 automatic high-frequency manufacture movement
The Competitive Landscape
In the exalted realm of most Swiss luxury brands, an array of distinguished brands engage in a captivating ballet of horological innovation and craftsmanship. Among these many brands and prestigious entities, each brings to the fore unique strengths and identities:
Rolex: A stalwart of reliability and enduring style, Rolex watches has set benchmarks with iconic models like the Submariner and Daytona, making it a perennial favorite in the luxury watch sphere.
Omega: Omega marries compelling history with stellar performance through its illustrious Speedmaster and Seamaster collections, creating a robust appeal for watch enthusiasts.
Patek Philippe: Embodied sophistication and complexity in mechanical timepieces is the forte of Patek Philippe, making it a beacon for those in pursuit of the pinnacle of horological craftsmanship.
Audemars Piguet: Audemars Piguet breaks conventions with its daring designs and pioneering ethos, most notably within its trendsetting Royal Oak line.
TAG Heuer: Embodying a dynamic motorsport legacy and leading the charge in chronograph innovations, TAG Heuer resonates particularly with sports and racing enthusiasts.
| | | |
| --- | --- | --- |
| Brand | Known For | Average SGD |
| Rolex | Robust, reliable timepieces; iconic models like Submariner and Daytona | S$2,212 – S$243,344 |
| Omega | Legendary collections like Speedmaster and Seamaster; history and performance | S$324 – S$54,621 |
| Patek Philippe | Unrivaled refinement; complex mechanical timepieces | S$9,841 – S$811,954 |
| Audemars Piguet | Daring designs; pioneering ethos; notable Royal Oak line | S$8,383 – S$502,801 |
| TAG Heuer | Strong motorsport heritage; chronograph innovations | S$321 – S$22,749 |
Why you should invest?
Investing in Zenith watches is not only about owning a beautiful luxury item; it's also a smart decision when you look at financial performance.
Over the last six months and one year, the price decreased to its highest point and has slowed (only 0.8% decrease in both periods), and we've even seen a slight increase in the average yearly value (known as the Average Annual Growth Rate) of about 0.5% over six months and 0.8% over a year.
So, what does this panoply of numbers translate to? In essence, despite ephemeral fluctuations in the short term, Zenith watches demonstrate consistent resilience in their value proposition over more extended periods. This implies that an investment in a Zenith timepiece is twofold: one is procuring a symbol of Swiss precision and aesthetic prowess, while simultaneously securing an asset that admirably sustains its resale value over time. It is akin to a delightful pas de deux – simultaneously indulging one's passion for the rarified world of luxury horology while effecting a sagacious investment maneuver.
Pricing & Availability
Zenith watches represent an array of investment levels, typically retailing between S$3,105 and S$35,704. This breadth of pricing encapsulates the brand's varied offerings, from the more accessible models to the high-horology masterpieces, ensuring there's a Zenith timepiece to suit a variety of tastes and budgets.
The availability of Zenith watches varies depending on the model and collection, as well as factors such as rarity and demand. Therefore, prospective buyers are advised to engage with authorized dealers or reputable secondary market platforms to secure their desired Zenith timepiece.
FAQs
1. Are Zenith watches worth the money?
Zenith watches are widely considered to be worth the investment. Renowned for their exceptional craftsmanship, precision movements, and rich heritage, Zenith watches offer a blend of luxury, quality, and timeless design that justifies their price.
2. Are Zenith watches reliable?
Yes, Zenith watches are known for their reliability. With a commitment to in-house movement production and rigorous quality control, Zenith ensures that their watches perform with exceptional accuracy and durability. The brand's reputation for reliability is well-established in the watch industry.
3. Is Zenith a respected watch brand?
Absolutely. Zenith is highly respected and recognized as a prestigious watch brand. With a history dating back to 1865 and a legacy of innovative achievements, such as the El Primero movement, Zenith has earned the respect of watch enthusiasts and collectors worldwide.
4. Is Zenith a high end brand?
Yes, Zenith is considered a high-end brand in the luxury watch market. The brand's dedication to excellence, use of premium materials, in-house movements, and exquisite design contribute to its high-end status.
Final Word
Zenith watches embody the epitome of luxury and precision, offering a captivating blend of heritage, craftsmanship, and innovative design. With iconic Zenith El Primero watches and the refined elegance of the Elite, Zenith has established itself as a respected high-end brand in the watch industry.
Key Takeaways
Zenith watches offer a harmonious fusion of luxury, precision, and heritage.
The iconic Zenith movements, such as the Zenith El Primero and the Elite, showcase horological expertise and innovation.
Zenith is a respected high-end brand that combines exceptional craftsmanship with enduring value.
Looking to buy or sell your luxury watches? Watch Exchange is your one-stop destination for trading Rolex, Patek Philippe, Tissot, Sinn, Zenith, and other luxury timepieces. Find your next watch today or list your item for free!
---