In the world of luxury watches, the Rolex Kermit and Hulk Submariner models stand as distinct icons. Introduced in different eras, each model encapsulates unique design philosophies.
From the Rolex Kermit's understated charm to the Hulk's vibrant presence, this guide offers an in-depth exploration of their individual attributes, ensuring that enthusiasts can make informed decisions in the realm of luxury timepieces.
At a Glance: Kermit vs. Hulk
| | | |
| --- | --- | --- |
| Feature | Rolex Submariner Kermit | Rolex Submariner Hulk |
| Release Year | 2003 | 2010 |
| Bezel Color | Slightly Faded Green | Vivid Green |
| Dial Color | Classic Black Dial | Green |
| Case Diameter | 40mm | 40mm |
| Material | Oystersteel | Oystersteel |
| Lume | SuperLuminova | Chromalight |
| Reference Number | 16610LV | 116610LV |
| Production Years | 2003-2010 | 2010-Present |
| Market Rarity | Rarer (Discontinued) | Common |
| Average Market Price | Higher (due to rarity) | Variable |
Debuted in 2003, the green Rolex Submariner Kermit marks the Submariner line's 50th anniversary, distinguished by its muted green bezel and black dial. Though produced only until 2010, its rarity has soared post-discontinuation.
Conversely, the 2010-introduced Hulk Submariner, with its bold olive green palette, showcases Rolex's modern ingenuity. While the Rolex Kermit echoes Rolex's historic milestones, the Hulk symbolizes its contemporary vision.
The Dial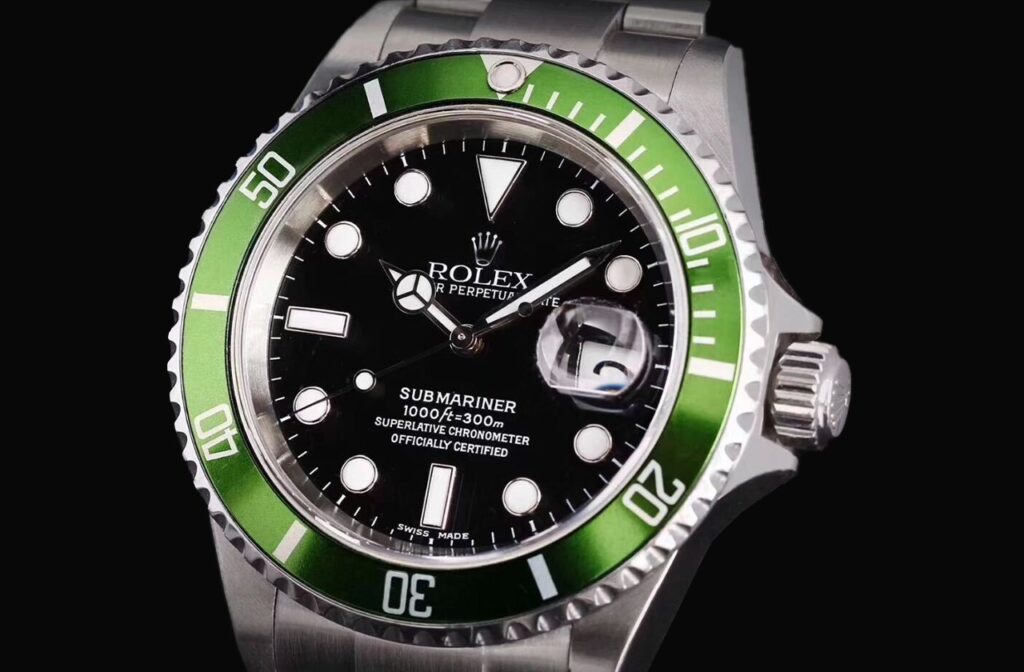 The Rolex Submariner Kermit, reference 16610LV, pays homage to the classic Submariner 16610 but sets itself apart with the notable "Maxi" dial. Larger hour markers and hands characterize this design, making it both legible and striking. While the 'lunette verte' or bright green bezel gives it a signature look, the classic matte black dial remains rooted in the traditional Submariner aesthetic.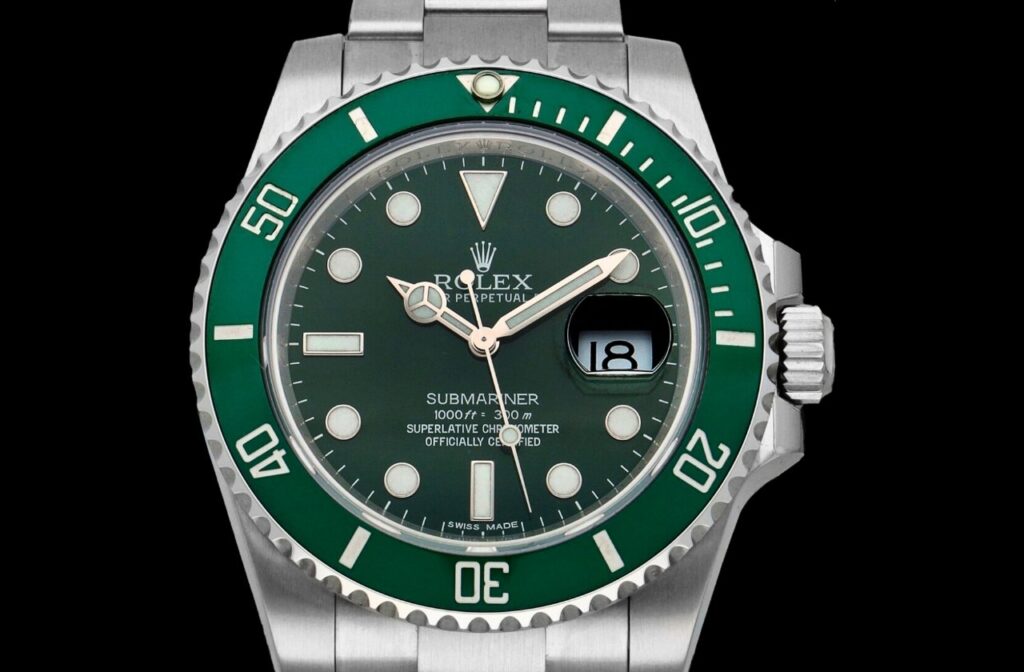 On the flip side, the Rolex Submariner Hulk's dial, reference 116610LV, is boldly incarnate. Emerging in 2010, it took the watch community by storm with its all-green ensemble, from the bezel to the dial. But this isn't a mere color swap. The Hulk boasts a radiant sunburst green dial finish. While many Rolex models feature black dials, this green dial sets the Hulk apart, placing it in a distinct league among Rolex watches.
The Case
The Kermit, made of stainless steel with an analog display and maxi case dial, embodies Rolex's perfect balance of style and durability. Even though it shares the 40mm diameter of the Hulk, its Oyster case design blends tradition and modernity. It's designed to suit both formal events and outdoor adventures.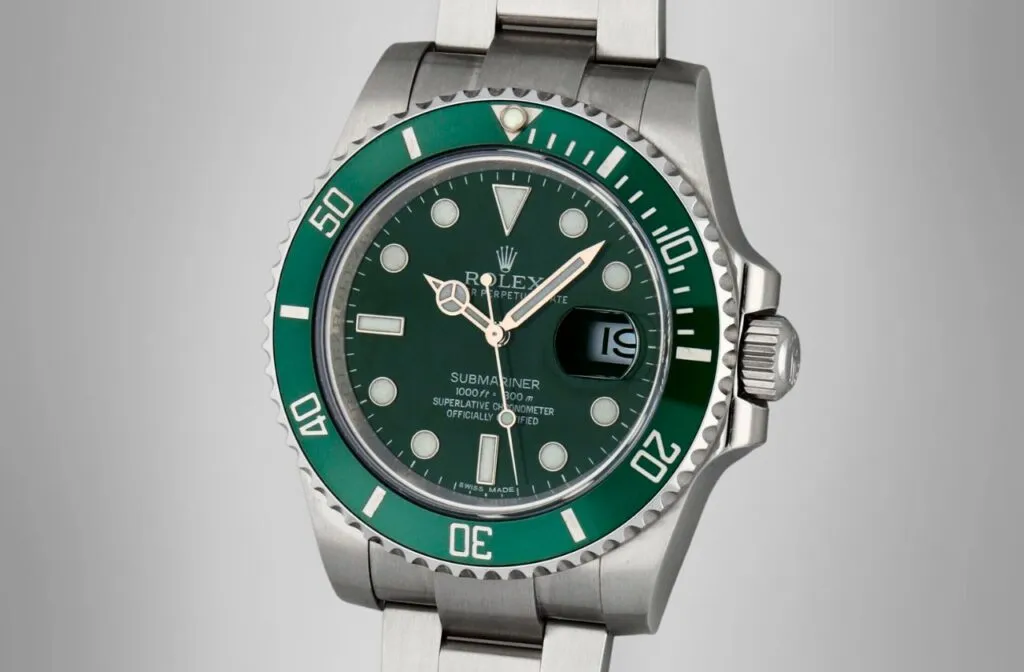 The Hulk, on the other hand, while retaining the iconic 40mm diameter, protected by a sapphire crystal ventures into bolder territory. The incorporation of the ceramic bezel ushered in the "Rolex Super Case", characterized by significantly broader lugs and pronounced crown guards. These design choices result in the Hulk presenting a more substantial and angular appearance than the Kermit.
The Bezel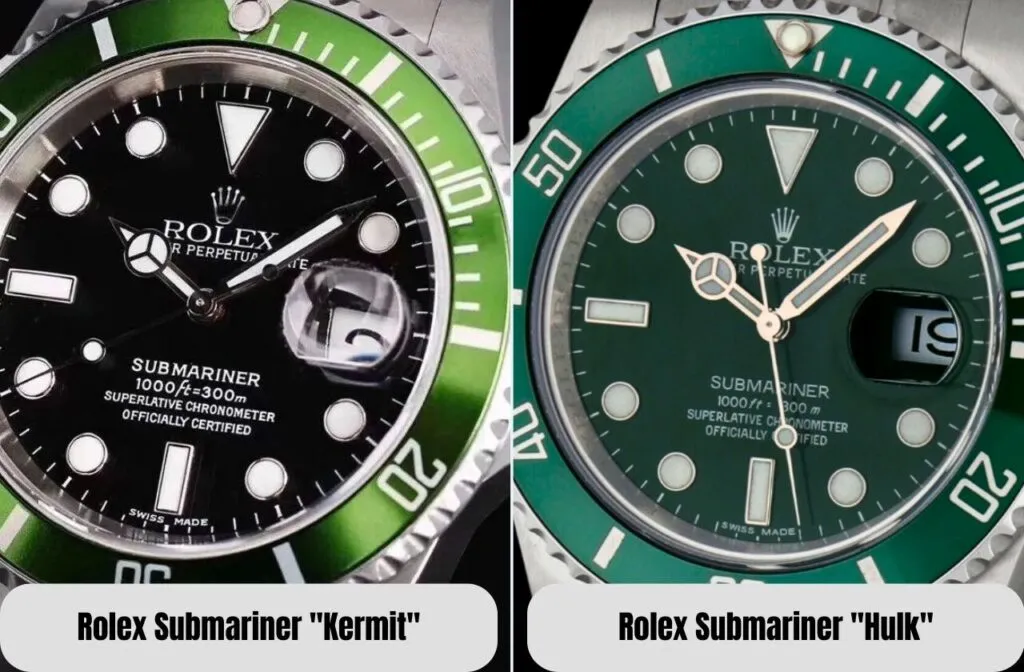 The Kermit's bezel flaunts a striking green aluminum bezel, which is not merely a visual treat but also a beacon of functionality. As a unidirectional timing bezel, it ensures accurate time measurements, especially during deep-sea adventures. The green color shade serves a dual purpose: it sets the Kermit apart with its distinct aesthetics while offering clear visibility across various lighting conditions.
On the other hand, the Hulk showcases a transformative era for Rolex with its Cerachrome bezel, a proprietary blend of ceramics. Beyond the evident aesthetic evolution, the transition to ceramic was a game-changer in luxury watchmaking. The Hulk's beautiful green bezel boasts unparalleled robustness: it resists scratches, remains immune to corrosion, and refuses to fade under UV rays. The green bezel watches, especially the Rolex watch like the Hulk, exhibit unmatched sturdiness.
The Bracelet
The green Submariner Kermit's oyster bracelet speaks volumes of Rolex's historical artisanship. The stainless steel Oyster bracelet design, characterized by its flat 3-link structure, is undeniably classic. Yet, it's the hollow center links that truly evoke a sense of vintage charm. These links, paired with the stamped clasp featuring a fold-out wetsuit extension, not only nod to the brand's heritage but also underline Rolex's enduring bond with the world of diving.
On the other hand, the Hulk introduces an evolution in design and technology. Eschewing the traditional hollow links, the Hulk's bracelet is forged entirely from completely solid links, emphasizing durability and a modern luxe feel. But the real marvel lies in its Glidelock extension system integrated into the machined Oysterlock safety clasp.
This innovation of oysterlock clasp allows for quick, precision adjustments, ensuring an impeccable fit for its wearers. The Hulk's bracelet is a testament to Rolex's continuous pursuit of perfection, marrying cutting-edge technology with timeless design.
In essence, while the Kermit boasts an oyster bracelet, reminisces, and pays homage to Rolex's rich history, the Hulk symbolizes the brand's forward-looking vision.
The Movement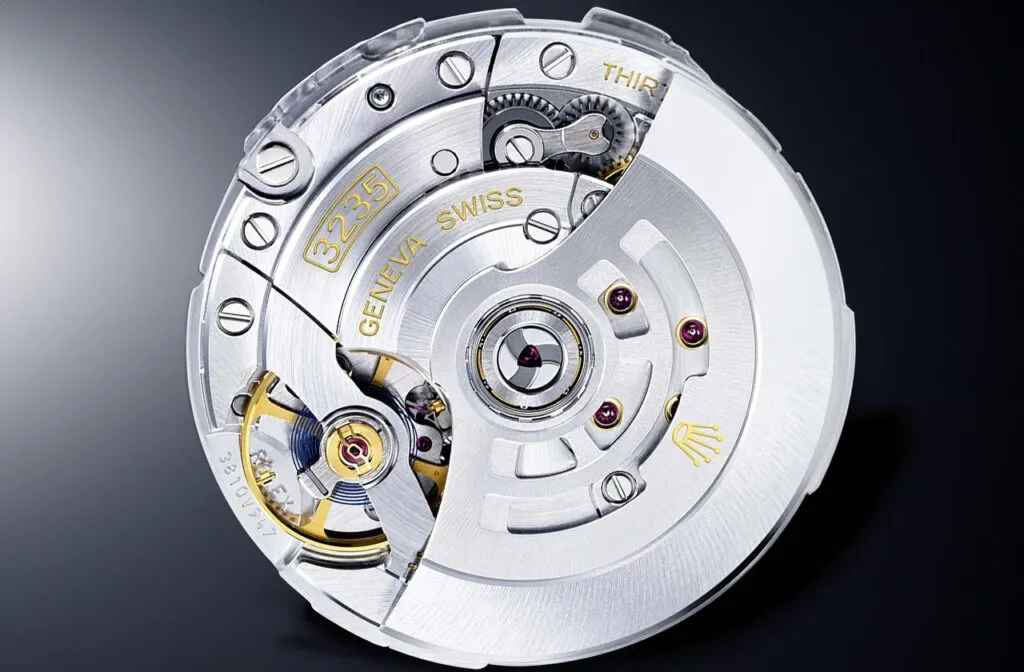 At the core of the Kermit is Rolex's in-house caliber 3235 movement, marking it as the first watch to proudly feature this advanced movement. Notable for its elongated 70-hour power reserve, it ensures an automatic movement and its timekeeping remains consistent even during periods of inactivity. This movement emphasizes not just endurance but precision, with features like a date display and a stop-second function. It proudly stands with an accuracy deviation of just +/- 2 seconds per day, embodying Rolex's dedication to unparalleled accuracy.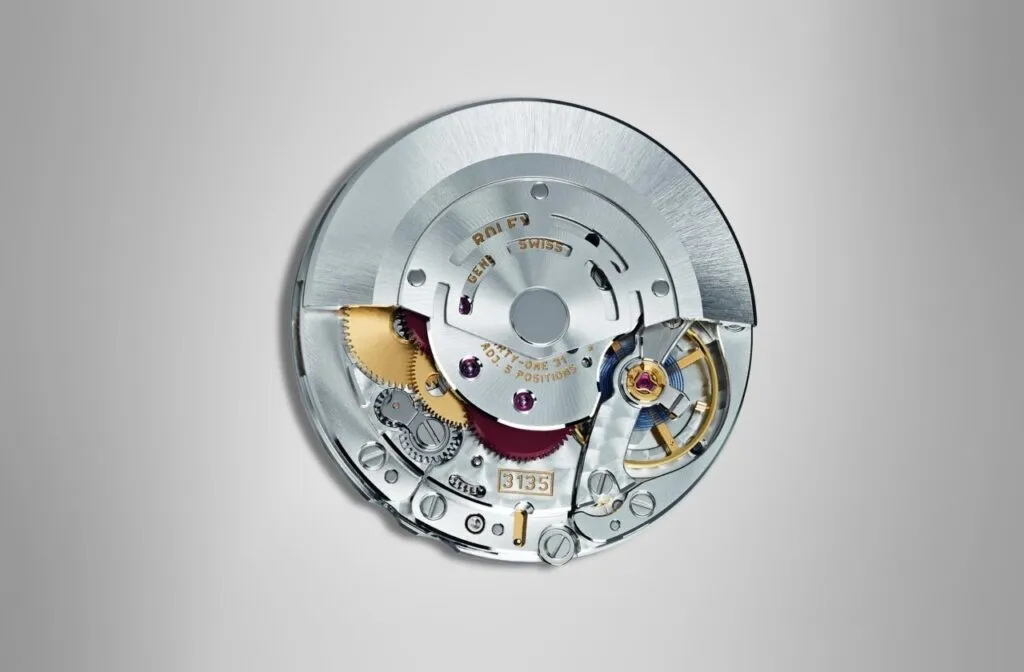 On the other hand, the Hulk is driven by the revered caliber 3135. Certified as a Swiss chronometer by the COSC, the 3135 epitomizes precision, placing the Hulk among the crème de la crème of watches in watch world. However, it isn't just about timekeeping. The inclusion of the Parachrom hairspring in the 3135 showcases Rolex's dedication to ensuring resilience. This feature ensures that the watch remains unaffected by shocks or temperature changes.
While both the Kermit and the Hulk showcase Rolex's exceptional craftsmanship and precision, the Kermit's in-house caliber 3235 movement, with its extended power reserve and features, represents a more advanced evolution in Rolex's horological journey compared to the Hulk's caliber 3135.
Pricing and Availability of Rolex Kermit & Rolex Hulk
As of September 2021, the Kermit, with its rich heritage, retailed at approximately S$8,700 when purchased from an authorized dealer. However, venturing into the pre-owned market, its valuation surges to an impressive S$20,053, a testament to its escalating demand, particularly given its absence from Rolex's current production catalog.
In a similar vein, the Rolex Hulk carries a heftier retail price tag of around S$12,300. But, much like the Kermit, its allure in the secondary market is undeniable, as its estimated pre-owned value reaches an astounding S$25,757. This considerable appreciation in price emphasizes the watch's exceptional demand and unique position in the market.
Kermit has a lower retail price compared to the Hulk, both watches see a significant appreciation in the secondary market. However, the Hulk's higher retail and pre-owned price tags make it the more expensive option between the two.
Rolex Waitlist Phenomenon
Due to an overwhelming demand surpassing supply, the once-simple act of purchasing a Rolex, especially the Submariner model, has become an exercise in patience.
For many, joining the Rolex waitlist is the only avenue. With wait times for the iconic Rolex Kermit ranging from 8 to 36 months, one's position on this list can significantly be influenced by one's rapport with the authorized dealer.
The Hulk, the green Submariner, with its compelling history and discontinuation in 2020, has become an emblematic piece in haute horlogerie. A potential buyer would need to exhibit patience, as the wait time for this model stretches between 3 to 4 years. Its discontinuation and sustained popularity have only fueled its demand, making it a prized possession.
The Rolex Submariner, being the brand's crown jewel in popularity, naturally has one of the longest waitlists. Those fortunate to have a seasoned relationship and prior purchases with a dealer might see their Submariner within a 6-12 month window. Conversely, newcomers without this established connection might find themselves in a challenging position, with chances of acquiring the Submariner becoming exceedingly slim.
Investment Potential
In the luxury watch market, the distinction between retail and pre-owned prices often reveals a significant gap, with pre-owned models frequently commanding higher valuations due to rarity and demand.
Kermit
Hulk
Considerations
Retail
Pre-owned market
Retail
Pre-owned market
Price
S$8,700
S$20,053
S$12,300
S$25,757
Investment Potential
Moderate
High
Moderate
High
Warranty
Yes
Often Limited
Yes
Often Limited
Watch Availability
Limited (Discontinued)
Scarcer
Limited
Scarcer
Quality
Brand New
Varies by care
Brand New
Varies by care
The Verdict
In the captivating face-off between the Rolex Submariner Date Kermit and Hulk Submariners, choosing a winner is no straightforward task, as both are embodiments of Rolex's unmatched artisanship and rich heritage.
However, considering an amalgamation of historical significance, investment potential, and contemporary appeal, the Kermit slightly edges out.
Read Also: Rolex Submariner Starbucks Vs. Kermit
Key Takeaways
The Rolex Submariner Date Kermit, being a discontinued model, holds a unique historical significance and presents a compelling investment opportunity due to its rarity and potential for appreciation.
The Hulk Submariner embodies the essence of modern luxury with its bold aesthetics, making it a perfect choice for those who appreciate contemporary design and want to make a strong style statement.
Both the Kermit and Hulk are testaments to Rolex's exemplary artisanship and deep-rooted heritage, representing different yet equally significant chapters in the brand's story. Choosing between them depends largely on individual preferences – be it for investment potential or design novelty.
Looking to buy or sell your luxury watches? Watch Exchange is your one-stop destination for trading Rolex, Patek Philippe, Tissot, Sinn, Zenith, and other luxury timepieces. Find your next watch today or list your item for free!
---