The Rolex Submariner Ref. 114060, a timeless testament to Swiss craftsmanship, is not only a marvel of precision and durability but also a potential investment piece. As the prestige of the Rolex brand continues to thrive, the value of models like the Submariner 114060 tends to appreciate over time, making it a reliable financial asset for discerning collectors.
Introduced in 2012, the Rolex Submariner 114060 holds a special place in the lineage of the brand's legendary diving watches. Its production was eventually discontinued in 2020, further augmenting its desirability in the secondary market. This has resulted in an even more favorable appreciation of its value.
You can expect to pay approximately S$13,829 on the private sales market, a notable increase from its initial retail price of S$9,455.53 upon release. Its legacy, combined with its enduring appeal and limited availability, positions it as more than just a wristwatch. It is a symbol of timeless style, a testament to Rolex's technological prowess, and an investment for the future.
The Case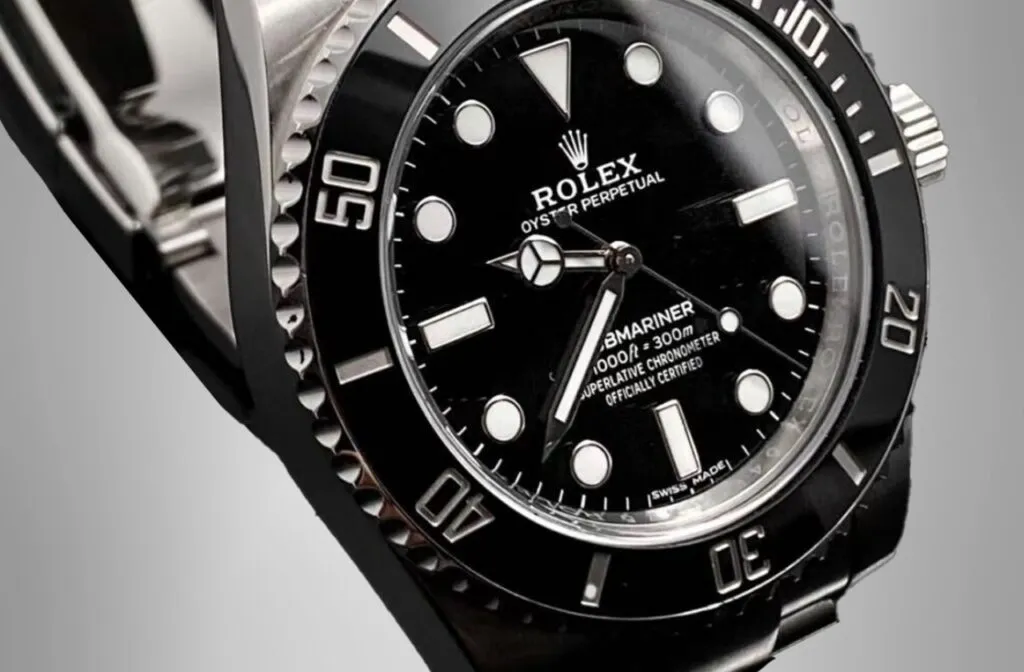 The Rolex Submariner Ref. 114060 is well-known for its iconic and timeless design. The 40mm case, made of Oyster steel, exudes durability and resilience. As you wear this watch, you'll appreciate the robust nature of its construction. The Submariner's legendary charm lies in the combination of its striking design and high-quality materials, ensuring that the case retains its pristine appearance through daily use and even the most demanding conditions.
You'll find that the case measures 40 mm in diameter, making it suitable for a wide range of wrist sizes. The proportions of the case are designed to provide a comfortable fit, without compromising on its functionality. Furthermore, the case's lugs have a subtle taper to them, complementing the overall design and contributing to the watch's sleek appearance.
As you delve into the design of the Rolex Submariner 114060, a notable aspect of its case is the smooth, unidirectional bezel made of Cerachrom. Not only is Cerachrom visually appealing, but it is also fade and scratch resistant, ensuring that your watch's bezel remains vibrant and easy to read even after prolonged exposure to sunlight or water.
When it comes to water resistance, the Rolex Submariner 114060 case is designed to thrive under pressure. Its TRIPLOCK screw-down crown ensures that your watch remains water-resistant up to 300 meters (1,000 feet). This level of water resistance, combined with a sturdy case construction, emphasizes the Rolex Submariner's reputation as a practical and reliable choice for professional divers and water-sport enthusiasts alike.
The Dial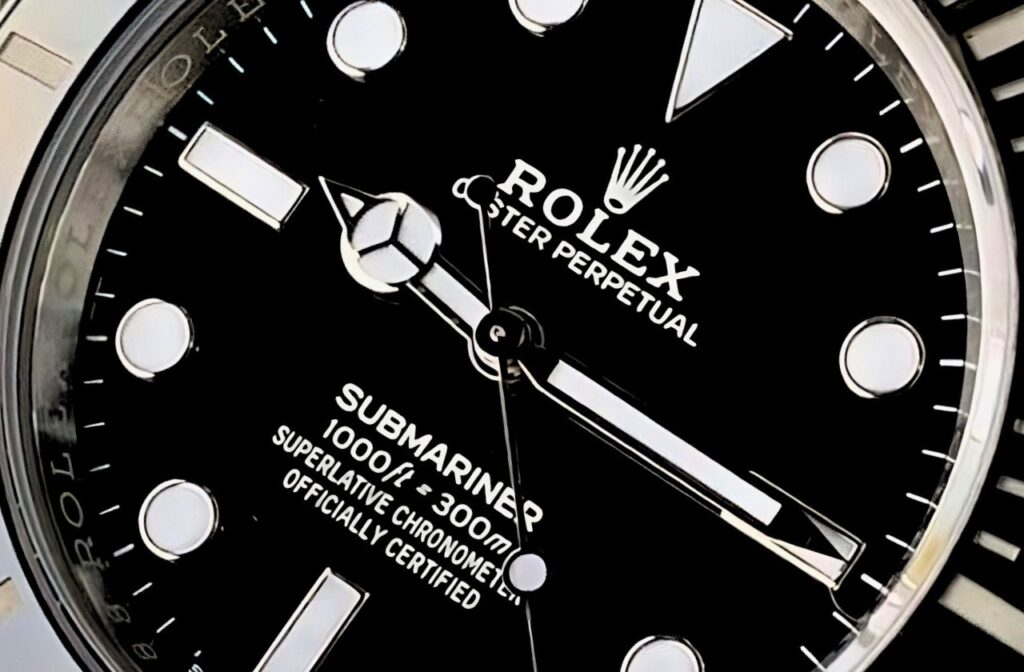 Sporting a remarkably legible gloss black dial, the Rolex Submariner 114060 offers a surprising clarity despite the lack of an AR coating on the crystal. Its black background has the unique ability to seemingly take in all the light that strikes it, keeping reflection to a minimum and not interfering with your view of the time. This feature guarantees easy time reading, offering visibility under a range of lighting scenarios, with just a cursory glance.
This inky backdrop offers a sharp contrast to the large hour markers and broad hands, which are both filled with proprietary Chromalight luminescent material which is common in Rolex watches, delivering exceptional visibility in even the darkest underwater conditions.
The layout of the dial is clean and uncluttered, ensuring the information is straightforward to read at a glance. It features a simple three-hand design, with a distinctive Mercedes-style hour hand, a long minute hand, and a lollipop seconds hand. The hour markers are a mix of circles, rectangles, and a distinctive triangle at the 12 o'clock position, adding to the dial's overall visual interest while maintaining simplicity.
A few reasons why the 114060 model is different from other Rolex's Submariner collection, is the date complication. By eschewing a date window, Rolex creates an incredibly balanced and symmetrical dial. Additionally, the Rolex logo and name are prominent at the 12 o'clock position, with 'Submariner' and the watch's 300m water-resistance rating displayed above the 6 o'clock position. This unfussy and highly legible dial has solidified the Submariner 114060 as a favorite among watch enthusiasts.
The Strap/Bracelet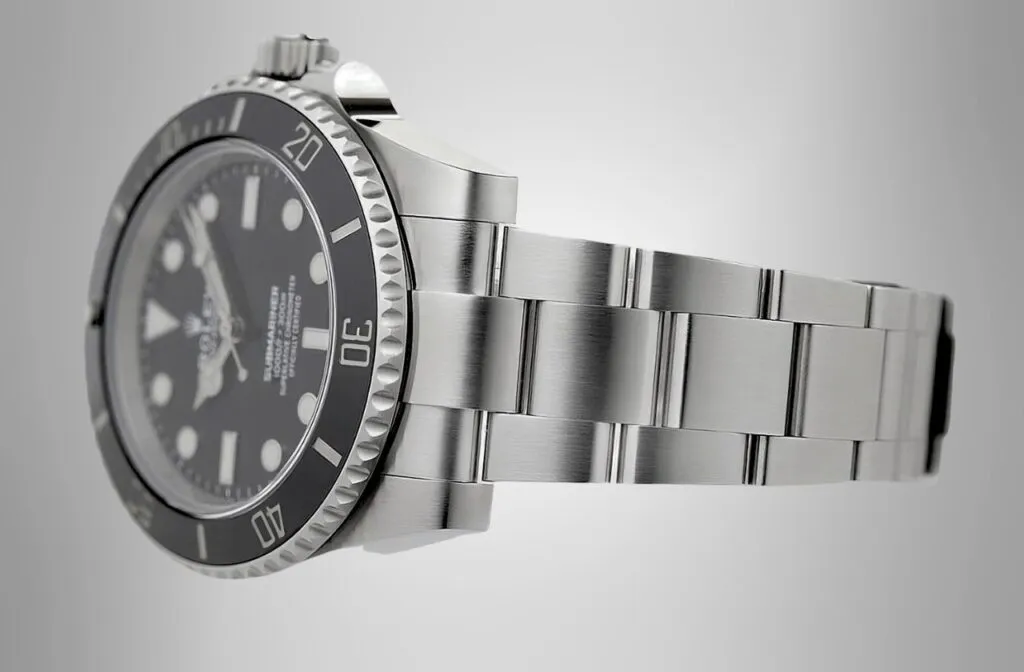 When it comes to the Rolex Submariner (No Date) Ref. 114060, the strap or bracelet plays an essential role in enhancing the overall appearance and comfort of the watch. Rolex has designed a high-quality stainless steel bracelet for this luxury Rolex watch. The solid link Oyster bracelet offers a perfect blend of durability, aesthetics, and flexibility that you would expect from a luxury dive watch.
The Oyster bracelet features solid end links, providing a secure connection to the watch case. It is equipped with a robust clasp and a safety lock, ensuring that your timepiece stays on your wrist even during intense activities. Along with its security features, the bracelet also offers an adjustable extension system known as the Glidelock clasp. You will appreciate this system when adjusting the bracelet's size for a perfect fit, especially when wearing it over a wetsuit.
The overall finish on the bracelet is exceptional, with a combination of brushed and polished surfaces. These varying finishes help to create a balanced, sophisticated look. Despite its solid construction, the Oyster bracelet is quite comfortable on the wrist, thanks to its curved and polished inner surface.
The Movement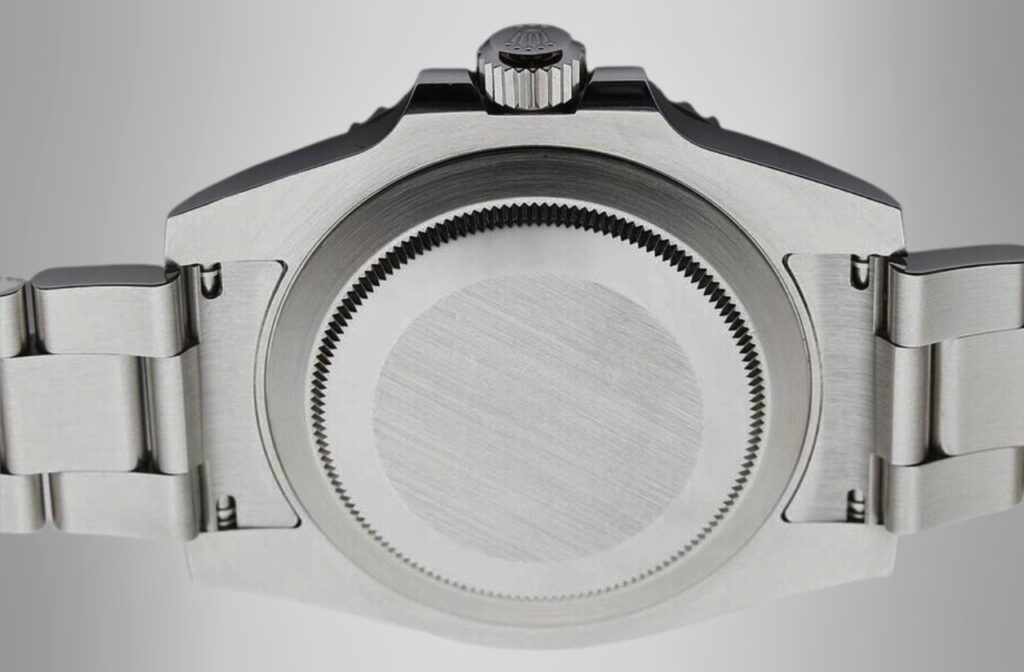 The Rolex Submariner Ref. 114060 is powered by the caliber 3130, a highly reliable and accurate self-winding mechanical movement. Known for its robust construction and precision, this movement is an essential component of the watch's overall performance.
As you wear the watch, the movement's rotor winds the mainspring, ensuring a consistent power reserve. This means that your watch can keep running smoothly without the need for manual winding if you wear it regularly. The Caliber 3130 also features a Parachrom hairspring, which provides excellent resistance to temperature fluctuations, magnetic fields, and shocks. This ensures that your watch maintains its remarkable precision over time, making it well-suited for a wide range of environments and activities.
Another notable aspect of this luxury Rolex watch is its 48-hour power reserve. This provides you with ample time between wearings, while still keeping the watch running accurately. For example, you can take off your Submariner on a Friday evening and pick it up on Monday morning without any significant loss of timekeeping functionality.
The Competitive Landscape
Omega Seamaster Diver 300m Co-Axial Master Chronometer: This is a direct competitor to the Submariner. Known for its association with James Bond, it features a similar classic design commonly found in dive watches but is distinguishable by its unique wave dial and helium escape valve.
Breitling Superocean Heritage II B01 Chronograph 44: A luxury diver's watch from another Swiss brand known for its high-quality timepieces. It offers a 70-hour power reserve and chronometer-certified precision. Plus, it comes with an in-house movement and has a distinctive vintage-inspired look.
TAG Heuer Aquaracer Calibre 5 Automatic: This model competes well with the Rolex Submariner in terms of its sporty and robust design. It boasts a 300m water resistance, making it a solid option for recreational diving. It also features a ceramic bezel and reliable automatic movement.
| | | |
| --- | --- | --- |
| Model | Best Known For | Pre-owned Price |
| Omega Seamaster Diver 300m Co-Axial Master Chronometer | Association with James Bond and is a direct competitor to the Submariner. | S$3,379 |
| Breitling Superocean Heritage II B01 Chronograph 44 | In-house movement, distinctive vintage-inspired aesthetic. | S$4,599 |
| TAG Heuer Aquaracer Calibre 5 Automatic | 300m water resistance, reliable automatic movement, and a competitive alternative to the Rolex Submariner. | S$1,845 |
Why You Should Invest
As of July 2023, you can expect to pay approximately S$13,829 in the private sales market, a substantial appreciation from the retail price of S$10,500 in September 2021. This significant rise indicates a strong demand for the asset, and the 9.1% price volatility adds a degree of uncertainty but also the potential for high returns.
This showcases an opportunity for potential profit, despite the risk. However, the volatility highlights the need for more avid market monitoring, strategic decision-making, and an understanding that while the value can increase considerably, it can also swing the other way.
Final Word
Rolex Submariner 114060 truly represents the culmination of the brand's dedication to precision, durability, and timeless elegance. Its enduring appeal, coupled with its historical significance and the fact that it's now a discontinued model, all contribute to its status as a desirable investment piece. Whether you're a seasoned collector or a novice watch enthusiast, the Submariner 114060 offers a unique opportunity to own a piece of Rolex's legendary horological legacy.
Read Also: Rolex Submariner 124060 Review & Rolex Kermit Review
Key Takeaways
The Rolex Submariner 114060 is an iconic watch with a classic Submariner design, albeit a no date version, that has remained in high demand since its inception.
This model offers the robust and accurate in-house Superlative Chronometer 3130 caliber with a power reserve of 48 hours.
As an entry-level Submariner, the 114060 is priced at S$13,829 on the private sales market.
Looking to buy or sell your luxury watches? Watch Exchange is your one-stop destination for trading Rolex, Patek Philippe, Tissot, Sinn, Zenith, and other luxury timepieces. Find your next watch today or list your item for free!
---