Rolex, a Swiss luxury watch company, is known for its stylish and technologically advanced timepieces. Among its products are two highly sought-after models: The Sky-Dweller and the Submariner. Both watches offer superior craftsmanship, accuracy, and timeless design, but each caters to a different type of user with unique features and functionalities.
The Rolex Sky-Dweller is primarily designed for world travelers, featuring special characteristics that ease the transition between time zones. Its unique annual calendar and dual time zone display make it an ideal timepiece for those constantly crossing different time zones.
On the other hand, the Rolex Submariner is a diver's watch with impressive water resistance and a unidirectional bezel designed for tracking dive times accurately. Its robust construction ensures reliability even in extreme conditions.
Despite their differing functionalities, they provide the exceptional quality and performance for which Rolex is renowned. Want to learn more? Join us as we explore the main features, differences, value between them, and more in the Sky Dweller vs Submariner review below.
Comparison Table
The following table compares the luxury pieces' main features:
| | | |
| --- | --- | --- |
| Aspect | Sky-Dweller | Submariner |
| Watch Functionality | Date Complication, Saros Annual Calendar, Ring Command Bezel, and Dual Timezone | Unidirectional Rotatable Bezel, Date Complication (Some), Waterproof, Corrosion-Resistant |
| Case and Crown | Larger Polished Case in Various Materials, 'Twinlock' Locking Crown | Smaller Case With a Brushed/Satin-Finished Top and Polished Finished Edges, 'Triplock' Locking Crown |
| Bracelet and Clasp | Oyster/Leather Strap/Oysterflex/Jubilee, With a Clasp Fitted With an Easylink 5mm Extension Link or Glidelock Extension System | Oyster, With Glidelock Extension System Buckle |
| Dial | Various Colors, Busier, With Dressier Hands and Baton Indices | Minimal Colors, More Straightforward, With Chromalight Lume on Hands and Hour Markers |
| Movement | New and Exclusive Caliber 9001 Movement (New Models) With 72-Hour Power Reserve | Newer Models Have The Latest Caliber 3235 Movement With 72-Hour Power Reserve |
| Water Resistance | Lower, 100m/330ft | Higher, Up to 300m/1000ft |
Let's have a closer, head-to-head comparison of these features:
Rolex Sky-Dweller Vs Submariner: Watch Functionality
The Rolex Sky-Dweller and Submariner each have unique features and functions that suit their specific purposes.
The Sky-Dweller sports a Saros annual calendar, Dual Timezone, Date function, and GMT function, making it an ideal choice for frequent world travelers. The complicated watch also has a unique fluted rotating Ring Command bezel that links directly to the movement within for setting the various functions.
It debuted in 2012 and holds the record of being Rolex's most complicated timepiece so far.
On the other hand, the history of Rolex Submariner has been around longer (1954) and is designed for use in the deep seas. It has a waterproof and corrosion-resistant case, luminescent hands for optimal underwater readability, and a unidirectional rotating bezel, primarily serving divers with its 60-minute scale for calculating immersion time.
Note: The date complication is available in some Subs. There are two types of Submariners: The Date and No Date Submariners.
Features Comparsion
Case and Crown
The case and crown are two of the main areas the watches differ.
The Rolex Sky-Dweller's case is more clean cut and larger, boasting a 42mm Oyster case, no crown guards between its crown, and a 'Twinlock' winding crown.
The Twinlock system was introduced in 1953. It guarantees the winding crown's (complete) water resistance thanks to its O-ring gaskets that create two sealed zones- one in the tube and the other under the crown. It's used mostly in other dressier Rolexes, including the Datejust, Day-Date, Milgauss, and Oyster Perpetual.
The body is available in various materials, namely:
Rose Gold
Yellow Gold
Oystersteel
Two-Tone (Rolesor)
White Gold
Everose Gold
Meanwhile, the Submariner has a slightly smaller 40mm case. It has polished finished edges, a brushed/satin-finished top, and crown guards between the crown for protecting it and the castle. Additionally, it has the patented 'Triplock' locking crown.
The Triplock locking crown came later in 1970. It's more advanced than the Twinlock, featuring three sealed zones for extra water resistance. The first O-ring gaskets are in the tube, while the last is in the crown. The technology's efficiency led to its inclusion in all high-performance sports Rolexes, including the Deepsea, Sea-Dweller, and Daytona. 
The Sub's case is presented in four materials:
White Gold
Two-Tone (Oystersteel and Yellow Gold)
Yellow Gold
Oystersteel
Bracelet and Clasp
The Sky-Dweller has an Oyster bracelet, an Oysterflex rubber strap (introduced in 2020 for the Everose Gold, Yellow Gold, and White Gold models), a leather strap (on some discontinued models), and a Jubilee bracelet.
The Oyster and Jubilee bracelets have a Folding Oysterclasp with an Easylink 5mm comfort extension link that allows extension of the bracelet by at least 5mm. Meanwhile, the Oysterflex black rubber strap has a Folding Oysterclasp with a Glidelock extension system.
The Glidelock extension on the Oysterflex has a rack beneath the clasp cover that facilitates toolless bracelet adjustment. It has 6 notches of roughly 2.5mm, enabling easy bracelet length adjustment up to 15mm.
On the other hand, the Submariner features an Oyster bracelet with a Glidelock extension clasp that's a little different. It allows for easy micro adjustments of the bracelet with 10 increments of approximately 2mm each. This offers a secure and comfortable fit for divers who may wear the watch over a thick wetsuit.
Dial
The Sky-Dweller's dial is busier while managing to maintain balance. It displays the standard time components as well as the date and the month through the annual Saros calendar and a second time zone through the off-center 24-hour disc.
The date is displayed at 3 o'clock under a Cyclops lens on the sapphire crystal above the dial. The calendar shows the correct date throughout the year. However, the wearer needs to adjust it once a year- on March 1- since February has 28/29 days. Meanwhile, the month is indicated by a deep red rectangle in one of the 12 windows around the dial.
As for the off-center disc, it shows the reference time in 24-hour format thanks to the red inverted triangle above it. Thanks to its bi-directional jump-hour technology, you can adjust its time without altering the seconds or reference time. Meanwhile, the local time is shown using the hour markers and read using the conventional center hands.
The latest models have rectangular hour markers with Chromalight lume and longer, stylish hands. Previous (discontinued) iterations had Roman and Arabic numeral hour markers.
Sky-Dweller watch dials are available in an array of color options, namely:
Dark gray
Champagne
Brown
Black
White
Blue
All of them have a sunburst finish for that nice, classy look.
As for the Submariner's dial, it's more straightforward, focusing on readability during diving sessions. All Subs employ the same dial design- Mercedes-style hands and round/rectangular/triangular hour markers with Chromalight lume for improved visibility in low-light conditions.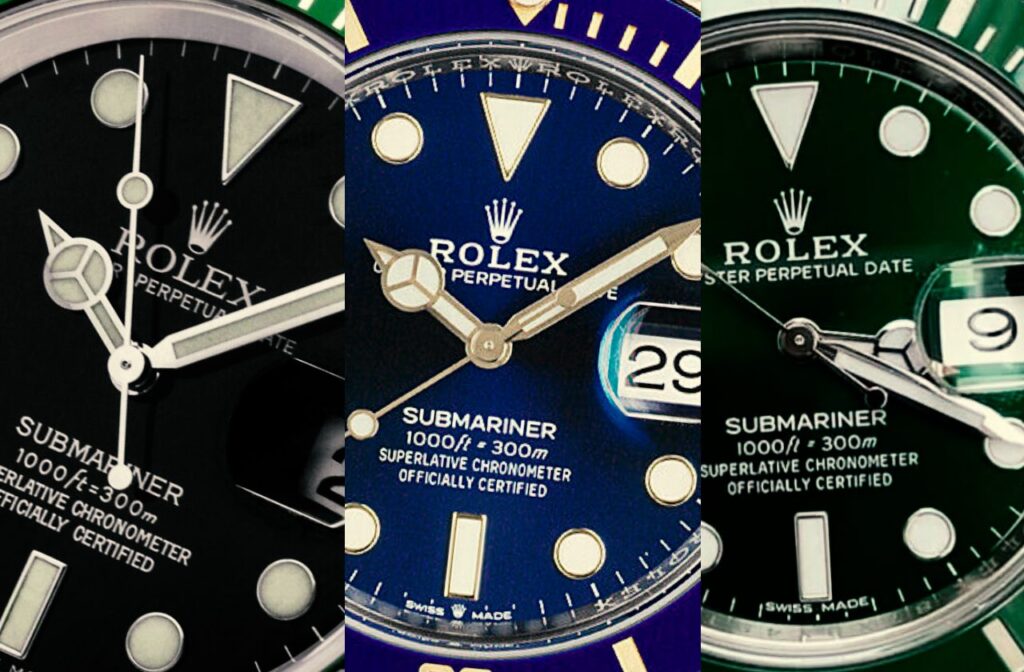 The sapphire crystals over the dials on the Date Subs also have a Cyclops magnifier lens at the three o'clock position. This is to zoom in on the date and enhance its sporty appearance.
Submariner dials and bezels are also available in several colors:
Movement
Both mechanical watches are powered by Rolex's in-house movements.
The Sky-Dweller uses the certified Swiss Chronometer self-winding Caliber 9001 movement, which is among Rolex's most complicated calibers. It's tailored for the globe travelers' watch, having a selector wheel on its outer edge to ensure its connection to the Ring Command fluted bezel. It has several functions and boasts 40 jewels, a 72-hour power reserve, and a 28,800vph frequency.
The Submariner, on the other hand, is driven by the self-winding Caliber 3235 movement. It has 31 jewels, a 70-hour power reserve, and 28,800vph frequency while also being equipped with anti-magnetic properties.
The movements have a -2/+2 seconds per day accuracy- twice more precise than an officially certified chronometer.
Water Resistance
Each watch has a water resistance rating that matches its purpose.
While still water-resistant, the Sky-Dweller has a comparatively lower rating of 100 meters (330 feet), making it more suited for everyday wear and light water activities.
On the other hand, the Submariner has a higher depth rating of 300 meters (1,000 feet), making it an ideal choice for divers and water sports enthusiasts. The rating means it's suitable for saturation diving, scuba diving, and all high-impact water sports.
Best Sky-Dweller Watches
Here are some of the best Sky-Dweller watches in Rolex's lineup for Rolex buyers:
1. Rolex Sky-Dweller Oyster 336934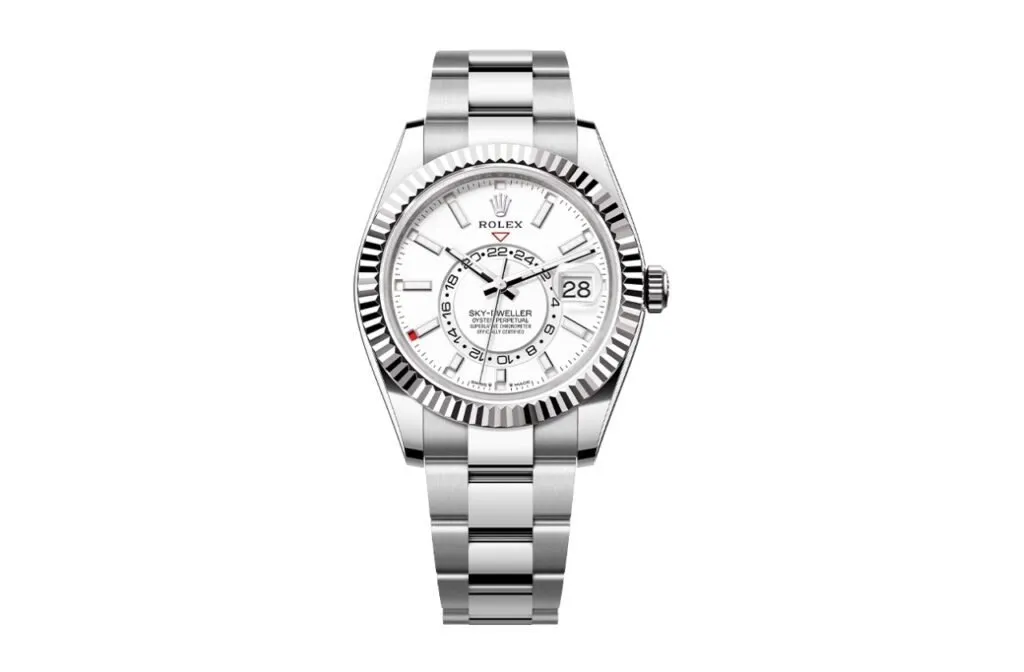 Market Price
Retail Price: S$21,417
Pre-Owned Price: S$26,500
This sophisticated luxury watch has a pure, elegant appearance that most ladies and gentlemen appreciate. Its durable 42mm White Rolesor body pairs with the two-tone Jubilee bracelet to deliver a dose of visual appeal. Meanwhile, it stays true to its function with its white, equally eye-catching yet busy dial.
2. Rolex Sky-Dweller 326139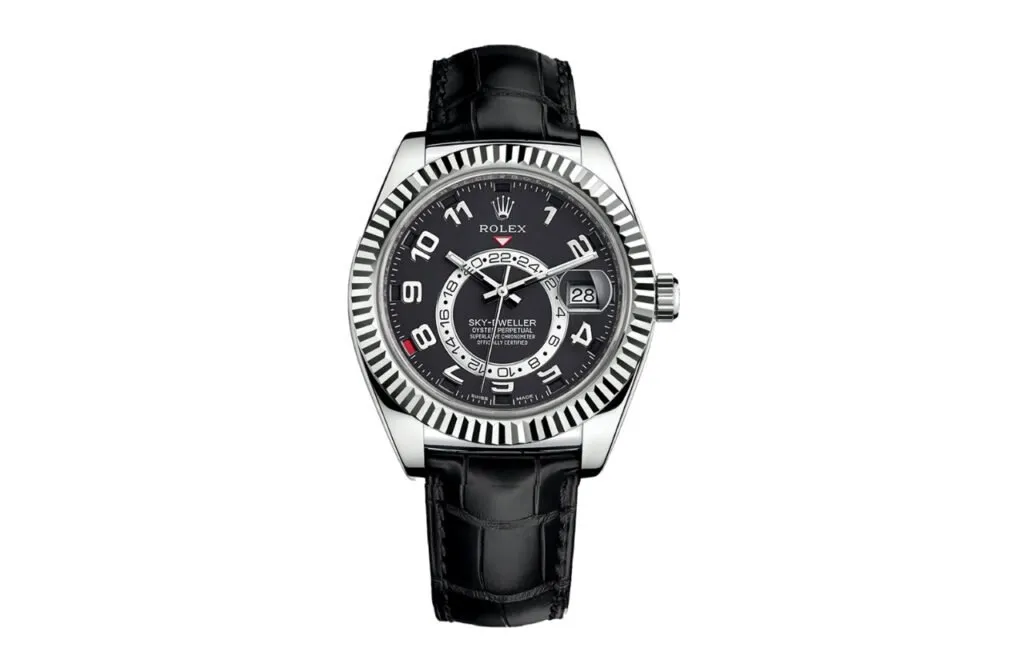 Market Price
Retail Price: S$59,530
Pre-Owned Price: S$41,191
Looking for a sporty Sky-Dweller? The now-discontinued Rolex Sky-Dweller ref. 326139 is an ideal pick. It balances luxury and casualness with its 42mm 18k white gold case, a sexy black dial with Arabic numerals for an adventurous feel, and a sleek, black leather strap with a golden clasp, making it suitable for men and women.
3. Rolex Sky-Dweller 336933-0004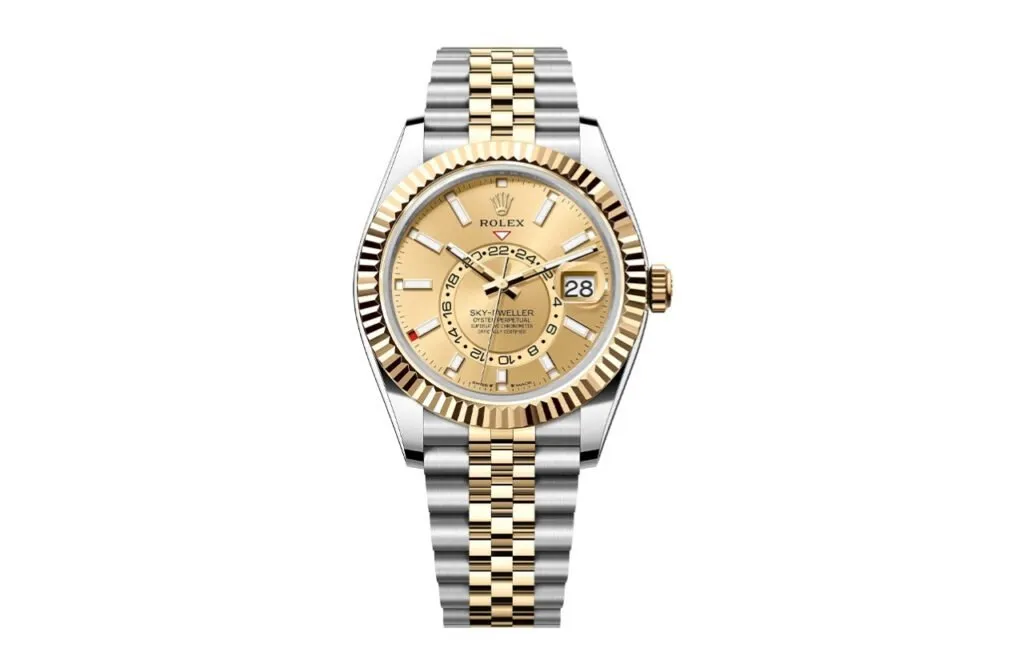 Market Price
Retail Price: S$26,344
Pre-Owned Price: S$23,200
A beautiful example of a two-tone watch, the Sky-Dweller 336933-0004 combines Oystersteel and yellow gold for a striking design. The champagne-colored dial houses the annual calendar and dual timezone display, making this 42mm watch perfect for the world traveler who values style and practicality.
4. Rolex Sky-Dweller 336934-0005
Market Price
Retail Price: S$21,417
Pre-Owned Price: S$30,800
The Rolex Sky-Dweller 336934-0005 luxury watch maintains the collection's beauty with functionality reputation. It flaunts a beautiful 42mm White Rolesor case and Oyster bracelet- contrasted by a beautiful blue dial with a sunray finish. It's ideal for the modern traveler looking to break monotony and look good while at it!
5. Rolex Sky-Dweller 336235-0002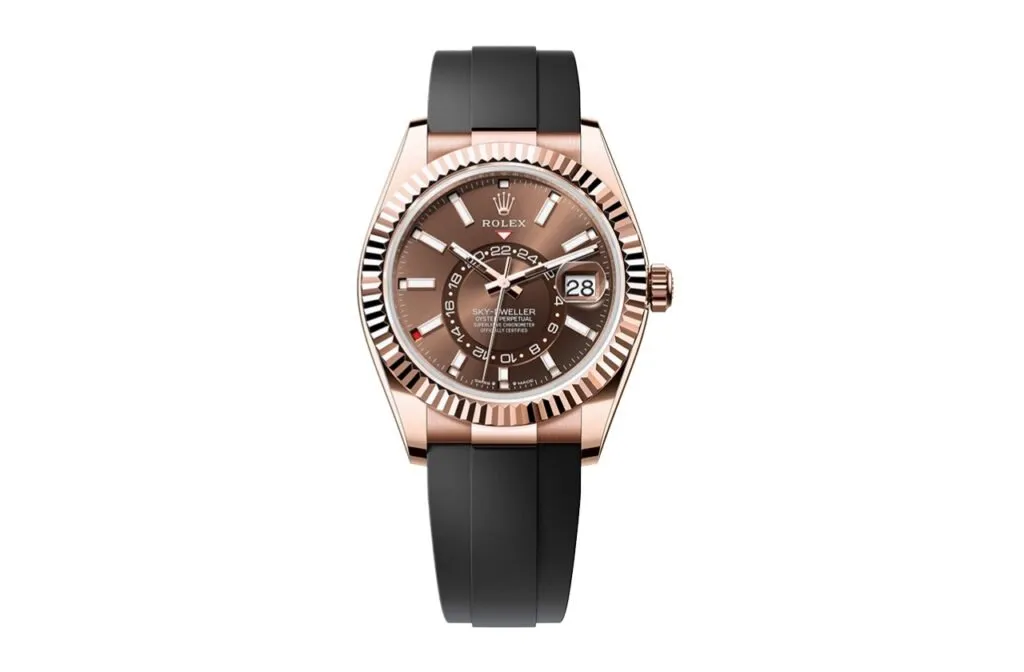 Market Price
Retail Price: S$58,436
Pre-Owned Price: S$55,900
The Rolex Sky-Dweller 336235-0002 is a luxury watch that marries style and boldness. It has an appealing 42mm 18ct Everose Gold case and a black Oysterflex rubber strap, sizzled with a delicious chocolate dial for extra diversity. Its well-chosen materials, colors, and incredible functionality make it a reliable companion in the sky.
Best Submariner Watches
The following are some top Sub tool watches for Rolex enthusiasts that'll leave an impression in and out of the water:
1. Rolex Submariner 124060
Market Price
Retail Price: S$12,453
Pre-Owned Price: S$16,600
A highly sought-after diver's watch, the Submariner 124060-0001 is designed to withstand extreme underwater conditions. The diver watch features a unidirectional rotating bezel, a screw-down crown, and a water resistance rating of 300 meters. This stainless steel Rolex model has a black dial and a 41mm case, making it functional and stylish.
2. Rolex Submariner Bluesy 126613LB-0002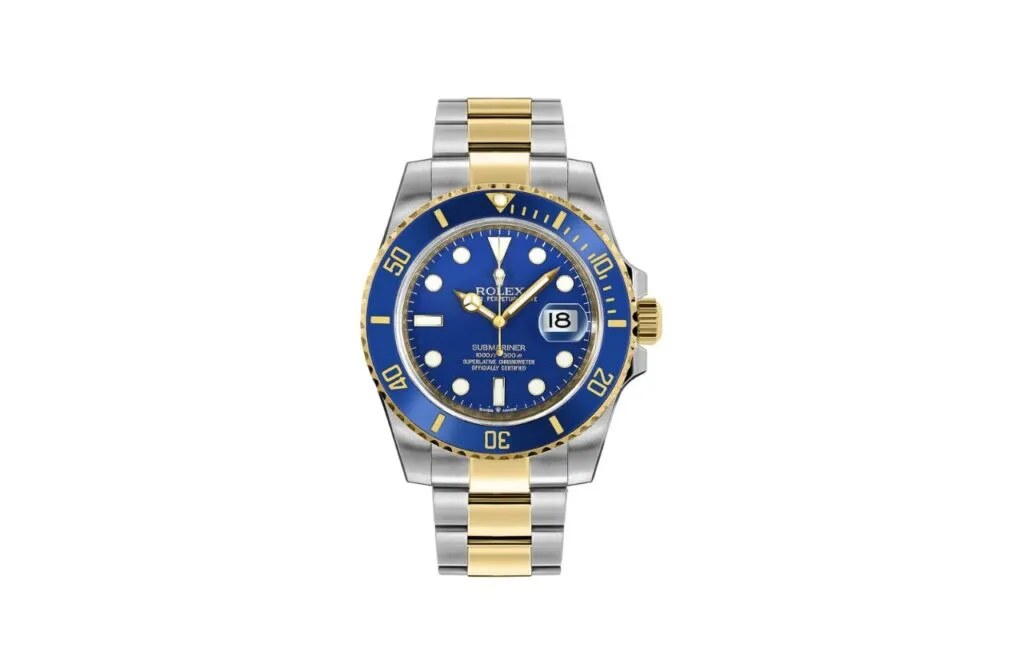 Market Price
Retail Price: S$21,349
Pre-Owned Price: S$23,900
This stunning version of the Submariner Bluesy combines Oystersteel and yellow gold to create a luxurious two-tone design. The blue dial and bezel give the watch a classic nautical feel, and with its 300-meter water resistance and 41mm case, it's the perfect blend of style and functionality for both men and women.
3. Rolex Submariner Date 126610LN-0001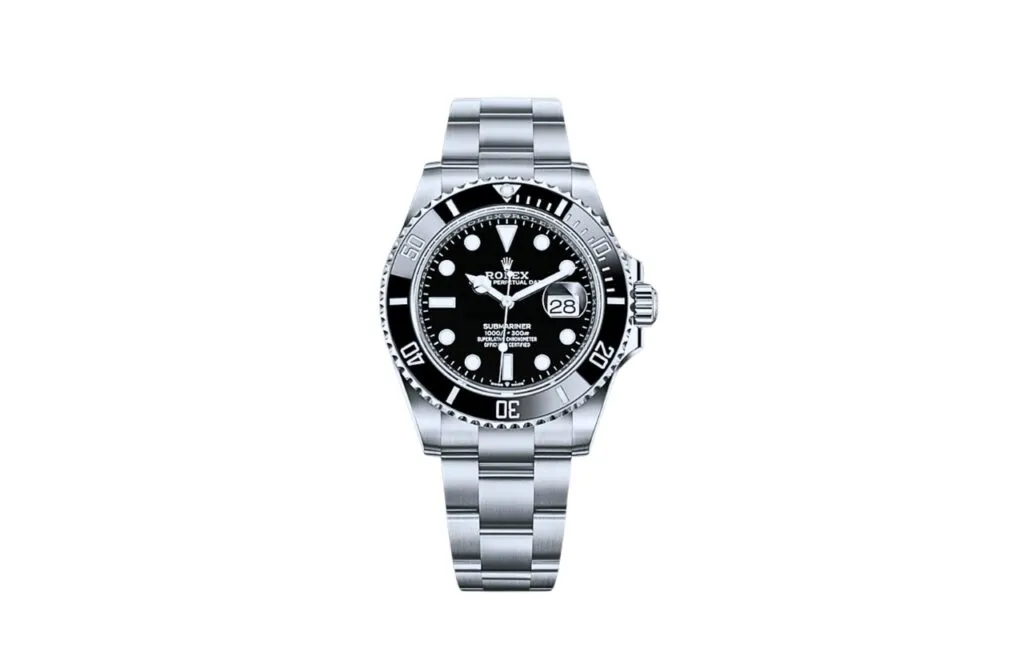 Market Price
Retail Price: S$14,027
Pre-Owned Price: S$18,700
The Rolex Submariner 126610LN-0001 is a modern iteration of the Submariner, blending classic design elements with advanced technology and materials. It has a 41mm Oysersteel case and matching Oyster bracelet contrasted by a black rotatable bezel and deep black dial with a date feature. Its slim design, polished surfaces, and high-precision movement make it a worthy choice.
4. Rolex Submariner Date 126613LN-0002
Market Price
Retail Price: S$21,349
Pre-Owned Price: S$23,700
Want a Sub with some style and personality? The Rolex Submariner Date 126613LN-002 adds excitement to an otherwise basic Sub design. It has an eye-catching 41mm Yellow Rolesor case, a two-tone Oyster bracelet, and a black dial with golden details and a date display for a much-needed sense of balance and functionality.
5. Rolex Submariner Date 'Starbucks' 126610LV-0002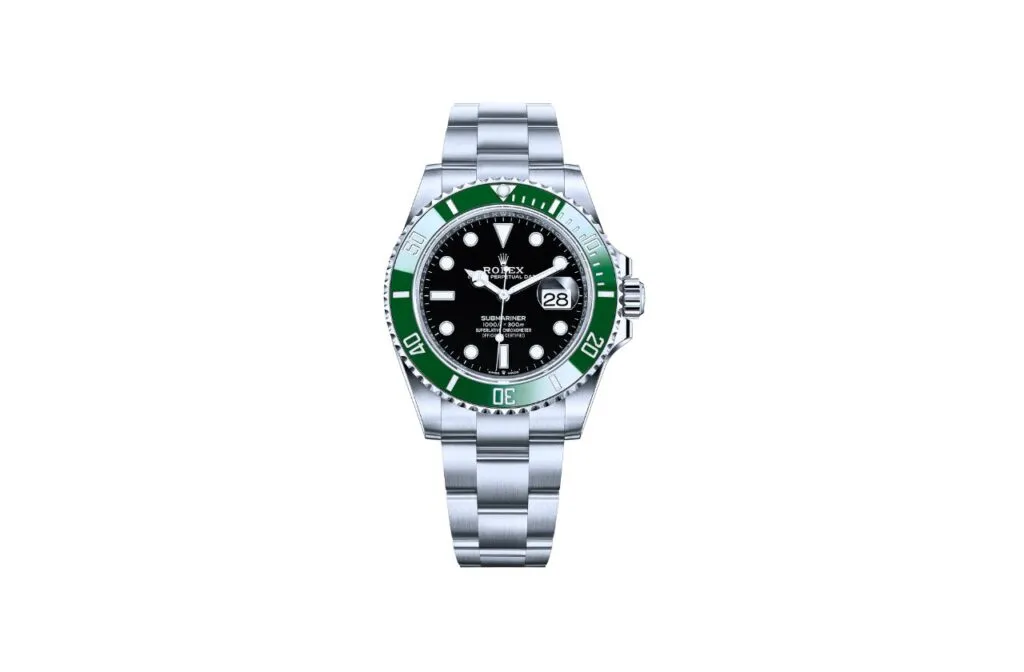 Market Price
Retail Price: S$14,780
Pre-Owned Price: S$20,200
The Rolex Submariner Starbucks 126610LV is a bold and distinctive luxury timepiece that stands out for its vibrant green bezel. It's an improvement of the Rolex 'Kermit' 116610LV and has a larger 41mm Oystersteel case, an Oyster bracelet, and a black dial with white gold details and a date function at 3 o'clock.
FAQs
1. Is a Rolex Submariner worth the money?
The Rolex Submariner is considered a highly valuable timepiece due to its iconic design, high-quality materials, and impressive water-resistance capabilities. It is also known for its durability, making it suitable for daily wear. Many collectors appreciate the Submariner as one of the most popular Rolex watches ever made. Ultimately, whether it is worth the money depends on an individual's preferences and priorities.
2. Is the Rolex Sky-Dweller a good investment?
The Rolex Sky-Dweller is known for its sophisticated features, such as an annual calendar and dual-time display. It is made from high-quality materials and showcases impressive engineering. Like many Rolex watches, the Sky-Dweller may hold its value well over time, although there are no guarantees. Investment potential may depend on factors such as model rarity, material, and overall market demand.
3. Is a Sky-Dweller better than a Submariner?
The Sky-Dweller and Submariner serve different purposes and cater to different preferences. The Sky-Dweller is designed for world travelers, with an annual calendar and dual-time display, while the Submariner is a classic dive watch with superior water resistance. Neither is inherently better, and the choice between the two depends on individual preferences and requirements.
4. Why is Sky-Dweller so expensive?
The Rolex Sky-Dweller is expensive due to its complex features, high-quality materials, and exceptional craftsmanship. The annual calendar complication requires intricate engineering, and the overall design showcases Rolex's expertise in watchmaking. The premium price is also influenced by the brand's reputation and the demand for Rolex watches on the market.
5. Is the Sky-Dweller the most complicated Rolex?
The Sky-Dweller is considered one of the most complicated Rolex watches due to its annual calendar and dual-time features. The yearly calendar complication automatically adjusts for months with 30 and 31 days, requiring intricate engineering. Its unique design for displaying the day of the week and month also sets it apart from other Rolex models. While there are other Rolex models with complex features, the Sky-Dweller stands out as a highly sophisticated timepiece.
Final Word
Ultimately, the choice between a Sky-Dweller and a Submariner comes down to personal preferences, lifestyle, and intended use of the watch. While both timepieces showcase Rolex's commitment to quality and precision, their distinct features cater to different pursuits and tastes.
Key Takeaways
The Rolex Sky-Dweller is designed for world travelers. Meanwhile, the Submariner is a robust diver's watch.
The Sky-Dweller is elegant and sophisticated, suitable for formal and casual settings. On the other hand, the Submariner is a sportier timepiece, ideal for mostly informal occasions.
The Rolex Sky-Dweller is costlier than the Submariner. However, they both hold value well and can appreciate in worth with time.
Looking to buy or sell your luxury watches? Watch Exchange is your one-stop destination for trading Rolex, Patek Philippe, Tissot, Sinn, Zenith, and other luxury timepieces. Find your next watch today or list your item for free!
---